1948 GREYHOUND DERBY
This race was run at the White City on Saturday 26th June 1948
| | | | | | | |
| --- | --- | --- | --- | --- | --- | --- |
| Pos. | Greyhound | Sire | dam | Price | Dist. | Time |
| 1 | Priceless Border (1) | Clonahard Border | Priceless Sandhills | 1/2 fav | 2 | 28.78 |
| 2 | Local Interprize (5) | Ruby Border | Mythical Daisy | 6/1 | 2 | 28.90 |
| 3 | Sheevaun (3) | Bellas Prince | Honey Gale | 9/2 | 2 | 29.02 |
| 4 | Doughery Boy (6) | Farloe Cutlet | Hylton Blackout | 100/8 | neck | 29.14 |
| 5 | Rathattan Ben (4) | Starnge Lad | Rathattan Lass | 100/1 | 1 1/2 | 29.16 |
| 6 | Baytown Stork (2) | Baytown Tulip | Ulster Row | 100/1 | | 29.25 |
Priceless Border was trained by Leslie Reynolds at Wembley
Local Interprize was trained by Stanley Biss at Clapton
Sheevaun was trained by Paddy Fortune at Winbledon
Doughery Boy was trained by Jonathan Hopkins at Walthamstow
Rathattan Ben was trained by Jim Syder jnr at Wembley
Baytown Stork was trained by Jack Toseland at Perry Barr
| | | | |
| --- | --- | --- | --- |
| | | | Creamery Border |
| | | Ruby Border | |
| | | | Keel Ruby |
| | Clonahard Border | | |
| | | | Royal Tom |
| | | Gill's Selected | |
| | | | Cunning Bird |
| PRICELESS BORDER | | | |
| | | | Eagle's Beak |
| | | White Sandhills | |
| | | | Gambling R |
| | Priceless Sandills | | |
| | | | Mount Mahon Cutlet |
| | | Paris Cutlet | |
| | | | Turkey Tamer |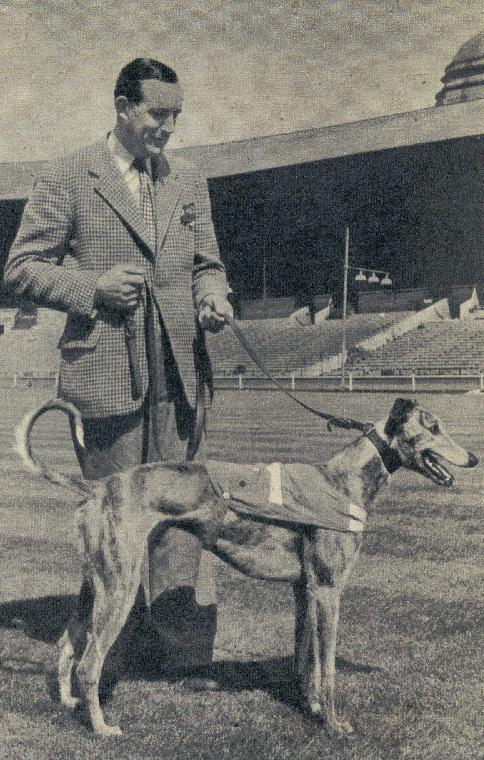 This picture of the champion is dedicated to Eddie McClenn, a lifelong greyhound enthusiast, who even to this day keeps 4 retired greyhounds and rises religiously at 4.30 a.m. to walk them, despite being a sprightly 84 years young. A remarkable bloke!
THE FINAL
Having dominated earlier procedings, Priceless Border, from one, was made the odds on 1/2 favourite with Sheevaun next best at 9/2. When the boxes opened Priceless made his customary early exit and led comfotably around the first. Favourite backers never had a moments hesitation as Priceless went on to win by an easy 2 lengths, with Local Interprize taking second, and the second favourite Sheevaun claiming third spot a further 2 lengths behind.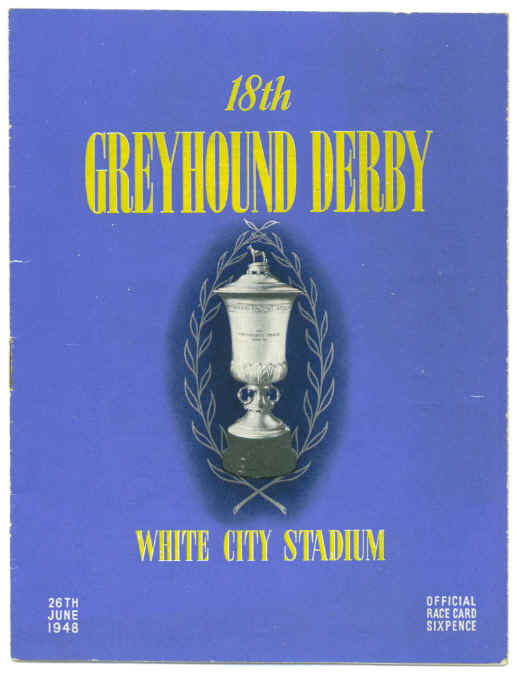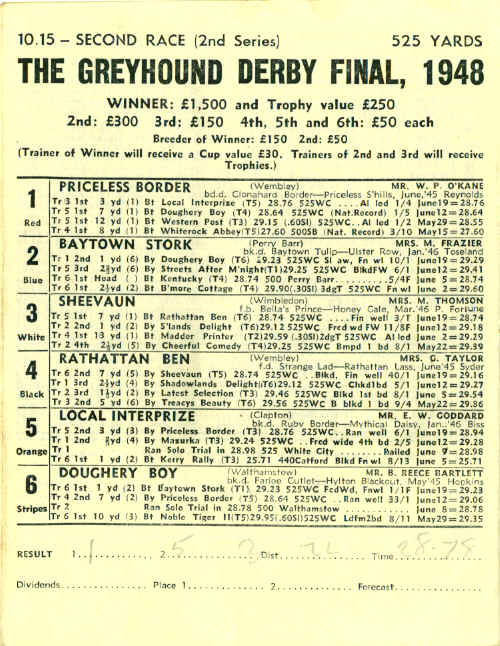 With very grateful thanks to Steve McClenn for the excellent scan of the racecard from his extensive collection.
50 credits
WELSH GREYHOUND DERBY (Cardiff White City)
| | | | |
| --- | --- | --- | --- |
| Winner | Sire | Dam | Time |
| Local Interprize | Ruby Border | Mythical Daisy | 29.32 |
IRISH GREYHOUND DERBY (Shelbourne Park)
| | | | |
| --- | --- | --- | --- |
| Dog | Sire | Dam | Time |
| Western Post | Lucky Post | Lonesome Sister | 29.90 |
| Baytown Colonel | Baytown Cuckoo | Baytown Crow | |
SCOTTISH GREYHOUND DERBY (Carntyne)
| | | | | |
| --- | --- | --- | --- | --- |
| Dog | Sire | Dam | Time | SP |
| Western Post | Lucky Post | Lonesome Sister | 29.45 | 8/1 |
Email me at johnwslusar@gmail.com