| | | | | | | |
| --- | --- | --- | --- | --- | --- | --- |
| Pos. | Greyhound | Sire | dam | Price | Distances | Time |
| 1 | Pigalle Wonder (1) | Champion Prince | Prairie Peg | 4/5 fav | 2 3/4 L | 28.65 |
| 2 | Northern Lad (5) | Champion Prince | Choice Beauty | 25/1 | Neck | 29.87 |
| 3 | Mile Bush Pride (3) | The Grand Champion | Withching Dancer | 5/2 | 4 L | 29.90 |
| 4 | Gentle Touch (4) | Magorna Reject | Abbey Jane | 100/6 | 4 3/4 L | 30.22 |
| 5 | Simmer Down Pal (2) | Ollys Pal | Ballygortagh Girl | 50/1 | 1 L | 30.60 |
| 6 | Outside Left (6) | Demon King | Gilera | 6/1 | | 30.68 |
The Winner was owned by Mr A Burnett
Pigalle Wonder was trained by Jim Syder jnr at Wembley
Northern Lad was trained by Bob Burls at Wembley
Mile Bush Pride was trained by Jack Harvey at Wembley
Gentle Touch was trained by Dennis Hannafin at Wimbledon
Simmer Down Pal was trained privately by Joe Booth
Outside Left was trained by Bob Burls at Wembley
Pigalle Wonder, trained by the Wembley trainer Jim Syder Junior, won the 58 Derby , beating Northern Lad in a time of 28.65.
The Final
Despite the obvious qualities of Pigalle Wonder and Mile Bush Pride, with the former at 4/5 and the latter at 5/2 second favourite, the final was not seen as a two dog match. Clear support was for the wide berthed Outside Left (6/1) and more than one newspaper hack strongly tipped Gentle Touch. However, it was left to Northern Lad to hit the lids first from the 5 box, followed around by Gentle Touch and Pigalle Wonder. Remarkably Northern Lad took up a rails position at the first, a tactic which enabled him to build a clear lead, although Pigalle had moved ominously into second. It was not until the approach to the third bend that Pigalle caught and passed Northern Lad, running on too strongly to win by 2 3/4 lengths in 28.65. Mile Bush Pride had proved no match for Pigalle and was even denied the runners up berth by a fast diminishing neck.
| | | | |
| --- | --- | --- | --- |
| | | | Castledown Lad |
| | | Bella's Prince | |
| | | | Bella's Witch |
| | Champion Prince | | |
| | | | Swanky Jog |
| | | Sallywell | |
| | | | Lucy Lilla |
| PIGALLE WONDER | | | |
| | | | Mad Tanist |
| | | The Grand Champion | |
| | | | Could Be Worse |
| | Prairie Peg | | |
| | | | Astra's Son |
| | | Prairie Vixen | |
| | | | Take Murex |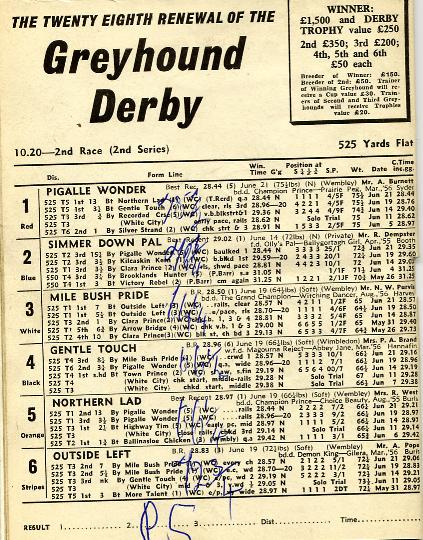 Jim Syder Senior was one of the early trainers at Wembley Greyhound Stadium alongside the great Bob Burls, a trainer there for 50 years, and Sidney Probert. He trained So Green, the 6/4 favourite, to win the first puppy Derby at Wimbledon, and Wattle Bark which won the 1937 Greyhound Derby for Mrs Dent. See my page on the 1937 Derby for further details accessible by link below. Note that Jim also had Maiden's Delight and Grosvenor Bob in the final.
http://www.greyhoundderby.com/1937-greyhoundderby.htm
In the 1950's his son, Jim Syder Junior trained at Wembley and was responsible for training Pigalle Wonder to capture the 1958 Greyhound Derby. In the 3 weeks prior to the Derby final Jim and his Head lad took it in turns to sleep on a makeshift bed in Pigalle's kennel, and his food was cooked in a special saucepan to reduce the chance of infection. Jim was one of the earliest trainers to appreciate that diet was extremely important to a racing greyhound, claiming that 75% of the training of a dog was a matter of diet, and the time to build up the strength of the dog with steaks and chicken was a matter of timing. The dog was originally called Prairie Champion and he was owned by Al Burnett who owned the Pigalle Club in Piccadilly. It is most likely that the picture shows Jim Syder Junior with the dog rather than owner Al Burnett, who by this stage was quite elderly. Jim Junior had earlier trained Firgrove Slipper to win the Gold Collar in 1955. To date they remain the only father and son team to both train winners of the Greyhound Derby.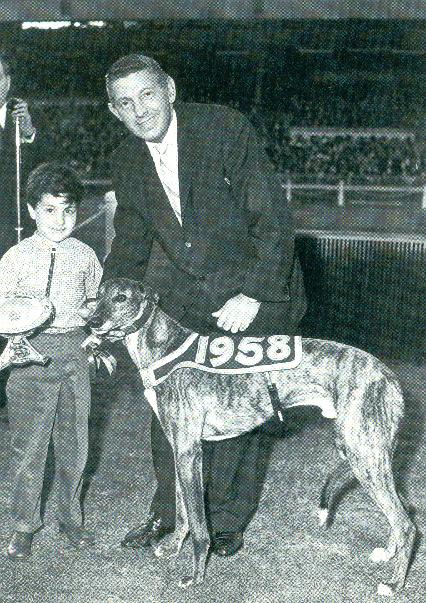 With very grateful thanks to Steve McClenn for this scan of the champion.
Semi Finals
The scene was set for two scintillating semi-finals. In the first it was the turn of Mile Bush Pride and although led up on the outside by Outside Left and Gentle Touch, he squeezed between them at the first and sprinted clear to win by 7 lengths in 28.57. Outside Left and Gentle Touch claimed the other 2 finals places. In the second semi-final the supporters of Pigalle Wonder showed some doubt, allowing him to go off at a shade of odds on 4/5. Despite this there was never a concern as Pigalle raced to a 13 length victory in a record breaking 28.44, with Northern Lad and Simmer Down Pal claiming remore minor placings.
SEMI-FINALS Saturday 21st June 1958
Trap
Dog
Time
Dist.
SP
Trap
Dog
Time
Dist.
SP
First Semi-Final
Second Semi-Final
1
MILE BUSH PRIDE
28.57
7 yds
1/2 f
5
PIGALLE WONDER
28.44
13 yds
4/5 f
3
OUTSIDE LEFT
29.06
1 1/4 yds
5/1
1
NORTHERN LAD
29.21
2 1/4 yds
7/2
4
GENTLE TOUCH
29.16
3 yds
10/1
2
SIMMER DOWN PAL
29.35
2 1/2 yds
25/1
2
ARROW BRIDGE
29.35
3/4 yd
6/1
4
KILCASKIN KERN
29.50
2 yds
9/2
6
MERVILLE
29.39
100/7
3
SILVERY AIRWAYS
29.61
2 yds
8/1
6
INA'S PRINCE
29.74
3/1
Early Rounds
At the outset of this competition it was widely believed that it would be dominated by Mile Bush Pride and Pigalle Wonder. However, as early as round one Pigalle was beaten and a new favourite in the Irish star Kilcashin Kern emerged. The Irish dog was trained by Tony Dennis, the youngest trainer in the competition, and won both first and second round heats, the first in 28.63, although towards the end of the second round he became lame but managed to hold on for victory. Meanwhile, both Pigalle Wonder and Mile Bush Pride won their second round heats, the latter in the faster time , winning in 28.70.
Second Round Heats Thursday 19th June 1958
Trap
Dog
Time
Dist.
SP
Trap
Dog
Time
Dist.
SP
Heat 1
Heat 2
1
KILCASKIN KERN
29.39
1 1/4 yds
2/5 f
5
PIGALLE WONDER
28.76
3 1/4 yds
4/5 f
3
SILVERY AIRWAYS
29.47
2 yds
7/1
6
GENTLE TOUCH
28.96
Sh Head
7/1
2
SIMMER DOWN PAL
29.60
20/1
1
NORTHERN LAD
28.97
2 L
9/2
4
LOWERTOWN PRINCE
29.10
6/1
Heat 3
Heat 4
1
MILE BUSH PRIDE
28.50
5 1/2 yds
4/6 f
2
MERVILLE
28.97
4 yds
4/1
3
OUTSIDE LEFT
28.83
Sh Head
11/2
5
TOWN PRINCE
29.21
1 1/4 yds
9/4 f
6
ARROW BRIDGE
28.84
10/1
3
INA'S PRINCE
29.29
6/1
5
CLARA PRINCE (5th)
29.16
7/2