1968 GREYHOUND DERBY
This race was run at the White City on Saturday 22nd June 1968
| | | | | | | |
| --- | --- | --- | --- | --- | --- | --- |
| Pos. | Greyhound | Sire | dam | Price | Distances | Time |
| 1 | Camira Flash (4) | Prairie Flash | Duet Fire | 100/8 | 1 yd | 28.89 |
| 2 | Witches Smoke (2) | Wonder Valley | Witches Hand | 100/7 | Neck | 28.95 |
| 3 | El Campo (6) | Swift Wonder | Miss Bentley | 13/2 | 3 yds | 28.98 |
| 4 | Shady Parachute (5) | Crazy Parachute | Shady Contempara | 4/6 fav | 3 yds | 29.16 |
| 5 | Shady Begonia (1) | Pigalle Wonder | Castle Swan | 6/1 | Sh Hd | 29.34 |
| 6 | Winning Hope (3) | Solar Prince | Millie Hawthorn | 7/2 | | 29.35 |
The Winner was owned by Mr HRH Duke of Edinburgh
Camira Flash was trained by Randy Singleton at the White City, London
Witches Smoke was trained by Phil Rees snr at Wimbledon
El Campo was trained privately by Jim Irving
Shady Parachute was trained by Phil Rees snr at Wimbledon
Shady Begonia was trained by Norman Oliver at Brough Park
Winning Hope was trained by Paddy Keane at Clapton
| | | | |
| --- | --- | --- | --- |
| | | | Slaney Record |
| | | Hi There | |
| | | | Dublin Red |
| | Prairie Flash | | |
| | | | The Grand Champion |
| | | Prairie Peg | |
| | | | Prairie Vixen |
| CAMIRA FLASH | | | |
| | | | Champion Prince |
| | | Duet Leader | |
| | | | Derryluskin Lady |
| | Duet Fire | | |
| | | | Keep Moving |
| | | Quare Fire Again | |
| | | | Quare Fire |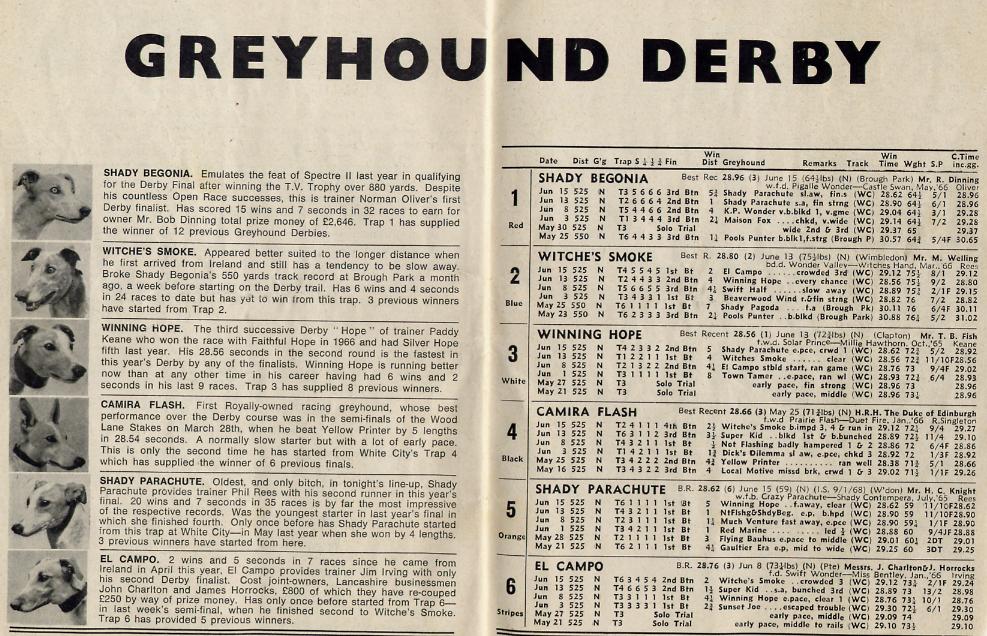 THE FINAL
It was not surprising that the unbeaten Shady Parachute, from the 5 box, was made the 4/6 favourite. Winning Hope, previously trounced by Shady in the semi final, was second favourite at 7/2, while the ideally drawn inside runner Shady Begonia went off as third choice at 6/1. What was amazing was that the poorly drawn trap 4 runner, Camira Flash left behind his slow starts of previous rounds and led at the first bend from the well drawn El Campo on the outside. El Campo challenged throughout and was particularly threatening around the final two bends, but Camira was not to be denied and ran on strongly to win by just over a length in 28.89. It was left to Witche's Smoke to claim second spot just a neck in front of El Campo, while the disappointing Shady Parachute could do no better than fourth, a further 3 lengths away.
As a footnote to his victory, Camira Flash earned in excess of £8000 in prize money during his career, and made at least the same amount again in stud fees.
SEMI FINALS
Controversy was the order of the day after the semi final exit of Camira Flash. John Donald, a lifelong greyhound racing enthusiast who lived on the White City Estate at the time and felt as if the White City was his second home, rightly questions whether Camira Flash should have been allowed back into the Derby after his fourth place elimination, and whether it had anything to do with his association with Prince Philip, the Duke of Edinburgh. In the second semi final Camira Flash started slowly, along with Withche's Smoke and El Campo. However, the early leader Not Flashing caused crowding at the third bend and, in the opinion of the judges, had fought and caused sufficient mayhem to enable Withche's Smoke to power home on the outside by 2 lengths from El Campo,the 2/1 favourite and trap 6 runner, with Not Flashing in third. Immediately the buzz around the stands was that Not Flashing should be disqualified, but even when this decision had been made there was then a second decision as to whether it should become a 5 dog final or Camira Flash (9/4) be promoted into the final. In a less eventful first semi final the 11/10 unbeaten Shady Parachute was fast away to lead throughout and win by 5 lengths in an impressive 28.62.
SEMI-FINALS Saturday 15th June 1968
Trap
Dog
Time
Dist.
SP
Trap
Dog
Time
Dist.
SP
4
WITCHE'S SMOKE
29.12
2
8/1
6
SHADY PARACHUTE
28.62
5
11/10 f
6
EL CAMPO
29.24
Neck
2/1 f
4
WINNING HOPE
28.92
3/4
5/2
3
NOT FLASHING
29.26
Sh Hd
7/1
3
SHADY BEGONIA
28.96
Sh Hd
5/1
2
CAMIRA FLASH
29.27
1 1/2
9/4
2
CASTLE FAME
28.97
1 1/2
100/6
1
SUNSET JOE
29.36
1 1/2
4/1
5
SUPER KID
29.06
2 1/2
100/6
5
LAMBETH WALK
29.45
20/1
1
DICK'S DILEMMA
29.21
20/1
Not Flashing was disqualified for fighting and placed last. Controversially, Camira Flash, owned by Prince Philip, the Duke of Edinburgh, was allowed to take his place in the final.
EARLY ROUNDS
Early discussion of potential winners centred on the Duke of Edinburgh owned Camira Flash and the John Bassett trained Yellow Printer. Prince Philip had accepted the predominantly white dog, Camira Flash, on behalf of the 'Water Rats Club of Great Britain' in the knowledge that any winnings would be donated to his Duke of Edinburgh Award scheme. The dog was trained by Randy Singleton from the GRA Hook kennels at Northaw, near Potters Bar. The competition nearly got off to a sensational start when Yellow Printer was beaten in the first round and only just survived by taking the final qualifying place. No such worries for supporters of Camira Flash, who finished strongly to beat Not Flashing after his customary tardy start, or for another well fancied runner El Campo who also won his first round heat. By the time the second round was under way the previously lucky Yellow Printer found that his luck had run out and he was eliminated after failing to finish.
Second Round Thursday 13th June 1968
Trap
Dog
Time
Dist.
SP
Trap
Dog
Time
Dist.
SP
1
WINNING HOPE
28.56
4
11/10 f
2
SUPER KID
28.89
1 1/2
25/1
2
WITCHE'S SMOKE
28.80
2 1/4
9/2
4
EL CAMPO
28.98
2
13/2
6
CASTLE FAME
28.94
3 1/4
100/6
6
CAMIRA FLASH
29.10
3
11/4
5
PARK CHIEFTAIN
29.14
1
25/1
1
K P WONDER
29.28
Head
100/7
4
BILL THE BLACK
29.20
1
11/2
5
BREACHS BEN
29.30
DNF
25/1
3
SWIFT HALF
29.26
4/1
3
YELLOW PRINTER
DNF
4/5 f
Trap
Dog
Time
Dist.
SP
Trap
Dog
Time
Dist.
SP
6
SUNSET JOE
28.82
5 1/4
6/1
4
SHADY PARACHUTE
28.90
1
11/10 f
1
LAMBETH WALK
29.14
2 1/4
8/1
1
NOT FLASHING
28.96
D-Heat
4/1
4
DICK'S DILEMMA
29.28
1/2
100/7
2
SHADY BEGONIA
28.96
1 1/2
6/1
5
LIMITS CRACKERS
29.31
2
6/1
6
MUCH VENTURE
29.05
Sh Hd
8/1
3
HI HO SILVER
29.43
3
7/2
5
WITCHEN
29.06
3 1/4
10/1
2
AS YOU WISH
29.61
Evens f
3
BALLYNEALE KIM
29.26
6/1
First Round Saturday 8th June 1968
Trap
Dog
Time
Dist.
SP
Trap
Dog
Time
Dist.
SP
6
SWIFT HALF
28.89
4
7/2
3
EL CAMPO
28.76
4 1/4
10/1
1
DICK'S DILEMMA
29.13
Neck
10/1
2
WINNING HOPE
29.02
2
9/4 f
5
WITCHE'S SMOKE
29.16
Neck
2/1 f
6
SUPER KID
29.14
2
13/2
2
OUTCAST MAD
29.19
2 3/4
5/2
1
LISSADELL HI
29.26
2 3/4
5/2
4
IVERAGH HEATHER
29.35
4 1/4
8/1
5
HI MOMENTS
29.42
1 3/4
5/2
3
PUBLIC REPLY
29.61
100/6
4
TOWN TAMER
29.52
25/1
Trap
Dog
Time
Dist.
SP
Trap
Dog
Time
Dist.
SP
4
CAMIRA FLASH
28.86
1/2
6/4 f
2
WITCHEN
28.97
2 1/2
100/8
1
NOT FLASHING
28.89
2 1/2
20/1
6
BALLYNEALE KIM
29.12
3 1/4
13/8 f
5
LIMITS CRACKERS
29.04
Sh Hd
6/1
5
LAMBETH WALK
29.32
Neck
9/1
6
RED MARINE
29.05
2
3/1
1
IWASTHINKING
29.34
5 3/4
6/1
2
WHITELEAS GIFT
29.17
2 3/4
7/2
4
BREACHS BILL
29.68
1 1/2
11/2
3
BLONDIE CON
29.33
20/1
3
GROWING WILD
29.77
5/2
Trap
Dog
Time
Dist.
SP
Trap
Dog
Time
Dist.
SP
3
K P WONDER
29.04
4
7/2
2
HI HO SILVER
29.14
2 3/4
4/1
5
SHADY BEGONIA
29.28
Head
3/1 jf
3
BREACHS BAN
29.30
1 1/4
4/1
4
PARK CHIEFTAIN
29.30
4
8/1
5
CASTLE FAME
29.32
Neck
7/1
2
FLYING BAUHUS
29.54
1/2
7/1
6
KILDANGAN BOB
29.34
3/4
5/1
1
RAPID EXIT
29.57
Head
3/1 jf
4
ARDRALLA WONDER
29.38
1/2
5/1
6
SOME CHEATHA
29.59
11/2
1
BEAVERWOOD WIND
29.41
9/4 f
Trap
Dog
Time
Dist.
SP
Trap
Dog
Time
Dist.
SP
3
SUNSET JOE
28.90
1 1/2
20/1
2
SHADY PARACHUTE
28.90
1 1/4
Evens f
6
AS YOU WISH
28.99
Sh Hd
9/2
3
MUCH VENTURE
28.98
1/2
100/8
2
YELLOW PRINTER
29.00
4 1/2
2/5 f
5
BILL THE BLACK
29.01
1
7/1
1
GREENANE ROBIN
29.27
3 1/4
33/1
4
FILIPINO
29.07
3
8/1
4
DASHING MINK
29.47
6
100/7
6
SHANES ROCKET
29.25
1 1/4
3/1
5
ANY STORM
29.83
100/6
1
NOBLE NAME
29.33
5/1
WELSH GREYHOUND DERBY (Cardiff White City)
| | | | |
| --- | --- | --- | --- |
| Winner | Sire | Dam | Time |
| Swift Half | Hack Up Chieftan | Imperial Astra | 29.58 |
IRISH GREYHOUND DERBY (Shelbourne Park)
| | | | |
| --- | --- | --- | --- |
| Dog | Sire | Dam | Time |
| Yellow Printer | Printer's Prince | Yellow Streak | 29.11 |
| Russian Gun | Pigalle Wonder | Shandaroba | |
Email me at johnwslusar@gmail.com