1969 GREYHOUND DERBY
This race was run at the White City on Saturday 28th June 1969
| | | | | | | |
| --- | --- | --- | --- | --- | --- | --- |
| Pos. | Greyhound | Sire | dam | Price | Distances | Time |
| 1 | Sand Star (4) | Bauhus | Direct Lead | 5/4 fav | 2 | 28.78 |
| 2 | Kilbelin Style (1) | Prairie Flash | Clomoney Grand | 6/4 | 1 1/2 | 28.90 |
| 3 | Ploverfield Dan (2) | Shanes Legacy | Staedy Mary | 100/8 | 1 | 28.99 |
| 4 | Petrovich (5) | Vals Parachute | Scintilla | 20/1 | 5 | 29.05 |
| 5 | Hard Held (6) | Lisheegan Brigadier | That's An Idea | 13/2 | 4 | 29.35 |
| 6 | Barrack Street (3) | Honey Pears | Barrack | 11/2 | | 29.59 |
The Winner was owned by Mr H Orr
Sand Star was trained by Hamilton Orr in Ireland
Kilbelin Style was trained by Tommy Johnston jnr at Wembley
Ploverfield Dan was trained by John Shevlin at West Ham
Petrovich was trained by Jack Harvey at Wembley
Hard Held was trained by George Curtis at Hove
Barrack Street was trained by Dave Barker at Walthamstow
| | | | |
| --- | --- | --- | --- |
| | | | Champion Prince |
| | | Solar Prince | |
| | | | Lisabelle |
| | Bauhus | | |
| | | | Fourth of July |
| | | Lovely Sister | |
| | | | Shannon Sister |
| SAND STAR | | | |
| | | | Slaney Record |
| | | Hi There | |
| | | | Dublin Red |
| | Direct Lead | | |
| | | | Mad Tanist |
| | | Drumloch Sheevaun | |
| | | | Sheevaun |
THE FINAL
Henry May provides his memories of the final, particularly poignant because it was the year he got married and he was delighted to take his wife to see the dog that he had managed to back ante post at longer odds than most. He claims that Sand Star was the most intelligent dog he ever saw race, knowing when to slow up and when to gain speed. Throughout his unbeaten run in the competition Henry cannot remember the dog once touching another greyhound, although Sand Star did find it difficult to win anywhere else other than the White City. His usual style of running was to come through the field, always seeming to make the right decision. However, on finals night, and much to the worry of his owner, he was drawn in the 4 box.Worries were somewhat waylaid when Sand Star broke 2 lengths clear and that's where he stayed, not allowing any other dog to challenge him.The final winning distance was 2 lengths from Kilbelin Style in a time of 28.76 and it was left to Ploverfield Dan to claim the third place a length and a half back.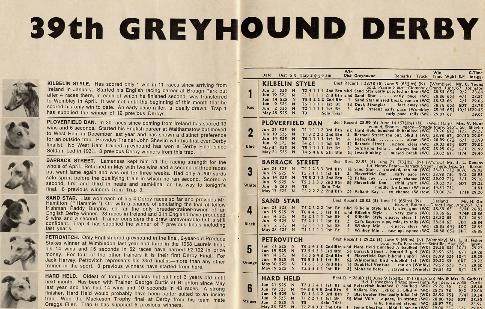 SEMI-FINALS
In the first semi-final there was a tremendous pile up and it was the trap 1 dog Ploverfield Dan, at 11/2, who was to benefit most. He led around the first bend, surprisingly drifted wide and continued to lead until the home straight. It was left to Hard Held (trap 2) and Blackwater Five to chase him up until the six dog Petrovitch joined the action around the final 2 bends. In an exciting final sprint for the line Hard Held got up by a short head, in 29.26, from Petrovitch with Ploverfield Dan a neck back in third.
In the second semi-final Kilbelin Style was once again pitched against Sand Star. Sand Star was made the 5/4 favourite but it was Kilbelin who set the early pace and continued to lead until close to the line. The unbeaten Sand Star ran on strongly to win by a short head in 28.83 with Barrack Street, from the 4 box, claiming the third qualifying spot a length and a quarter back.
SEMI-FINALS Saturday 21st June 1969
Trap
Dog
Time
Dist.
SP
Trap
Dog
Time
Dist.
SP
2
HARD HELD
29.26
Sh Hd
7/2
5
SAND STAR
28.83
Sh Hd
5/4 f
6
PETROVICH
29.27
Head
10/1
2
KILBELIN STYLE
28.84
1 1/2
9/2
1
PLOVERFIELD DAN
29.29
4
11/2
4
BARRACK STREET
28.93
1 1/4
100/6
3
BLACKWATER FIVE
29.53
3/4
9/1
6
VALIANT RAY
29.01
1 3/4
4/1
5
PALLAS JOY
29.57
3
7/4 f
1
GREENANE GEM
29.11
1/2
100/7
4
TULLYALLEN
29.75
7/2
3
SSHADY BRACELET
29.14
4/1
EARLY ROUNDS
The previous years ante post favourite, Yellow Printer, was once again made favourite to land the spoils but, once again was to prove costly to follow. It was down to an Irish dog, Sand Star,who was owned by Irishman Hamilton Orr (although kennelled in England at Barbara Tomkins) to set the pulses racing with some spectacular trials and then he won his first round heat in a sparkling 28.82. albeit after some crowding behind enabled him and Kilbelin Style to go clear. It was unfortunate for the competition that the 3 most fancied dogs were drawn together in round 2, and it was at this point that Yellow Printer met his fate. However, such a result seemed unlikely around the first bend with Kilbelin and Yellow a good 6 lengths clear of Sand Star. Such was the greyhounds pace and tracj craft that he began to rail and to eat into their lead. Down the home straight he finished fast, caught Kilbelin on the line and Yellow Printer was denied the third qualifying spot.
Second Round Thursday 19th June 1969
Trap
Dog
Time
Dist.
SP
Trap
Dog
Time
Dist.
SP
6
SAND STAR
28.86
Sh Hd
7/4 f
6
VALIANT RAY
28.78
5
5/2
3
KILBELIN STYLE
28.87
Sh Hd
4/1
4
HARD HELD
29.08
3/4
9/2
5
PALLAS JOY
28.88
1 3/4
8/1
2
GREENANE GEM
29.12
3/4
4/1
4
YELLOW PRINTER
28.98
6
9/4
1
BOOKED SIX
29.16
4 1/2
9/1
2
INFATUATED
29.34
Neck
9/1
5
COMPUTER CHECK
29.43
3/4
100/7
1
ARDCRONEY CHIEF
29.36
20/1
3
GAG BLAKNEY
29.47
2/1 f
Trap
Dog
Time
Dist.
SP
Trap
Dog
Time
Dist.
SP
2
SHADY BRACELET
28.70
2 3/4
2/1
5
BARRACK STREET
28.93
2
9/2
1
TULLYALLEN
28.86
3
6/1
1
PLOVERFIELD DAN
29.05
3 1/2
100/30
5
BLACKWATER FIVE
29.04
1 1/2
13/2
2
PETROVICH
29.26
1 1/4
6/1
4
MONALEE PETER
29.13
3/4
10/1
6
CASH FOR DAN
29.34
1
7/4 f
6
DOUBTFUL VENTURE
29.17
6/4 f
4
CALS INVADER
29.40
7
6/1
3
DUCK STRANGLER
3
MISTER RUBBLE
29.82
8/1
First Round Saturday 14th June 1969
Trap
Dog
Time
Dist.
SP
Trap
Dog
Time
Dist.
SP
5
BLACKWATER FIVE
28.92
4 3/4
100/7
6
PLOVERFIELD DAN
28.99
4
6/1
4
MONALEE PETER
29.20
2 1/4
11/2
2
PETROVICH
29.23
2
10/1
6
HARD HELD
29.34
1 1/4
7/4 f
3
MISTER RUBBLE
29.35
1/2
8/1
3
CALS EXPRESS
29.42
1 yd
7/1
4
HANDSOME SON
29.38
2 1/2
4/5 f
1
PLUS GLORY
29.48
Head
10/1
1
DURNAVA CASTLE
29.53
4
6/1
2
SHADY BEGONIA
29.50
9/4
5
TEENAGE BOY
29.77
20/1
Trap
Dog
Time
Dist.
SP
Trap
Dog
Time
Dist.
SP
4
YELLOW PRINTER
28.88
1 3/4
9/4
6
PALLAS JOY
29.02
2 3/4
9/4 f
1
SHADY BRACELET
28.98
Sh Hd
13/8 f
5
BARRACK STREET
29.18
1/2
3/1
5
DUCK STRANGLER
28.99
2 3/4
100/7
3
GREENANE GEM
29.21
4
5/1
2
THAT CAILIN
29.15
7 1/2
8/1
1
SANTA'S FIRST
29.45
3/4
3/1
3
WHISPERING BIRD
29.60
1
100/8
4
DESERT KUDA
29.49
6
100/7
6
BALLYBEG FLASH
29.66
4/1
2
GIBBY'S BANANA
29.85
7/1
Trap
Dog
Time
Dist.
SP
Trap
Dog
Time
Dist.
SP
5
DOUBTFUL VENTURE
28.82
4 3/4
13/2
5
INFATUATED
28.84
2
7/1
1
TULLYALLEN
29.10
1 3/4
3/1
2
CASH FOR DAN
28.96
4 1/2
5/2
4
GAG BLAKNEY
29.20
1 1/4
2/1 f
1
ARDCRONEY CHIEF
29.23
D-Heat
6/1
6
ARDRINE FLAME
29.28
2
100/8
3
MAD VILLE
29.23
3/4
4/1
3
JOYFUL MUSIC
29.40
3/4
11/4
4
ACE OF TRUMPS
29.27
2 1/2
8/1
2
QUARE QUAIL
29.44
100/6
6
CALS PICK
29.42
9/4 f
Trap
Dog
Time
Dist.
SP
Trap
Dog
Time
Dist.
SP
5
VALIANT RAY
29.06
1
6/1
3
SAND STAR
28.82
4
3/1
1
CALS INVADER
29.12
1/2
6/4 f
5
KILBELIN STYLE
29.06
2 1/2
2/1
6
BOOKED SIX
29.15
Neck
8/1
2
COMPUTER CHECK
29.21
Dist
20/1
2
PEARS THERE
29.17
2 1/4
9/4
4
CRAGGS FLIER
DNF
6/4 f
3
HOUGHTON TANGO
29.31
1
10/1
6
WESTIELD ASH
DNF
33/1
4
RAYHILL PRINCE
29.37
7/1
1
DUTCH NAVY
DNF
10/1
WELSH GREYHOUND DERBY (Cardiff White City)
| | | | |
| --- | --- | --- | --- |
| Winner | Sire | Dam | Time |
| Pallas Joy | Movealong Santa | Happy Now | 29.43 |
IRISH GREYHOUND DERBY (Shelbourne Park)
| | | | |
| --- | --- | --- | --- |
| Dog | Sire | Dam | Time |
| Own Pride | Always Proud | Kitty True | 29.20 |
| Monalee Gambler | Prairie Flash | Sheila At Last | |
Email me at johnwslusar@gmail.com