1971 GREYHOUND DERBY
This race was run at the White City on Saturday 26th June 1971
| | | | | | | |
| --- | --- | --- | --- | --- | --- | --- |
| Pos. | Greyhound | Sire | dam | Betting | Dist. | Time |
| 1 | Dolores Rocket (2) | Newdown Heather | Come on Dolores | 11/4 | 1/2 yd | 28.74 |
| 2 | Supreme Fun (6) | Newdown Heather | Top Note | 6/1 | 3/4 yd | 28.77 |
| 3 | Leap and Run (3) | Booked Out | Aubawns Dream | 3/1 | 1 yd | 28.81 |
| 4 | Moordyk Champ (1) | Monalee Champion | Nelsons Farewell | 6/1 | 2 1/2 yds | 28.87 |
| 5 | Cobbler (5) | Monalee Champion | Yurituni | 20/1 | 1 3/4 yds | 29.02 |
| 6 | Ivy Hall Flash (4) | Proud Lincoln | Ivy Hall Rose | 7/4 fav | | 29.12 |
Dolores Rocket was trained privately by Herbert White
Supreme Fun was trained privately by Sid Ryall
Leap and Run was trained privately by John Bassett
Moordyk Champ was trained privately by Freddie Warrell
Cobbler was trained by Dave Geggus at Walthamstow
Ivy Hall Flash was trained by Paddy Keane in Ireland
SEMI-FINALS Saturday 19th June 1971
Trap
Dog
Time
Dist.
SP
Trap
Dog
Time
Dist.
SP
4
Leap and Run
28.67
3 1/4 yds
10/1
4
Ivy Hall Flash
28.76
1 1/4 yds
4/1
1
Moordyk Champion
28.87
4 1/4 yds
10/1
6
Supreme Fun
28.84
3 yds
7/2
6
Cobbler
29.09
Head
25/1
1
Dolores Rocket
29.03
Sh Head
11/8 f
3
Ballybeg Era
29.11
10/1
5
Sole Aim
29.04
1 yd
6/1
2
Clohast Rebel
29.15
4/5 f
2
Michaels Bar
29.10
10/1
3
Sir Ginger
29.18
14/1
Second Round Thursday 17th June 1971
Trap
Dog
Time
Dist.
SP
Trap
Dog
Time
Dist.
SP
2
Dolores Rocket
28.61
2 1/4 yds
3/1
2
Leap and Run
28.88
3/4 yd
4/1
1
Ivy Hall Flash
28.75
3/4 yd
5/4 f
6
Cobbler
28.92
1 yd
14/1
6
Supreme Fun
28.79
3 1/2 yds
7/2
1
Sole Aim
28.97
6/4 f
4
Davyhulme Export
29.01
20/1
3
Mullas Shore (5th)
29.26
9/2
Trap
Dog
Time
Dist.
SP
Trap
Dog
Time
Dist.
SP
1
Ballybeg Era
28.76
1 3/4 yds
4/1
5
Clohast Rebel
28.39
4 3/4 yds
7/4
3
Moordyk Champion
28.86
14/1
2
Michaels Bar
28.67
1 1/4 yds
50/1
4
King Lester (5th)
29.44
10/1
1
Sir Ginger
28.75
Head
12/1
3
Postal Vote
28.77
4/5 f
First Round Saturday 12th June 1971
Trap
Dog
Time
Dist.
SP
Trap
Dog
Time
Dist.
SP
2
Mullas Shore
28.62
4 yds
8/1
2
Dolores Rocket
29.16
2 3/4 yds
11/4
3
Moordyk Champion
28.86
Head
12/1
5
King Lester
29.32
6/4 f
5
Supreme Fun
28.88
6/1
Trap
Dog
Time
Dist.
SP
Trap
Dog
Time
Dist.
SP
1
Leap and Run
28.66
2 yds
6/4 f
4
Postal Vote
28.85
1 yd
8/13 f
4
Ballybeg Era
28.78
3 1/2 yds
2/1
Down Your Way
28.91
5
Cobbler
28.99
5/2
1
Ivy Hall Flash
29.06
7/2
Trap
Dog
Time
Dist.
SP
Trap
Dog
Time
Dist.
SP
1
Sole Aim
28.84
1 yd
Evens f
Crefogue Flash
28.83
1 1/4 yds
Linmaree
28.90
3
Clohast Rebel
28.91
1 3/4 yds
8/11 f
3
Anita's Champion (4th)
29.71
50/1
1
Davyhulme Export
29.01
2 3/4 yds
16/1
Black Andrew (6th)
29.77
3/1
5
Special Branch
29.17
66/1
Trap
Dog
Time
Dist.
SP
Trap
Dog
Time
Dist.
SP
Spectre Jockey
29.04
1/2 yd
1
Michaels Bar
29.07
6/1
4
Sir Ginger
29.16
5/2
| | | | |
| --- | --- | --- | --- |
| | | | Hi There |
| | | Printers Prince | |
| | | | Sally's Gossip |
| | Newdown Heather | | |
| | | | The Grand Champion |
| | | Pardee | |
| | | | Manhattan Heiress |
| DOLORES ROCKET | | | |
| | | | Galtee Cleo |
| | | Knockhill Chieftan | |
| | | | Coolkill Mistress |
| | Come on Dolores | | |
| | | | The Grand Fire |
| | | Sultry Peach | |
| | | | Rockaleen |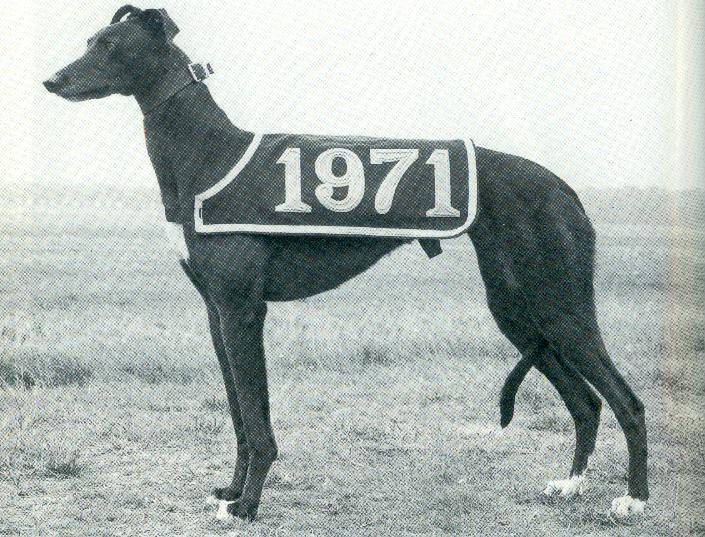 With grateful thanks to Steve McClenn for this scan of DOLORES ROCKET
This Derby Final was remarkable for the fact that the winner was such a popular dog – known as "Cindy" to her owners, the White brothers, and her supporters and because Dolores Rocket became the first bitch for fully 41 years to win the Derby.
Supreme Fun in 6 was expected to lead early and he duly did from Leap and Run (3), Ivy Hall Flash (4, and Fav.), Cobbler (5), Moordyke Champion (1) and Dolores Rocket (2), in a seemingly hopeless position bringing up the rear. Going into the bend Supreme Fun moved off wide allowing Leap and Run to take over while Cobbler and Ivy Hall Flash crowded badly, ruining their chances and allowing Moordyke Champion and Dolores Rocket room to gain on the leaders as they ran up the back straight. The third bend saw Supreme Fun and Leap and Run neck and neck in the lead.
Here the race was won. Rounding the last bend with a brilliant piece of trackcraft .Dolores Rocket left her accustomed rails pitch and came round her field in game style to out-run Supreme Fun by half a length and land the £10,000 first prize in 28.74 secs. – an excellent time. "Cindy", the "black bundle of energy", who had deprived Sole Aim of a final spot by a short head in their semi-final, thus emulated the great Narrogar Ann, winner in 1949. Dolores Rocket would further cement her place in history by going on to win the St Leger later in the year.
Thanks are due to Keith Landles
WELSH GREYHOUND DERBY (Cardiff White City)
| | | | |
| --- | --- | --- | --- |
| Winner | Sire | Dam | Time |
| Spectre's Dream | Spectre II | Jockey's Dream | 29.22 |
IRISH GREYHOUND DERBY (Shelbourne Park)
| | | | |
| --- | --- | --- | --- |
| Dog | Sire | Dam | Time |
| Sole Aim | Monalee Champion | Yurituni | 29.12 |
| Postal Vote | Dusty Trail | Paddistarr | |
For further information email johnwslusar@gmail.com