ALEXANDRA PARK
Aintree racecourse;Ascot;Ayr;Bangor;Bath;Beverley;Brighton;Carlisle;Cartmel;Catterick;Cheltenham Festival;Chepstow;Chester;Doncaster St Leger;Epsom Derby;Exeter racecourse;Fakenham;Folkestone;Fontwell Park;Glorious Goodwood;Hamilton Park;Haydock Park;Hereford Racecourse;Hexham;Huntingdon;Kelso;Kempton Park;Leicester;Lingfield;Ludlow;Market Rasen;Musselburgh;Newbury Racecourse;Newcastle;Newmarket;Newton Abbot;Nottingham;Perth;Plumpton;Pontefract Racecourse;Redcar;Ripon;Salisbury;Sandown Park;Sedgefield;Southwell;Stratford;Taunton;Thirsk;Towcester;Uttoxeter;Warwick;Wetherby;Wincanton;Windsor;Wolverhampton;Worcester;Yarmouth;York Ebor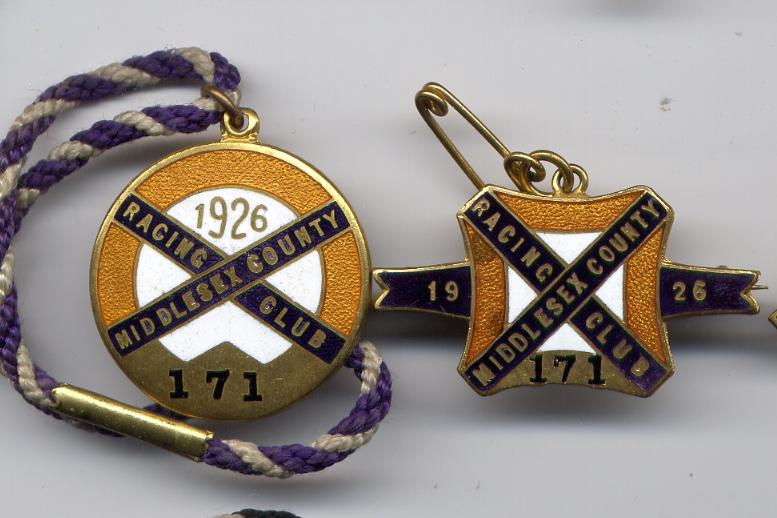 Famous Incident; Can you help?
David O'Neale has a number of uncles the eldest two being John and Martin ('Mick') O'Neale who were born 1908 & 1909 and apprenticed at Captain Hogg's at Russley Park, Wiltshire. Family legend has it that as an apprentice, John was in a race at Alexandra Park with Gordon Richards, who was also an apprentice, but already well known.
John went over the rails and he claimed that Gordon came alongside and pushed him out of the stirrup! His brother, Martin, then threatened Gordon (or perhaps worse - my father wouldn't say!) As a result, my uncles were not allowed to be in the same races as Gordon. Eventually, they packed their bags and spent the rest of their racing careers in India. John rode about 1,200 to 1,500 winners overall, which in India, with only one or two race meetings a week was quite impressive. He won the Pakistan Derby after partition. Even in 1920, aged just 11, he won three races in one day receiving silver trophies and a gold watch from his father as a bonus.
But what happened with Gordon? John O'Neale was, my father thought, about 17 at the time (so 1925?) and terrified of losing in case his father set about him afterwards. I am told that my grandfather had quite a temper on him at times. Consequently, some of the family believed John threw himself over the rails as he knew he couldn't win.
As Gordon Richards is such a huge name in racing, I wondered if there was any account of this story elsewhere, and did it happen at Alexandra Park?
Interestingly, John O'Neale never reckoned Gordon Richards as a jockey (1), still less as the judge of a horse, maintaining that the greatest jockey he ever saw was Charlie Elliott (champion jockey of 1923).
Can anyone shed further light on the incident, or does anyone have an Alexandra Park racecard from that period which might give an indication of the horses involved?
Email me at johnslusar@fsmail.net if you can help,
FIRST MEETING
Tuesday 30th June 1868
SITUATED
Near to Muswell Hill in Greater London, Ally Park, or the Frying Pan, was greatly appreciated by many, including John McCririck whose one great desire is to have sufficient funds to rebuild the course.
DISTANCES
The pear shaped course, with a stick attached, is how a number of people described the course, with 2 loops coming off a single straight, and all the races except the 5 furlong races were run the reverse way of the course, with the start being made by the winning post. The 5 furlong course, however, had well-graded curves about 2 furlongs from the start.
PRINCIPAL RACE
The London Cup ( later transferred to Newbury )
WORLD WAR I
Army depot and POW camp.
WORLD WAR II
Military depot.
FIRST EVENING MEETING
Monday 23rd May 1955
FACT
Brian Rouse rode his first winner at Ally Park on 29th July 1957.
QUESTION
Why was there a gap of almost 15 years before Brian Rouse rode his second winner?
CURRENT SITUATION
The stands are no longer in place, but there are still visible signs of the previous existence of a racecourse.
LAST MEETING
8th September 1970
If you have :-
a favourite memory of this racecourse;

photos or a postcard of the course;

a members badge from the course, either to sell or as a scan;
then email me at johnslusar@fsmail.net and I will include the details on this site together with an acknowledgement for you.
Date 1926 Credits 90 On Site 20/2/03 Off Site