ALEXANDRA PARK
Aintree racecourse;Ascot;Ayr;Bangor;Bath;Beverley;Brighton;Carlisle;Cartmel;Catterick;Cheltenham Festival;Chepstow;Chester;Doncaster St Leger;Epsom Derby;Exeter racecourse;Fakenham;Folkestone;Fontwell Park;Glorious Goodwood;Hamilton Park;Haydock Park;Hereford Racecourse;Hexham;Huntingdon;Kelso;Kempton Park;Leicester;Lingfield;Ludlow;Market Rasen;Musselburgh;Newbury Racecourse;Newcastle;Newmarket;Newton Abbot;Nottingham;Perth;Plumpton;Pontefract Racecourse;Redcar;Ripon;Salisbury;Sandown Park;Sedgefield;Southwell;Stratford;Taunton;Thirsk;Towcester;Uttoxeter;Warwick;Wetherby;Wincanton;Windsor;Wolverhampton;Worcester;Yarmouth;York Ebor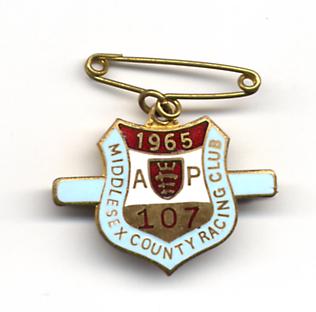 Date 1965 Credits 80
Famous Incident; Can you help?
David O'Neale has a number of uncles the eldest two being John and Martin ('Mick') O'Neale who were born 1908 & 1909 and apprenticed at Captain Hogg's at Russley Park, Wiltshire. Family legend has it that as an apprentice, John was in a race at Alexandra Park with Gordon Richards, who was also an apprentice, but already well known.
John went over the rails and he claimed that Gordon came alongside and pushed him out of the stirrup! His brother, Martin, then threatened Gordon (or perhaps worse - my father wouldn't say!) As a result, my uncles were not allowed to be in the same races as Gordon. Eventually, they packed their bags and spent the rest of their racing careers in India. John rode about 1,200 to 1,500 winners overall, which in India, with only one or two race meetings a week was quite impressive. He won the Pakistan Derby after partition. Even in 1920, aged just 11, he won three races in one day receiving silver trophies and a gold watch from his father as a bonus.
But what happened with Gordon? John O'Neale was, my father thought, about 17 at the time (so 1925?) and terrified of losing in case his father set about him afterwards. I am told that my grandfather had quite a temper on him at times. Consequently, some of the family believed John threw himself over the rails as he knew he couldn't win.
As Gordon Richards is such a huge name in racing, I wondered if there was any account of this story elsewhere, and did it happen at Alexandra Park?
Interestingly, John O'Neale never reckoned Gordon Richards as a jockey (1), still less as the judge of a horse, maintaining that the greatest jockey he ever saw was Charlie Elliott (champion jockey of 1923).
Can anyone shed further light on the incident, or does anyone have an Alexandra Park racecard from that period which might give an indication of the horses involved?
Email me at johnslusar@fsmail.net if you can help,
Alexandra Park Memories
Monday 4 June 1962, half past five in a stuffy Civil Service office in St James'. No matter how boring and pointless the day has been its about to be redeemed. Off to the races. Off to Alexandra Park - just over half an hour away. The smell of grass and cigar smoke, fresh air and horses. Four bob to get in, sixpence for a race card and the bus home and for ten shillings a night out for two.
On this night there are some favourite horses running. Robert la Rose in the hooped colours, Delta Brava, Induna and one that still is my favourite Harry Flatman in the black and green quarters of Mr Raikes, trained at Stockbridge by Vernon Cross.
Had you joined Lesley and me there you would have noticed something that set The Park, and other courses at the time, apart from today. Noise! Apart from the racecourse 'buzz' there wasn't any.
This was before the time when the sight of a microphone sent racecourse commentators into hysteria with the compulsion to regale everyone with a treatise on history and philosophy while reading a race, and all at 110 decibels. Tonight we are in luck, the best reader, the incomparable Ken Grainger is at work. Economical, precise, accurate.
Now you may have read some uncomplimentary things about Alexandra Park and it is time to put the record straight. If you love horses that was the place to be as you were right up close to them.

The start for races of 1 mile 160 yards and 1 mile five furlongs were right in front of the stands. The five furlong start was out of sight from the stands, the indication of 'there off' being given by a man with a white flag atop the silver ring riders' board. Runners came into sight about four furlongs out.
After the start in the longer races the horses ran away from the stands and made one, or two circuits of 'the loop'. The official distance of the longest races was '1 mile 5 furlongs and a few yards'. This gave Ken Grainger the opportunity to say after the horses had taken a couple of strides 'They have a mile and five furlongs to run at this point'.
Getting early to The Park gave the chance to have a look round and for a lover of Victorian architecture the stands were very easy on the eye. Especially to be admired were the cast iron supports and railings. The engraving from the opening meeting suffers from some artistic license but is not too far from the mark.
The stands faced just east of south and provided good views of London. For evening meetings there was often a haze over the town but after morning rain views were good. Viewing the metropolis was not helped though by a row of trees, of indeterminate species, that a Council official decreed be planted to divide the course from a playing field. A sort of early leylandii menace.
The BBC liked the place and televised their first 'evening' meeting from there. Doing the honours, with nice music being played between the races were Peter O'Sullivan and uncle Clive Graham. Clive once remarked of a horse that Dennis Compton bought for £57 10s - 'He looks a little expensive'. The Radio Times advertised the event with a picture of the number board perhaps thinking the majority of license payers had not seen one before.
Alexandra Park's first meeting was in June 1868 and it very soon found its level, it was, after all, not going to rival Ascot, but that did not mean it was neglected by top owners, trainers and jockeys. They all seemed to have made there way to North London from Fred Archer to Lester Piggott. On this night in June we have Scobie Breasley, Ron Hutchinson, Russ Maddock riding. And some jockeys who were not Australian, Doug Smith, Geoff Lewis, Greville Starkey and Duncan Keith a rider always associated by me with Hot Brandy.
Sir Humphry de Trafford wins the 2-y-o plate with Harbinger trained by Sir Cecil Boyd Rochfort. Harry Carr in the saddle. Baroness W Langer von Langendorff finds £234 added to her account when Evyan's Golden Shadows takes the last beating Harry Flatman. The winners came from Lambourn, West Horsley, Newmarket [2], Berks and Epsom. So 94 years on the course was as popular as it ever was.
What killed the meeting? Well for some time the Evening Standard, among others, had been waging a war against the place. For some reason, and it may have had to do with property development or the Jockey Club's 'master plan' to reduce the number of racecourses to twelve, certain scribes had the knife in and delighted in twisting it. There was a level of vitriol showered on the course that shocked me, still does, and of course in the end it had its effect. So in September 1970 it went. A few days after closure The Evening Standard, with some glee, showed a photograph of a pickaxe being wielded against the grandstand.
But the memories remain. Dear old Harry Flatman. The lovely pony Charlotte H, best not to think of her end. Songedor thundering up the straight to win at 7 to 1 on.
The boy with a look of terror on his face after the filly he was riding dropped him before an apprentice plate and was told by a helpful [?] policeman 'He can't run. He's smashed through the rails'. The speed that lad made up the hill, over the road and into the parade ring to collect his mount was a bit brisker than the filly in the race. Obviously the look was rather more down to the thought of The Guvnor's retribution than the fear of riding.
The night a leather lunged punter stood 20 yards from the unsaddling enclosure and yelled 'Your a bloody crook Breasley! You were thrown out of Australia for that! That's why you had to come over here!' Scobie had just gone down by a short head in a driving finish. Any other rider would not have finished within a length of the winner.
Warm nights, breezy days and wet days. It was all fun at A. P. Where has the fun gone in the game today?
With very grateful thanks to Eric Graham for his personal recollections
[With thanks to Tote Investors for their 1935 course plan. The opening day engraving appeared in the Illustrated London News of 11 July 1868]
FIRST MEETING
Tuesday 30th June 1868
SITUATED
Near to Muswell Hill in Greater London, Ally Park, or the Frying Pan, was greatly appreciated by many, including John McCririck whose one great desire is to have sufficient funds to rebuild the course.
DISTANCES
5 furlongs to One mile 5 furlongs.
PRINCIPAL RACE
The London Cup ( later transferred to Newbury )
WORLD WAR I
Army depot and POW camp.
WORLD WAR II
Military depot.
FIRST EVENING MEETING
Monday 23rd May 1955
FACT
Brian Rouse rode his first winner at Ally Park on 29th July 1957.
QUESTION
Why was there a gap of almost 15 years before Brian Rouse rode his second winner?
CURRENT SITUATION
The stands are no longer in place, but there are still visible signs of the previous existence of a racecourse.
LAST MEETING
8th September 1970
If you have :-
a favourite memory of this racecourse;

photos or a postcard of the course;

a members badge from the course, either to sell or as a scan;
then email me at johnslusar at fsmail.net and I will include the details on this site together with an acknowledgement for you.