BAY MEADOWS RACECOURSE
The Bay Meadows racecourse was developed at the site of a former airfield and opened its gates for the first time on 3rd November 1934 and, within a year, the site was used by the San Mateo County Products and Floral Fiesta for its inaugural event in October 1935. The 8 furlong oval dirt track, together with 6½ furlong and 10 furlong chutes, shared a 302 metre home straight, and also had a 7 furlong turf track. In that first year the Bay Meadows Handicap was run over 9 furlongs, a race which continued to be run, without a break, for the next 74 years. The track was famous as being the longest continuously running track as it operated throughout World War II. I am grateful to our American Racing correspondent Richard Gauthier for the badge scans shown below.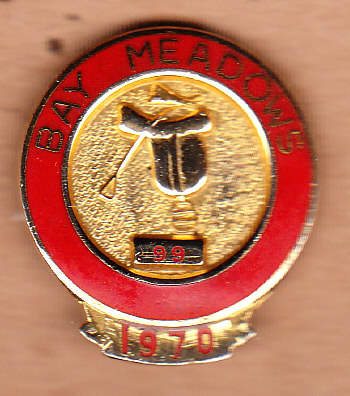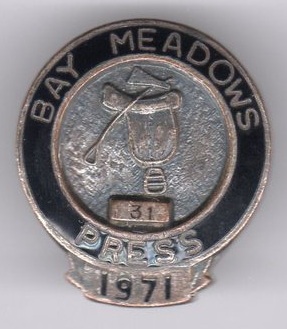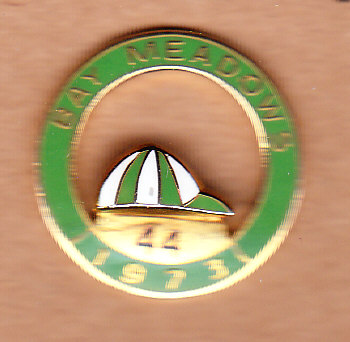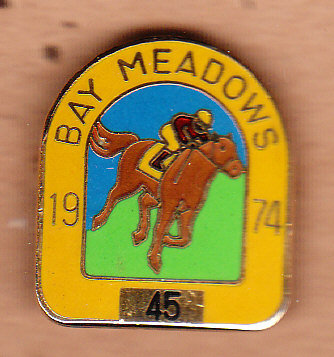 The famous Seabiscuit ran at the track in 1937, winning the Bay Meadow Handicap, and repeated the victory the very next year.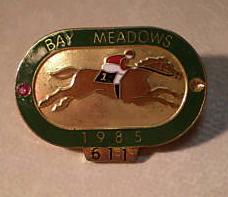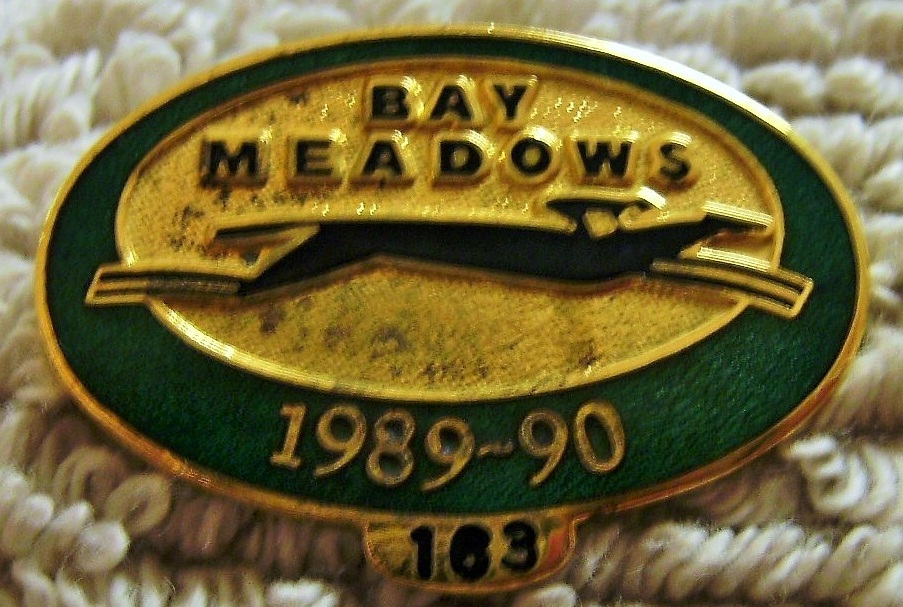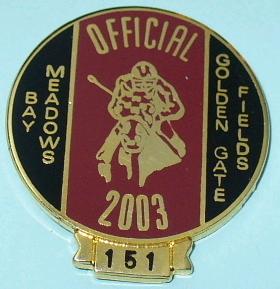 As well as hosting thoroughbred racing the course was used for harness and quarter horse racing. In the early days this provided vital extra revenue, but towards the end it became a drain on vital resources. The track was initially threatened with closure in 2006, mainly because the State had legislated that horse racing should be held on synthetic courses, but Bay Meadows overcame this problem only to fold once its land became too valuable for its owners to resist the temptation offered by developers. The final race was run on 17th August 2008, being won by You Lift Me Up, ridden by Frank Alvaredo and trained by Jerry Hollendorfer.
Bay Meadows Handicap winners since its inception in 1934
1934 The Bay Meadows Handicap over 9 furlongs was won by Time Supply
1935 The Bay Meadows Handicap over 9 furlongs was won by Head Play
1936 The Bay Meadows Handicap over 9 furlongs was won by Special Agent
1937 The Bay Meadows Handicap over 9 furlongs was won by Seabiscuit
1938 The Bay Meadows Handicap over 9 furlongs was won by Seabiscuit
1947 The Bay Meadows Handicap over 9 furlongs was won by Artillery
1952 The Bay Meadows Handicap over 9 furlongs was won by Moonrush
1959 The Bay Meadows Handicap over 9 furlongs was won by Promised Land
1960 The Bay Meadows Handicap over 9 furlongs was won by Prize Host
1962 The Bay Meadows Handicap over 9 furlongs was won by Sea Orbit
1963 The Bay Meadows Handicap over 9 furlongs was won by Mustard Plaster
1973 The Bay Meadows Handicap over 9 furlongs was won by Partners Hope
1974 The Bay Meadows Handicap over 9 furlongs was won by Indefatigable
1975 The Bay Meadows Handicap over 9 furlongs was won by Bahia Key
1976 The Bay Meadows Handicap over 9 furlongs was won by Lifes Hope
1977 The Bay Meadows Handicap over 9 furlongs was won by Painted Wagon
1978 The Bay Meadows Handicap over 9 furlongs was won by Bywayofchicago
1979 The Bay Meadows Handicap over 9 furlongs was won by Leonotis
1980 The Bay Meadows Handicap over 9 furlongs was won by Super Moment
1981 The Bay Meadows Handicap over 9 furlongs was won by Super Moment
1982 The Bay Meadows Handicap over 9 furlongs was won by Super Moment
1983 The Bay Meadows Handicap over 9 furlongs was won by Interco
1984 The Bay Meadows Handicap over 9 furlongs was won by Scruples
1985 The Bay Meadows Handicap over 9 furlongs was won by Drumalis
1986 The Bay Meadows Handicap over 9 furlongs was won by Palace Music
1987 The Bay Meadows Handicap over 9 furlongs was won by Show Dancer
1988 The Bay Meadows Handicap over 9 furlongs was won by Wait Till Monday
1989 The Bay Meadows Handicap over 9 furlongs was won by Ten Keys
1990 The Bay Meadows Handicap over 9 furlongs was won by Robinski
1991 The Bay Meadows Handicap over 9 furlongs was won by French Seventyfive
1992 The Bay Meadows Handicap over 9 furlongs was won by Forty Niner Days
1993 The Bay Meadows Handicap over 9 furlongs was won by Slew of Damascus
1994 The Bay Meadows Handicap over 9 furlongs was won by Blues Traveller
1995 The Bay Meadows Handicap over 9 furlongs was won by Caesour
1996 The Bay Meadows Handicap over 9 furlongs was won by Gentlemen
1997 The Bay Meadows Handicap over 9 furlongs was won by El Angelo
1998 The Bay Meadows Handicap over 9 furlongs was won by Hawksley Hill
1999 The Bay Meadows Handicap over 9 furlongs was won by Kirkwall
2000 The Bay Meadows Handicap over 9 furlongs was won by Devine Wind
2001 The Bay Meadows Handicap over 9 furlongs was won by Super Quercus
2002 The Bay Meadows Handicap over 9 furlongs was won by David Copperfield
2003 The Bay Meadows Handicap over 9 furlongs was won by Mister Acpen
2004 The Bay Meadows Handicap over 9 furlongs was won by Needwood Blade
2005 The Bay Meadows Handicap over 9 furlongs was won by Adreamisborn
2006 The Bay Meadows Handicap over 9 furlongs was won by Flamethrowintexan
2007 The Bay Meadows Handicap over 9 furlongs was won by Now Victory
2008 The Bay Meadows Handicap over 9 furlongs was won by Bold Chieftain
If you have badges, racecards, pictures of the racecourse or further details about the course, including your memories, then email johnwslusar@gmail.com