BELTERRA PARK RACECOURSE
The racecourse of Belterra Park has been operational for the best part of a century. It has raced under a variety of names in the past, including Coney Island and River Downs. Its feature races are The Best of Ohio and the Queen City Oaks.
The brainchild of a group of New York financiers, River Downs racecourse can be found at Coney Island in Cincinnati, and first opened its gates to racing in 1925. On that first day a crowd in excess of 10,000 witnessed the amazing Black Gold win the inaugural race.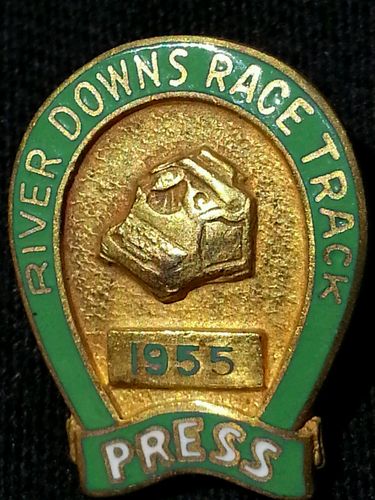 The principal race is the Cincinnati Derby and one of its greatest encounters was the 1926 event won by Crusader, defeating Boot To Boot (who had triumphed in the American Derby) and Display (who had won the Belmont Stakes). The track became synonomous with famous horses and in 1936 possibly the greatest of them all, Seabiscuit, was to contest and be defeated in the Western Hills Handicap and the Eastern Hills Handicap in October. His greatest victories were yet to come.
The track has not only witnessed great racehorses, but launched the careers of some of the most famous jockeys. One of the best to grace the track was first seen on 17th May 1976 when the 'Kid' won on Red Pipe. Steve Cauthen became a household name well beyond the Coney Island track or the shores of the America, and possibly the highlight of his great career was a Triple Crown win on Affirmed.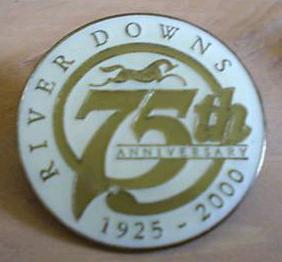 I am grateful to our American Racing Correspondent Richard Gauthier for the badge scans shown above.
The track enjoyed a major rebuilding programme in 1988 and 1989, including a $16 million grandstand, but managing to keep the 'open air' tradition first begun in 1925. A first took place at the track on 19th September 1996 when the River Downs Clubhouse became the 'River Downs Racebook' broadcasting live races from across the States and keeping the track at the very forefront of USA racing.
If you have badges, racecards, pictures of the racecourse or further details about the course, including your memories, then email johnslusar@fsmail.net