1555

Believed to be the date of the first running of The Kiplingcote Derby. This is a race run over 4 miles from Etton to Middleton on the Wolds, via Beverley.

1690

Evidence that a permanent race track was laid out in Beverley

1740

Robert Norris is made Clerk of the Course at Beverley.

1767

The first grandstand was constructed for the grand sum of £1000. The money was raised from the sale of 300 silver admission tickets which gained free entrance for its subscriber. One of the silver tickets is illustrated on the website.

1813

Squire Watt, of nearby Bishop Burton, bred and trained numerous winners. These included the St Leger winner Altisidora, whose fame is remembered by the local pub being named in his honour.

1823

Barefoot wins the St Leger for the Beverley trainer Squire Watt.

1825

Memnon is sent out by Beverley trainer, Squire Watt, to win the St Leger.

1833

Rockingham becomes the final St Leger winner trained by Squire Watt.

1856

The great Blink Bonny, pictured elsewhere on the website, won a two year old race at Beverley prior to winning both the Derby and the Oaks the next year.

1885

The Watt Memorial Plate is run for the first time, financed from a fund set up in memory of William Watt, who died in 1874 and who was the son of the famous Squire Watt.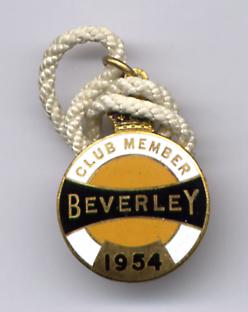 1914-18
Racing ceases fro the duration of the War and leads to a controversy regarding the funding of the Watt Memorial Plate. The matter is sorted by 1920, and the racecourse are able to continue to finance the Plate from the Watt fund.
1928
Captain J.C.Storie becomes Clerk of the Course and Director of the race company.
1939-45
Racing ceases for the duration of World War II.
1949
The Member's Stand is opened.
1967
The Earl of Halifax opens the Tattersall's grandstand.