1783
The first evidence of a race meeting at Brighton (Brightelmstone), the meeting taking place on 26th and 27th August. The main race on the first day was a 4 mile sweepstake for horses of 4 and upwards, with an entry fee of 20 guineas. On the second day the feature race was a gentleman's plate.
1785
The Prince Regent took an interest in the races at Brighton, and was amongst the subscribers for the Conflans Stakes. An interesting feature of this meeting was that French horses were given a weight allowance of 7 lbs.
1805
Trouble brewed at Brighton when the farmer, whose land the racecourse was built upon, claimed 100 guineas or 27 gallons of wine for the privilege of leasing his land. The Jockey Club did not honour the deal and the farmer threatened to plough the racecourse. However, he saw the light when a group of thugs employed by the Jockey Club threatened to escort the farmer to the Napoleonic Wars.
1806
Colonel Henry Mellish was a heavy gambler of the day and his horse Trafalgar gained dual success in the Pavilion Stakes and the Egremont Stakes.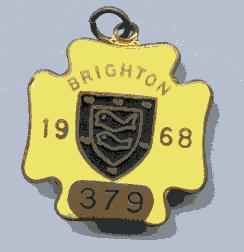 1884
Brighton Corporation takes charge of the racecourse under the terms of the Improvement Act.
1965
Main stands are completed and opened this year.