1856

One of the earliest indications of a meeting taking place in the vicinity of the village of Cartmel on the Cavendish estate. It is known that the Tradesman's Stakes and Innkeepers Stakes took place at this early meeting. There had been earliier meetings in Cumbria, notably Cockermouth in 1700, Penrith 1774-1847, Kendal 1821-34 and again in 1880-82, and Barrow-in-Furness 1873-75. The Furness Railway, completed in 1857, provided a great boost to the chances of Cartmel racecourse becoming fully established. The first meeting, consisting of 3 races, took place on 12th May, a Whit Monday. Remarkably all 3 races were won by Mr Minnie's Phoenix.

1862

On 9th June, once again a Whit Monday, the second recorded meeting took place and, once again, consisted of 3 races but with a number of heats. Peggy Taft won the Hartington Stakes, with Rose Of Raby achieving success in the Tradesman's Plate.

1863

The first hurdle race, consisting of just 4 hurdles, takes place and is won by Mountain Boy.

1869

A unique meeting took place when, due to lack of runners of the equine kind, men replaced the horses and competed in races instead.

1875

First indication of a race meeting taking place under National Hunt rules.

1876

Stewards at the meeting include Captain Westropp, owner and jockey of Mulligan who ran in the Grand National in the 1950's, and Lieu-Col. Ainsworth, who was still a steward in 1897.

1878

The races at Cartmel now are referred to as the Cartmel Hunt and retain this name until 1925.

1884

The first occasion when all 6 races are run over hurdles.

1850-the present

An extremely comprehensive booklet detailing Cartmel's history is written by Paul Davies and is available from :-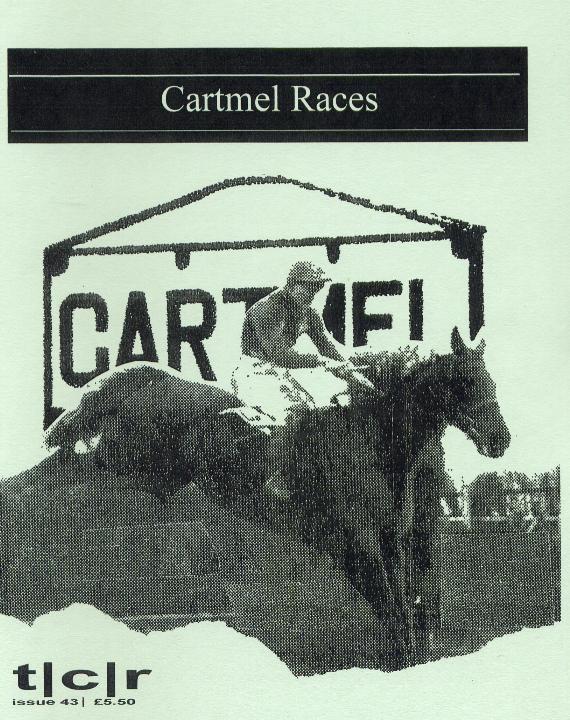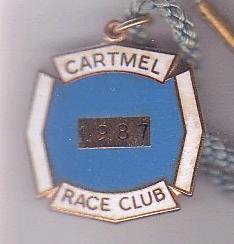 1925

The Cartmel Steeplechases Limited is formed.

1955

The famous fair, still held in the centre of the course today, comes of age with the introduction of the dodgems.

1956

The Barrow Steeplechase is won by Wyndburgh who later goes on to finish second in the Grand National 3 times, 1957, 1959 and 1962.

1962

Automatic weighing scales are introduced to Cartmel for the first time after they are purchased from Buckfastleigh, which closed.

1963

For the first time the Judge, Starter, Clerk of Scales and Handicapper were appointed by the National Hunt Stewards Committee.

1974

Probably Cartmels most famous moment in history occurred this year. Gay Future won a race at the meeting at 10/1 and was coupled in multiple bets with 2 other horses. Both of the other horses failed to run in their respective races, incurring the bookies a big payout.

1980

The Cartmel Race Club is formed by Terry Bray, limited to a maximum of 300 members.

1998

The future of Cartmel racecourse is made secure with the formation and first meeting of the Directors of Cartmel Steeplechases Ltd on 16th February.