1783

Although there are references to racing in the area around Catterick prior to this year, the first race meeting to take place on the present day course was on 22nd April.

1819

Mr Ferguson, a local racehorse breeder and publican of The Bridge, situated at the rear of the course and previously named the George & Dragon, ran Antonio to win in the St Leger of this year at 33/1. His previous claim to fame was to ensure racing continued to take place at Catterick, even on days when it snowed, by sending his flock of sheep around the course to melt the snow.

1848

Catterick Bridge tokens are produced (see scan from Richard English shown opposite).

1888

Charges are made for the first time for the general public. Previously only those using the stand were charged an entrance fee.

1906

First grandstand is completed and opened in this year, after local cottages are demolished to make way for the stand.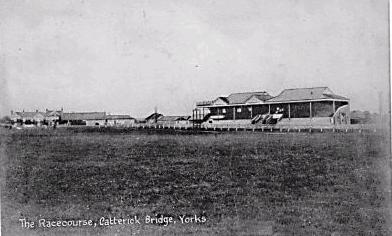 1923
The Catterick Racecourse Company is formed and immediately begin the work of improving the jumping course.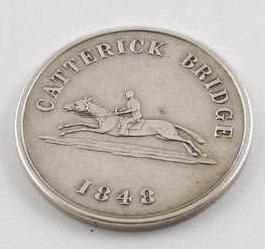 1946

Major Leslie Petch takes over as Clerk of the course.

1962

Willie Carson's first winner, Pinkers Pond, is at Catterick on 19th July.

1972

John Sanderson, nephew of Leslie Petch, takes over as Clerk of the Course and Managing Director.