Pre 1801

Early racing had taken place in the vicinity of Goodwood at Petworth Park ubder the auspices of the Sussex Militia and continued to be organised until 1803.

1801

First records of racing, of some form, taking place at Goodwood. It was under the direction of the third Duke of Richmond, ably supported by the Goodwood Hunt and the Sussex Militia (of qhich he was their Colonel), that a race meeting was organised consisting of 2 mile heats.

1802

A wooden stand is completed, about 3 furlongs from the site of the current grandstand, and the first official Goodwood meeting takes place. Amongst the races there was the City of Chichester's Plate and a Ladies' Plate, won by Mystery owned by a certain Mr Ladbroke.

1806

The third Duke of Richmond died on 29th December.

1812

The first Goodwood Gold Cup is run at the Spring meeting for the first time over 3 miles, and is won by Shoestrings. Previously a Silver Cup had been awarded as the prize.

1814

For the first time the meeting is moved from a Spring meeting to July and 'Glorious Goodwood' comes into being.

1823

The first running of the Goodwood Stakes results in a win for the Duke of Richmond's Miss Cavan. Dandizette should have been triumphant the following year, but the judge missed her and gave the race to Vitellina.

1836

A remarkable event took place at Goodwood this year, when Lord George Bentinck's Elis raced, and finished second to Hornsea in the Goodwood Cup only days before the Doncaster St Leger. In the days without horseboxes it was unheard of for a St Leger candidate to run at Goodwood shortly before taking on the Doncaster classic. However, Bentinck had invented the horsebox, and Elis duly ran in, and won, the St Leger to land a huge coup.

1840

The Stewards Cup is competed for the first time, although it had been run since 1834 in a different guise. Euclid, carrying 9st 7lbs, defeats 21 rivals. The Chesterfiled Cup, a handicap, was also run for the first time and won by Potentate.

1877

The Richmond Stakes, over 6 furlongs, is run for the first time and results in a win for Jannette. The filly was owned by Lord Falmouth and later triumphs in the Oaks.

1883

The great St Simon makes his racecourse debut at Goodwood and wins the Halnaker Stakes in the hands of Fred Archer.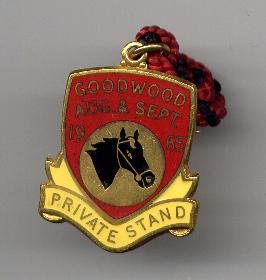 1935
Mahmoud is successful in the Richmond Stakes before going on to land the Derby in the hands of Charlie Smirke, for the Aga Khan, the following year.
1959
Predominate, owned by Jim Joel, wins the first of three successive Goodwood Stakes.
1951
Goodwood celebrates its 150th anniversary and, to mark the occasion, produces daily racecards with scenes from early meetings and a potted history of the 4 most important races.
1980
The new grandstand is opened.