1751

A 2 day meeting was held at Goulborn Heath and entitled Newton Races. The Newton Hunt Cup was competed for.

1807

Regular race meetings take place at Newton-le-Willows and the Newton Gold Cup is run over 4 miles.

1882

Coursing on an enclosed course takes place at Haydock Park for the first time in Autumn.

1898

Final event takes place at Newton Common in July of this year.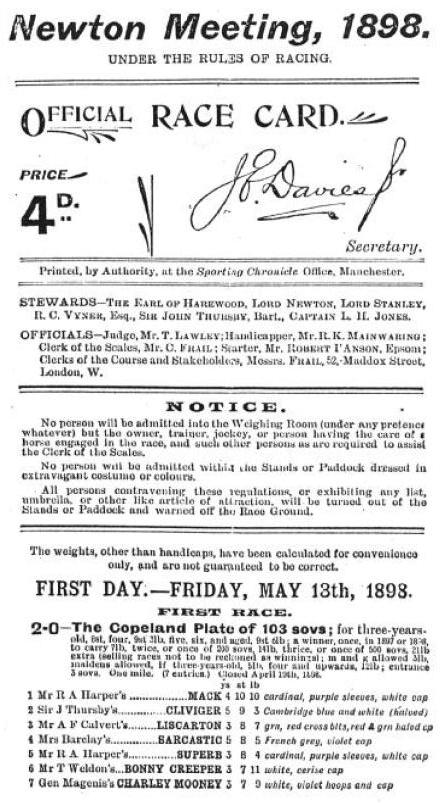 With very grateful thanks to Gerald Tinsley (Mr Haydock) for the scan of this very rare racecard, one from the last year of racing at Newton before the meeting moves to nearby Haydock Park.
For a full copy of the racecard click here.
1899
Inaugural National Hunt meeting held at Haydock Park in February and was followed by meetings under Jockey Club rules in May and August.
1908
Sydney Sandon becomes Secretary of Haydock Park Racecourse and firmly establishes the course as one of the most prestigious courses in the country.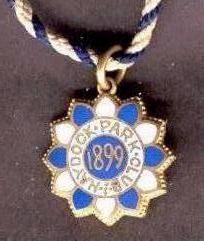 1939-45

Course closed during the War. See the artcle containing details of its use during the War

1946

Course reopens after the War with a meeting held on 14th August of this year.

1947

Sheila's Cottage wins a 3 ½ mile Chase at Haydock on 28th November and uses it as a springboard to National success in March 1948.

1963

The Lancashire Oaks, formerly run at Manchester, was transferred to Haydock Park for the first time this year.

1966

The Vernon's November Spring Cup is introduced to the Haydock programme for the first time. Be Friendly wins the race, owned by the BBC commentator Peter O'Sullevan.

1967

Be Friendly triumphs for a second consecutive time in the Vernon's Sprint Cup.

1990

New Grandstand is opened.