1720

First records of racing taking place in the vicinity of Hexham at Tyne Green.

1738

Racing takes place at Tyne Green in May..

1793

Earliest evidence of racing taking place at Hexham Raceground and future meetings take place at Yarridge.

1850

A short period of decline for Hexham as Wark Races gains in popularity.

1880

Racing continues its decline at Hexham throughout the late 1800's, with customers preferring to attend Wark races, where the first meeting was held in 1854. The last meeting at Wark, North Tyneside, took place on 16th May 1878, but this did not prevent racing from taking a break at Hexham.

1890

Racing resumes at Hexham on 23rd April, led by Charles William Chipchase Henderson, and organized under National Hunt Rules.

1900

Permanent buildings begin to be erected at the course and are distinguished by their colourful nature. They use the blue and yellow, which are the colours of Henderson.

1907

The Heart of All England Cup and Steeplechase are competed for the first time. It is thought that James VI of Scotland gave the area this title in spite of Hadrian's Wall being so close. The race is recognized as the point to point championship of the area. Hendersonbought the racecourse land off of the Bywell Estate.

1914

Old Henderson dies and the estate passes to his son, Charles Stephen Henderson.

1926

A limited company is formed, under the directorship of Captain Stephen Henderson, and the fortunes of Hexham racecourse are secure.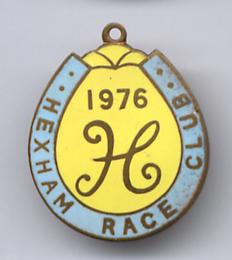 1939

Racing ceases because of the War, and the course is used as an ammunition site.

1946

Racing resumes after the war at Whitsuntide, led by Mr C. Patterson

1990

New weighing room and Officials Boxes are completed.

1997

A new watering system is installed and the racecourse gets a lake.

1998

The Horse Race Levy Board help to finance the building of the Ramshaw Stand.