1605

James I makes his first visit to Newmarket on 27th February.

1622

First record of a match race taking place on Newmarket Heath on 8th March.

1665

The Newmarket Town Plate was founded by Charles II, the Merry Monarch, and was won by him twice, the first on 14th October 1671 and the second during the Spring meeting of 1675.

1721

The famous Flying Childers beats Speedwell in a 4 mile match on 26th April.

1752

While the Jockey Club is known to have been formed before this year, a race on 1st April was for horses belonging to Jockey Club members.

1771

The grey Gimcrack wins a £50 race in April.

1786

The July Cup is run for the first time.

1809

The 2000 Guineas is run for the first time and won by Wizard ridden by Bill Clift.

1814

The 1000 Guineas is founded and won by Charlotte, again ridden by Bill Clift.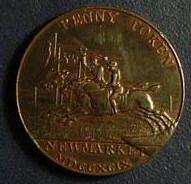 1915-18
The Derby and Oaks are run at Newmarket during the First World War. The 1915 Derby is won by S.B.Joel's Pommern, ridden by Steve Donoghue. Gainsborough won the 1918 Derby. A substitute St Leger was also run at Newmarket during this period.
1940-45
The mile and a half July course is used for the Derby and Oaks during the War years. Dante, under the guidance of Billy Nevett, won the last of these.