1689

Evidence that even at this early date the Corporation wished to promote racing in the area of Basford Lings by subscribing towards a plate to be awarded as a prize.

1727

The first Royal Plate was competed for at Nottingham at the Sherwood Forest course.

1777

A grandstand, designed by John Carr from York, was opened this year.

1797

Part of the course is enclosed for the first time and a figure of eight course is established.

1890

The last meeting to take place on the old course.

1892

A 2 day meeting on 19th & 20th August is the first to be held at Colwick Park under the auspices of the Colwick Racing and Sporting Company.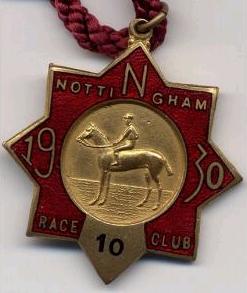 1965
The Corporation once again take charge of the 293 acre racecourse, purchasing it for £5 million.
1971
Stan Mellor wins on Ouzo in December to record his record breaking 1000th winner.
1985
Lester Piggott wins his final race on 29th October in the Willington Handicap Stakes on Full Choice.
1986
The Grandstand is set on fire and an extensive rebuilding programme is required.
1996
The final National Hunt meeting takes place on 29th February of this year.