206

As early as 206 AD the Emperor and Conqueror Severus organised a race meeting at wetherby.

pre 1842

The Wetherby meeting takes place at Park Hill.

1842

Evidence of a jump meeting taking place on a regular basis at Linton in the vicinity of Wetherby, between Wetherby and Netherby.

1865

Grand National Hunt Committee race is won by Emperor, owned by Henry Chaplin, seeing off 28 rivals. The racecard from that meeting is still displayed in the Crown Hotel.

1869

Racing takes place at 'The Bottoms' opposite Wetherby Grange. At the meeting on 6th May Thomas Hannam, aged 61, was killed.

1874

A Silver Cup is donated by the Mayor of Leeds to be competed for in the Open Hunters Steeplechase at the meeting on 20th April. It was first won by the appropriately named Number One, owned by Mr R Barker.

1878

A very important year in the history of Wetheby Races when a committee was formed who put the financial affairs of the racecourse on a firmer footing. Indeed, even up to 1884 admission to one side of the course was still free.

1890

The final meeting takes place at Linton on 8th April.

1891

The first meeting is held at the current racecourse on 30th March of this year after the tenants of the ground at Linton raised their rents to such an extent that the committee had to look for an alternative venue. It was decided to situate the course on the York Road. There was hurried preparation for the meeting, and the first meeting was held on Easter Monday 30th March. The very first race was won by the 4/6 favourite Alberta.

1906

The Grandstand is opened.

1915-19

Racing ceases because of the First World War. A hospital is erected on the course.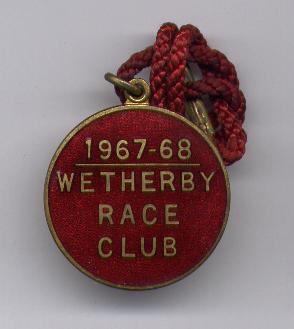 1920

The Wetherby Race Company is formed to purchase the racecourse lease and one of its members, Rowland Meyrick, becomes Clerk of the Course.

1923

A Royal year for Wetherby with Princess Mary attending the Easter meeting and Prince Henry attending at Whitsun.

1924

Popularity for the races continues to increase when a railway line is completed in close proximity to the racecourse. ( It was to remain open until 1959). It was at the meeting on 31st October that crwods arrived in their droves via the 'First Special Train'.

1939-45

Racing ceases because of the Second World War, and the course is used as an Army camp.

1953

The freehold rights for the racecourse land are purchased.

1960

New buildings are opened because, two years earlier, the old buildings had been destroyed by fire.

1967

The new Club Stand is opened by Lord Willoughby de Broke.

2000

The new Millennium Stand, costing £4 million, was opened in February.