Royal Ascot: Buckingham Palace Stakes
The Buckingham Palace Stakes, a flat handicap over 7 furlongs open to horses aged three and over, was established in 2002, when the Royal Ascot meeting was extended to a fifth day to mark the Golden Jubilee of Elizabeth II and was named after the London residence of the British monarch. It was last run in 2014 and replaced from the 2015 Royal Ascot meeting by a new Group One sprint race, the Commonwealth Cup. In 2020, the race made a one-off return as part of an expanded Royal Ascot programme, following the 10-week suspension of horse racing in the United Kingdom due to the COVID-19 pandemic.
Early history:- The inaugural running of the Buckingham Palace Stakes Handicap was on Friday 21st June 2002 when won by the Khalid Abdullah owned Demonstrate, beating Lunar Leo and Kareeb by a length and half a length, with 24 others further adrift.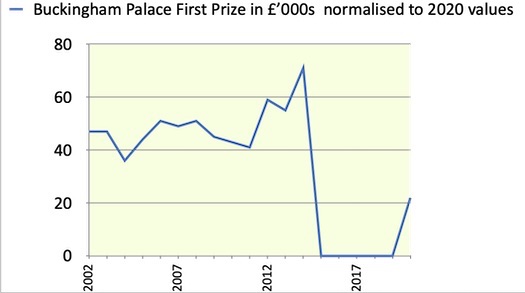 Over the entire history of the race 0% of favourites have been successful. (Lowest of all 32 Royal Ascot races)
Over the entire history of the race a level stakes bet on every favourite would have resulted in a 100% loss. (Worst of all 32 races)
Buckingham Palace Stakes
Handicap
7 furlongs
Pos.
Horse
Jockey
Trainer
Owner
2002
DEMONSTRATE
Richard Hughes
John Gosden
Khalid Abdullah 12/1
2003
ATTACHE
Philip Robinson
Michael Jarvis
Mr J R Good 10/1
2004
UNSCRUPULOUS
Oscar Urbina
James Fanshawe
Veitch/Unscrupulous Partners 8/1
2005
JEDBURGH
Mick Kinane
John Dunlop
Earl Cadogan 8/1
2006
UHOOMAGOO
Neil Callan
Kevin Ryan
J Duddy & T Fawcett 25/1
2007
BINANTI
Franny Norton
Patrick Chamings
Mrs J E L Wright 33/1
2008
REGAL PARADE
Ahmed Ajtebi
David Nicholls
Dab Hand Racing 25/1
2009
GIGANTICUS
Michael Hills
Barry Hills
Cavendish Inv, Green, James 12/1
2010
TREADWELL
Fergus Sweeney
Jamie Osborne
Mrs F Walwyn & A Taylor 14/1
2011
MANASSAS
Martin Dwyer
Brian Meehan
Mrs R Phillips 12/1
2012
ETON FOREVER
Neil Callan
Roger Varian
HRH Sultan Ahmad Shah 14/1
2013
LIGHTNING CLOUD
Neil Callan
Kevin Ryan
Hambleton Racing 25/1
2014
LOUIS THE PIOUS
Silvestre De Sousa
David O'Meara
Mr F Gillespie 33/1
15-19
The race was not staged between 2015 and 2019.
2020
MOTAKHAYYEL
Jim Crowley
Richard Hannon
Hamdan Al Maktoum 14/1
2021
HIGHFIELD PRINCESS
Jason Hart
John Quinn
Trainers House Enterprise 18/1
2022
INVER PARK
Ben Curtis
George Boughey
Inver Park Partnership 12/1