CASTLETON (BELMOPAN) RACECOURSE
Belize is a small country on the North Eastern coast of Central America. It has just under 23,000 square kilometres of land and a population of approximately 335 thousand. The official language is English, making it unusual in this area of the world given that all bordering countries have Spanish as their official language. The capital of Belize is Belmopan.
Burrell Boom is a small, mainland village NorthEast of Belmopan near the Scotland Halfmoon. It developed because of the rich source of mahogany located close by. Burrell Boom is also the home of Castleton Race track where racing takes place each Easter, September and Christmas. Meetings are held on Easter Saturday, Easter Monday, during the September celebrations and on Boxing Day.
Currently there is a dispute ongoing between the local residents, who wish to take ownership of the Racecourse, and two local men, Gilly Canton and Robert Lightburn. The course is built on 75.7 acres of land which were leased to the 2 men in 2001 by the Belize National Horse Racing Association.
I am grateful to Barry Sutton for the scan of the ticket shown below.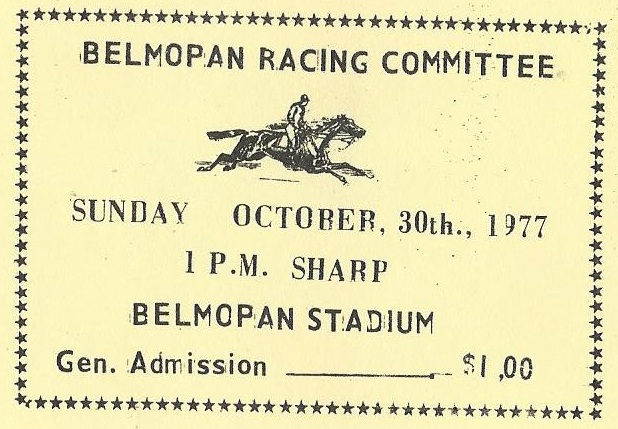 One of the most prominent organisers of the Belmopan race meetings is John Carr who runs the Banana Bank Ranch.
If you have badges, racecards, pictures of the racecourse or further details about the course, including your memories, then email johnwslusar@gmail.com