This took place on Wednesday 11th March 1863 on very good going and it was a clear day. The winner was owned by Lord Coventry, trained by Edwin Weever and ridden by George Stevens, winning by 20 lengths in 11 min and 20 seconds, with a further 10 lengths back to the third.
GRAND NATIONAL 1863
There were 74 subscribers, 21 of which paid 5 sovereigns. There were 16 acceptances and after 100 sovereigns were added to the stake, and the second saved his stake, the pot was £855. (Equivalent to £95,800 in 2017)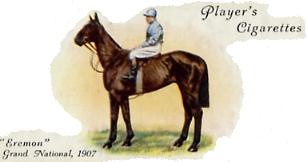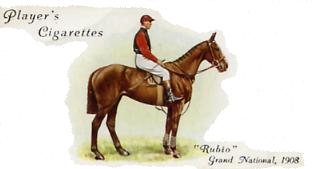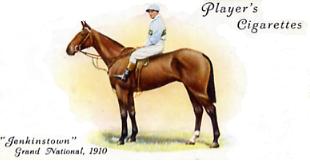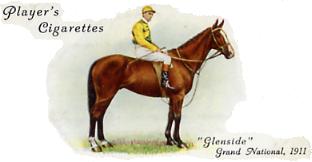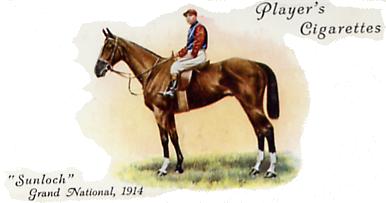 Pos.
Horse
Jockey
Owner
1
EMBLEM
George Stevens
Lord Coventry
2
ARBURY
Mr Goodman
Mr J Astley
3
YALLER GAL
Mr Dixon
Mr Briscoe
4
FOSCO
Mr G Holman
Mr G Holman
also
AVALANCHE
Palmer
Baron de Mestnil
also
JEALOUSY
Kendall
Mr Priestley
also
MEDORA
Mr F Rowland
Mr F Rowland
also
FRESHMAN
Mr Edwards
Mr W Maney
also
THE DANE
W White
Captain Christie
also
MASTER BAGOT
Knott
Mr W G Craven
also
LIGHT OF OTHER DAYS
Nightingale
Mr W W Baker
also
INKERMAN
Mr Smith
Mr W E Dakin
also
THE ORPHAN
Mr W Bevill
Mr J C Tilbury
also
TELEGRAPH
G Waddington
Mr Campbell
also
BIRDBOLT
Mr Spence
Mr Spence
also
REAL JAM
D Hughes
Mr T Hughes
Betting

Bell's Life and the Sporting Chronicle provided a detailed account of the race on Sunday 15th March 1863, the article forming the backbone of the information shown below.
It was not unreasonably questioned whether holding the Grand National meeting on the marriage da of the Prince of Wales was likely to conduce to its success but, for good or ill, there was little choice because the Liverpool fixture had been made well before the Royal marriage, and all future days had already been allocated to other meetings, most notably Shrewsbury on Thursday and Friday.
After the previous race, the Sefton Stakes, had suffered a delay, the 16 National runners paraded for the big race without showing any signs of urgency. The duty of starter was assigned by Lord Sefton to Mr Marshall who got the field away at 4.11. The Orphan bucked at the start, but was up with the leaders well before the end of the starting meadow, while Medora showed the way. By the time the leaders had reached Beecher's Brook, Freshman cleared in advance of the riderless Inkerman, closely followed by Yaller Gal, Arbury, Medora and The Dane. Before turning canal side, Jealousy took her colours to the fore, leading by some 8 lengths from Master Bagot. At the artificial water jump Jealousy crossed first, with Medora on her near side and Master Bagot on the far side.
It's now over the John Hanmer in the Stands for the rest of the commentary which is shown below.

3/1
Jealousy
4/1
Emblem
100/12
Medora
10/1
The Dane
100/8
Master Bagot
20/1
Real Jam
20/1
Yaller Gal
20/1
Light of Other Days
25/1
Arbury
33/1
Avalanche
40/1
Fosco
50/1
Birdbolt
50/1
Telegraph
50/1
The Orphan
50/1
Inkerman
50/1
Freshman
Over Round 109%
Note that unquoted horses have been allocated 50/1.

Emblem made a moved towards Jealousy as Beecher's was approached for the final time, where Telegraph ploughed through the obstacle and broke his back. After Beecher's Jealousy began to tire, leaving Yaller Gal to take a 2 length lead from Arbury, Emblem, Light of Other Days and The Dane. Maintaining a strong gallop, Yaller Gal succeeded in leading over the plough and pastures, although she then ran out of steam 2 furlongs later, handing the advantage to Arbury, closely followed by Emblem. The issue was not in doubt some way from home despite Emblem knocking down the hurdle at the distance pole, which enabled Arbury to pass through the gap. Emblem strode on to win by 20 lengths, while Arbury saved the owner's stake, with Yaller Gal 10 lengths back in third; Fosco was fourth, Avalanche fifth and Jealousy finished a gallant sixth.

FOOTNOTE: The rider of Grand National also-ran Inkerman was Parnaby Smith of Nunnington, near Malton which had held its own races in 1630. Later in March, on Monday 16th March 1863 at the Sandown Military Meeting Inkerman ran twice, contesting the Grand Military Gold Cup when ridden by his owner Mr Dakin, but he was unplaced. A day later on Tuesday 17th March 1863 Inkerman won the 10 Sovereign Sweepstake for Mr Dakin when ridden by Parnaby Smith. Parnaby was a well-known horsebreaker and jumps jockey who unfortunately died from injuries sustained in a fall 7 years later. He was contesting a steeplechase race at Tadcaster on Wednesday 20th April 1870, riding Topsy owned by Mr Stubbs, but the horse hit one of the smaller hurdles and fell on his jockey causing him to have an effusion of blood on the brain which he died from a few days later. The coroner's verdict was accidental death, but Parnaby left behind a wife and six children.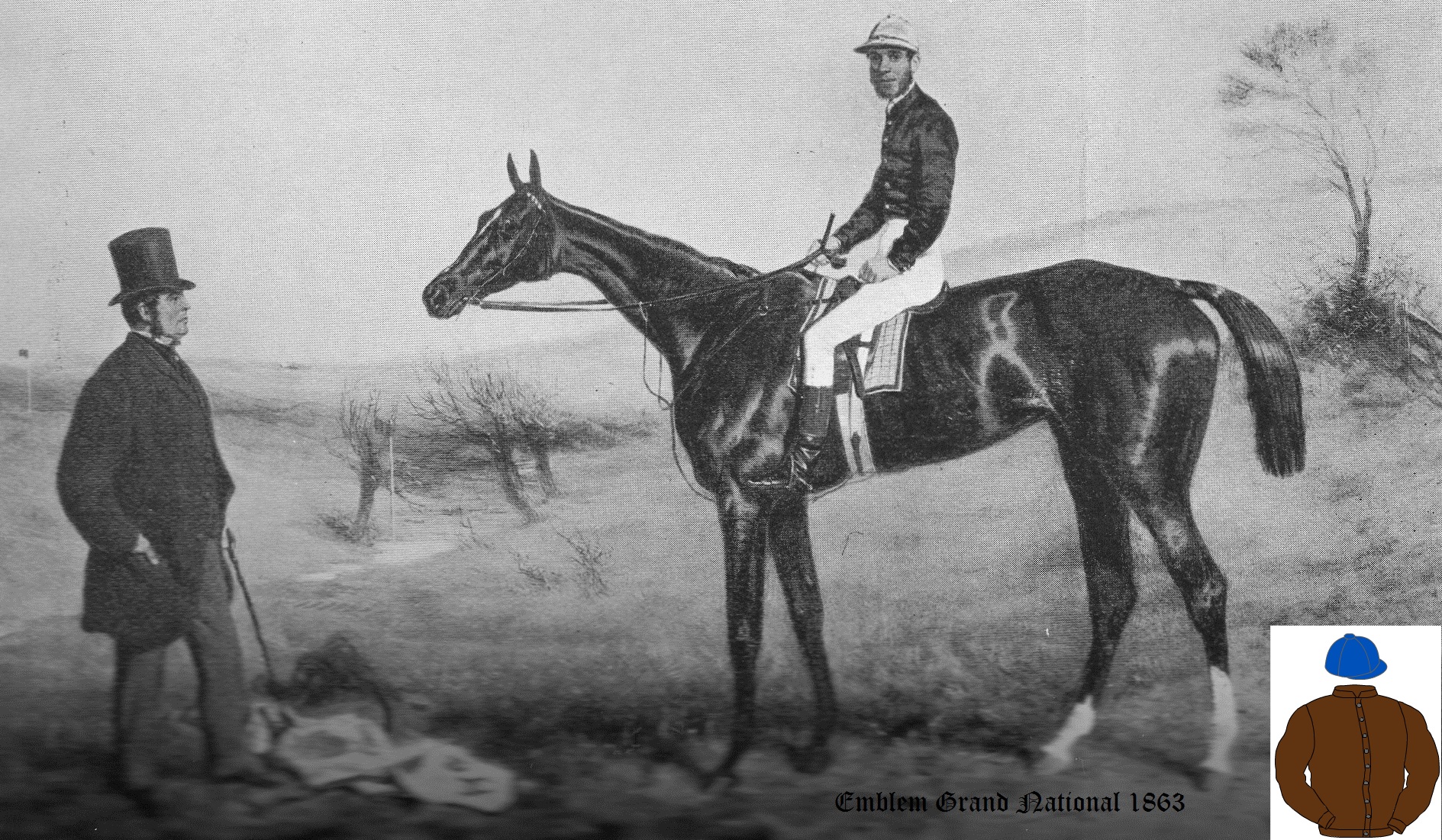 ISBN 978-0-9957632-0-3

652 pages

774 former courses

ISBN 978-0-9957632-1-0

352 pages

400 former courses

ISBN 978-0-9957632-2-7

180 pages

140 former courses

ISBN 978-0-9957632-3-4

264 pages

235 former courses

Copies of the above books are only available by emailing johnwslusar@gmail.com stating your requirements, method of payment (cheque payable to W.Slusar) or Bank transfer, and the address where the book(s) should be sent.

ORDER FORM
Download an order form
Quantity
Cost
Volume 1 North of Hatfield £19.99 + £4 postage
Volume 2 South of Hatfield £14.99 + £3 postage
Volume 3 Wales & Scotland £9.99 + £3 postage
Volume 4 Ireland £9.99 + £3 postage
Volumes 1 - 4 £54.96 + £5 postage
Postage & Packaging
Total
Email order form to johnwslusar@gmail.com