This took place on Thursday 18th March 1875 on very deep going and the weather was clear. The winner was owned by Hubert Bird, trained by W Reeves and ridden by Mr Tommy Pickernell, winning by half a length in 10 mins 22 secs, with 3 lengths back to the third.
GRAND NATIONAL 1875
There were 79 subscribers and, for the first time, 1000 sovereigns added, with 19 declared, and the second receiving 100 sovereigns while the third saved their stake, it left a pot of 1965 sovereigns. (Equivalent to £158,000 in 2017)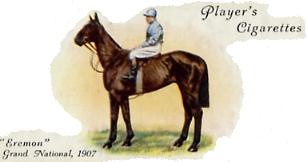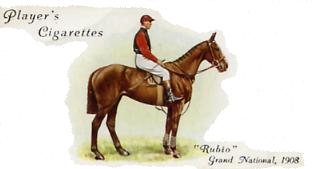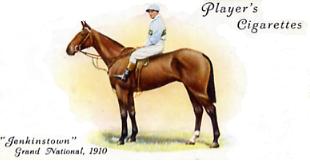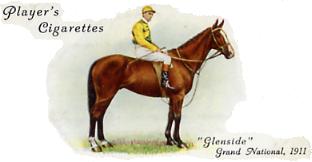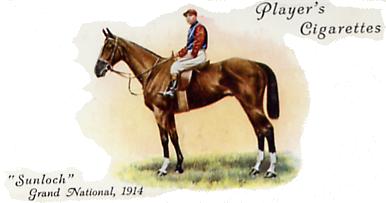 Pos.
Horse
Jockey
Owner
1
PATHFINDER
Mr Thomas Pickernell
Mr Hubert Bird
2
DAINTY
Mr Hathaway
Mr S Davis
3
LA VEINE
J Page
Baron Finot
4
JACKAL
R Marsh
Mr H Baltazzi
also
MARMORA
Jones
Captain R Thorold
also
VICTOIRE
Mr Barnes
Mr Beacher
also
SPARROW
Gregory
Mr Percival
also
CONGRESS
Mr E P Wilson
Mr Gomm
also
FURLEY
Mr J Goodwin
Mr H Baltazzi
also
CLONAVE
Gavin
Sir W Nugent
also
DUC DU BEAUFORT
Captain Smith
Mr Vyner
also
LABURNUM
Jewitt
Captain Machell
also
MISS HUNGERFORD
Mr Rolly
Mr F Bennett
also
ST AUBYN
J Pickett
Mr C A Egerton
also
SAILOR
Fleming
Captain S Gubbins
also
MESSAGER
Whiteley
Mr Percival
also
BAR ONE
Mr L Nicholson
Mr L Nicholson
also
FLEURISTE
R L'Anson
Mr Granger
also
NEW YORK
Mr Dalglish
Mr E Platt
Betting

Bell's Life and the Sporting Chronicle provided a detailed account of the race on Saturday 20th March 1875, the article forming the backbone of the information shown below.
This year the Grand National appeared to have been relegated to the back-burner in punter's thoughts, despite added prize money being increased to 1000 sovereigns, and even when the weights were published the ante-post betting on the race was not on the same scale as chases at Croydon, Bristol and, more importantly, at the newly opened Sandown Park. Furthermore, flat racing enthusiasts were more attracted to the Lincolnshire Handicap which was contested during the same week as the National. Once Grand National day arrived the usual excited crowd thronged to Aintree, and for the first time the starting post was moved close to the corner of the paddock, significantly reducing the time taken to conduct the parade. At flag fall La Veine, Sparrow and Sailor made the early running, with La Veine leading over the first obstacle from Congress, Sailor and Miss Hungerford. Meanwhile Furley obstinately refused, bringing down Messager. Worse was to follow at the second when Cloncave slipped into the ditch on take-off side, colliding with St Aubyn who, in turn, cannoned off New York, effectively putting paid to the chances of all three. Reaching Becher's for the first time around, La Veine continued to lead at a married man's pace, from Congress, with Sparrow and Miss Hungerford in close attendance, with a four length gap back to Marmora and Jackal. Over Valentine's Brook Congress deprived La Veine of the lead, with Jackal and Pathfinder in immediate pursuit.
It's now over the John Hanmer in the Stands for the rest of the commentary which is shown below.

6/1
Jackal
6/1
La Veine
7/1
Congress
9/1
Clonave
100/8
Duc Du Beaufort
100/8
Marmora
100/8
Sailor
100/7
Sparrow
100/6
Pathfinder
20/1
Laburnum
20/1
Miss Hungerford
25/1
Dainty
33/1
Fleuriste
33/1
Messager
40/1
St Aubyn
50/1
New York
50/1
Bar One
50/1
Furley
50/1
Victoire
Over Round 117%
Note that unquoted horses have been allocated 50/1.

Along the canal side Victoire made rapid headway, taking the lead on reaching the inner circle of the racecourse. This order was maintained on reaching the Stand Water, at which point Pathfinder and Marmora landed in advance of Jackal. Well into the final circuit the field had divided opinions at Becher's, La Veine, Congress and Duc de Beaufort steered to the left, while Victoire, Marmora and Pathfinder went right. It was Victoire who emerged at the head of affairs with a slight lead over Congress and Bar One. On reaching the second hurdle from home Congress cleared it with a sound advantage over Victoire, Dainty and La Veine in a cluster, and for the first time in a long time many were still staking their claim. At the five furlong marker Dainty had worked her way to the fore, although by this stage Victoire had lost all thought of victory. Over the last timber fence the trio of Dainty, Pathfinder and La Veine were in the ait together, the former pair jumping better that La Veine who was now being challenged on the inside rail by Jackal. It was only in the last 50 yards that Pathfinder hit the front, winning by half a length from Dainty, with 3 lengths back to La Veine; Jackal finishing fourth, Marmora fifth and Victoire sixth.
ISBN 978-0-9957632-0-3

652 pages

774 former courses

ISBN 978-0-9957632-1-0

352 pages

400 former courses

ISBN 978-0-9957632-2-7

180 pages

140 former courses

ISBN 978-0-9957632-3-4

264 pages

235 former courses

Copies of the above books are only available by emailing johnwslusar@gmail.com stating your requirements, method of payment (cheque payable to W.Slusar) or Bank transfer, and the address where the book(s) should be sent.

ORDER FORM
Download an order form
Quantity
Cost
Volume 1 North of Hatfield £19.99 + £4 postage
Volume 2 South of Hatfield £14.99 + £3 postage
Volume 3 Wales & Scotland £9.99 + £3 postage
Volume 4 Ireland £9.99 + £3 postage
Volumes 1 - 4 £54.96 + £5 postage
Postage & Packaging
Total
Email order form to johnwslusar@gmail.com