When Old Joe won the National in record time for owner Johnstone Douglas he is reported to have made his owner £14000, the equivalent in today's terms of just under £1 million. It is further believed that Tommy Skelton received £1000 (equivalent to £70000 in todays money) as a gift from the grateful owner. Indeed Tom was lucky to have picked up the chance ride when his owner could not make the weight of 10st 9 lb.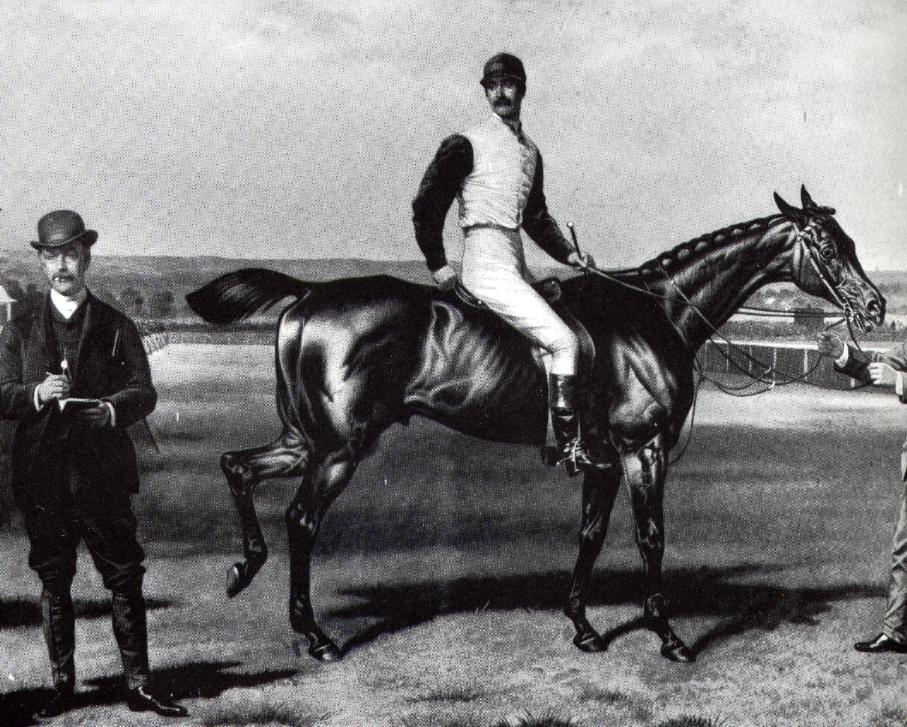 The picture shown above is of Old Joe, but with owner Johnstone Douglas in the saddle. It was left to professional rider Tom Skelton to guide the winner home. It is widely believed that Tom Skelton was his professional riding name, but that his real name was Tom Tagg. Thomas Cheshire Tagg was born in 1868 at Newhall, South Derbyshire, son of Thomas Tagg and Elizabeth Cheshire. He rode his first winner in 1879, a flat race at Lichfield, but it was in steeplechasing that he was to make his name. He rode in the Grand National 7 times and, remarkably, he was placed third, first, second and fourth in his first 4 attempts before being unplaced on 3 subsequent attempts. Burgh trainer George Mulcaster acknowledged after the race that Old Joe had shown signs of lameness before the race and that he had considered withdrawing him.
Rumour has it that, at one stage in his career, Old Joe had pulled a milkcart.
I am indebted to Angie Heape, a distant relation of Tom Tagg, for the pictures on this page, and to her daughter Francesca who has inherited racing blood from her famous relation.
The picture below shows the house, 62 Grange Street, Burton on Trent, where Tom Tagg spent his early years.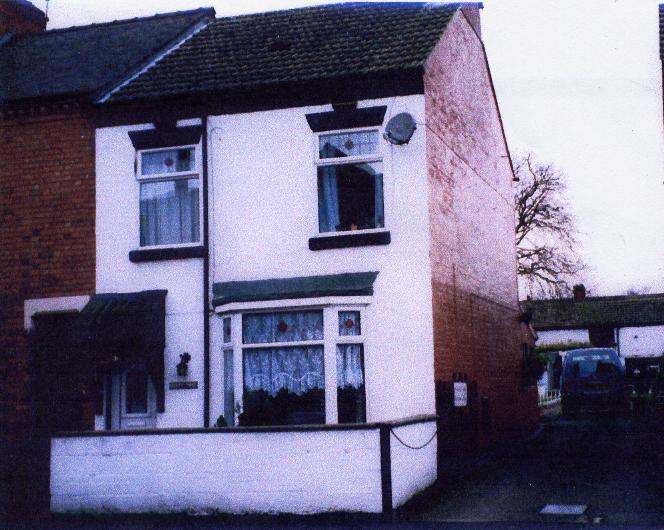 The picture opposite shows Tom Tagg as a famous coachman on the London to Dorking route.
Pos.
Horse
Jockey
Owner
1
OLD JOE
T Skelton
Mr Douglas
2
TOO GOOD
Mr H Beasley
Count Erdody
3
GAMECOCK
W E Stephens
Mr E Jay
4
MAGPIE
Mr W Woodland
Mr E Woodland
also
THE BADGER
A Nightingale
Baron C de Tuyll
also
CORONET
Captain Lee-Barber
Mr J G Muir
also
CORTOLVIN
W Dollery
Mr Abington
also
LADY TEMPEST
Mr W Beasley
Mr P M V Saurin
also
ROQUEFORT
Mr E P Wilson
Mr A Cooper
also
FRIGATE
Mr J Jones
Mr Broadwood
also
REDPATH
Mr G Lambton
Mr P J Zigomala
also
JOLLY SIR JOHN
Mr C N Waller
Mr F Gibhard
also
BLACK PRINCE
Mr Nightingall
Captain Machell
also
BILLET DOUX
J Behan
M Zborowski
also
THE LIBERATOR
Mr S Woodland jnr
Mr E Woodland
also
BELMONT
Westlake
Mr J Daly
also
HARRISTOWN
Mr J Purcell
Mr J Purcell
also
FONTENOY
J Page
Mr Iquique
also
SINBAD
A Hall
Mr L de Rothschild
also
SAVOYARD
G Kirby
Baron W Schroeder
also
LIMEKILN
W Brockwell
M Zborowski
also
AMICIA
F W Cotton
Mr H Wood
also
CONSCRIPT
H Escott
Captain Child
3/1
Coronet
5/1
Roquefort
7/1
Too Good
9/1
Frigate
100/6
Redpath
22/1
Lady Tempest
22/1
Savoyard
25/1
Sinbad
25/1
Old Joe
25/1
Amicia
25/1
The Badger
33/1
Belmont
40/1
Jolly Sir John
50/1
Gamecock
50/1
Black Prince
50/1
Cortolvin
66/1
Harristown
100/1
The Liberator
100/1
Conscript
100/1
Billet Doux
200/1
Magpie
200/1
Fontenoy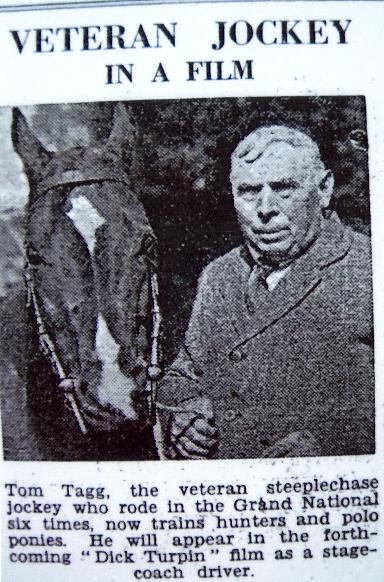 I am indebted to John Davis, the Great Grandson of Thomas Cheshire Tagg. Tom Tagg (Skelton) rode in 6 Grand Nationals. The first in 1885 he came 3rd on Black Prince, in 1886 1st on Old Joe and in 1887 2nd on Savoyard. He rode Ringlet to 4th in 1888 and in 1889/90 on both occasions he rode Voluptuary. He also rode on the continent and his first race was on the flat at
Lichfiel
which he won. He was 11 years old. Tom also won several other big races such as the Grand Sefton and the
Lancashire
Chase on Savoyard in 1887. In 1887 he also won the Prince of Wales Chase on Scottish Minstrel and in 1888 he won the Sandown Grand Prize on Astrakan. By 1891 he was on the road coaches and competing in tournaments against the likes of The Fownes Brothers, Alfred Vanderbilt and Bertram Mills. He drove the Perseverance,
Londo
to Dorking 1897 to 1911 and the Raynard and Red Rover coaches from 1911 to 1914. He trained racehorses from about 1919 to 1936 at his own stables at
Woodlands Road
Stables in Barnes,
Surrey
. From here he went to work for Bertram Mills the owner and creator of the famous Bertram Mills Circus. Mr Mills was a friend of Toms for over 40 years and in 1938 Tom became Master of the Horse for Mills until his death in 1946.
I am very grateful to both John Davis and Jacky Jones for carrying out such detailed research.

Unbelievably, John was able to get hold of an newspaper account of the race and allowed it to be included below:-