This race took place on Saturday 7th April 2001 and the winner was Red Marauder which was owned by N.B.Mason, winning a first prize of £310,000, with Smarty a distance behind in second and Blowing Wind in third. There were 40 runners but only 4 finished.
GRAND NATIONAL 2001
The Youtube website and bank of film clips provide excellent coverage of the Grand National. The link below is a 9 minute 59 seconds clip of the Grand National. http://www.youtube.com/watch?v=LoR7i6u3Wy4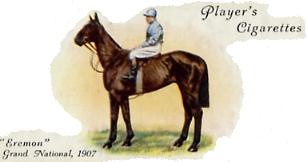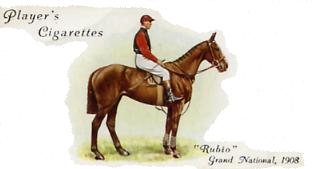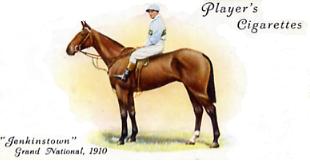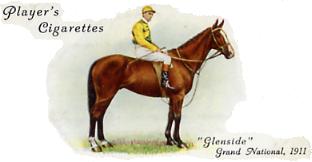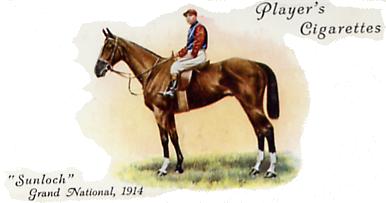 With grateful thanks to PETE ALVORSOL for the great scan of the oh so rare Red Marauder jug.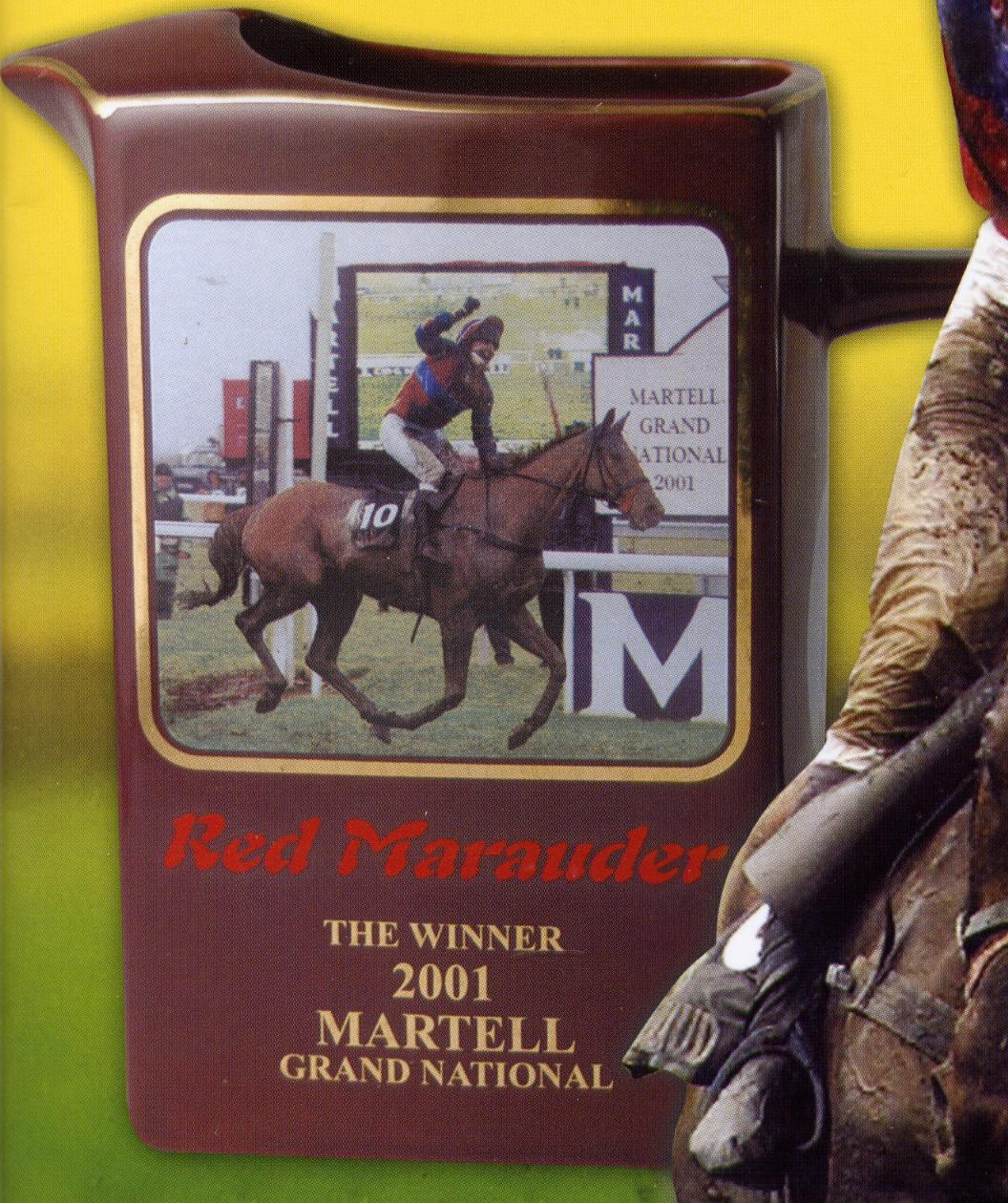 Pos.
Horse
Jockey
Trainer
Owner/odds
1
RED MARAUDER
R Guest
N B Mason
Mr N B Mason 33/1
2
SMARTY
T J Murphy
M Pitman
Mrs T Brown 16/1
3
BLOWING WIND
A P McCoy
M C Pipe
Mr P A Deal 16/1
4
PAPILLON
R Walsh
T M Walsh
Mrs J Maxwell Moran 14/1
UR1
SPANISH MAIN
J Goldstein
N A Twiston Davies
Mr C B Sanderson 25/1
F1
ART PRINCE
J Crowley
M C Pipe
Mr Terry Neill 150/1
F2
TRESOR DE MAI
R Greene
M C Pipe
Mr Joe Moran 66/1
UR2
ADDINGTON BOY
J P McNamara
F Murphy
Mr W J Gott 33/1
F2
HANAKHAM
B J Geraghty
D McCain
Army Air Corps 100/1
F3
HOLLYBANK BUCK
F J Flood
A J Martin
Mrs S Warner 20/1
F3
KAKI CRAZY
R Farrant
M C Pipe
Mr Nicholas Meakin 66/1
UR3
PADDY'S RETURN
A Maguire
F Murphy
Mr Paddy O'Donnell 16/1
UR4
EARTHMOVER
J Tizzard
P Nicholls
Mr R M Penny 22/1
F4
INIS CARA
R Widger
V Williams
Nancy Hogan Syndicate 10/1 co fav
UR5
THE LAST FLING
S Durack
Mrs S J Smith
Mr Trevor Hemmings 20/1
F6
STRONG TEL
D Casey
M C Pipe
Mr Terry Neill 33/1
F6
EXIT SWINGER
C Maude
M C Pipe
Miss K S Buckley 50/1
UR6
NORTHERN STARLIGHT
Mr T Scudamore
M C Pipe
Mr Arthur Souch 50/1
R7
MERRY PEOPLE
G Cotter
J Queally
Mr Karl Casey 66/1
BD8
GENERAL WOLFE
B J Crowley
Miss V Williams
The Winning Line 50/1
BD8
MORAL SUPPORT
N Fehily
C J Mann
Tom & Evelyn Yates 10/1 co fav
BD8
MELY MOSS
N Williamson
C R Egerton
Mr Darren Mercer 14/1
UR8
DJEDDAH
T Doumen
F Doumen
Mr Roger Barby 33/1
R8
DARK STRANGER
K A Kelly
M C Pipe
Mr Terry Neill 25/1
BD8
YOU'RE A GOODUN
R Wakely
M C Pipe
Miss H Irving, Mr A C Kemp 28/1
F8
VILLAGE KING
J Culloty
P J Hobbs
Captain E Edwards-Heathcote 25/1
R8
FEELS LIKE GOLD
B Harding
N G Richards
Independent Twine Manufacturing 50/1
BD8
AMBERLEIGH HOUSE
W Marston
D McCain
Halewood International Ltd 150/1
UR9
MISTER ONE
M Bradbourne
C Tizzard
Mr Colin L Tizzard 50/1
UR11
ESPRIT DE COTTE
T Doyle
N J Henderson
Mrs J M Newsome 33/1
F13
NOBLE LORD
J McCarthy
R T Phillips
Mr Jeff McCarthy 25/1
F15
EDMOND
R Johnson
H D Daly
Lady Knutsford 10/1 co fav
UR15
MOONDIGUA
J R Barry
M C Pipe
Golden Step Racing 100/1
UR15
SUPREME CHARM
R Thornton
K C Bailey
Mr P J Vogt 33/1
PU15
LISTEN TIMMY
A Dobbin
A King
Lady Clarke 100/1
PU16
NO RETREAT
J M Maguire
S A Brookshaw
Mr M W Harris 100/1
PU19
LANCE ARMSTRONG
A Thornton
R H Alner
Mr G L Porter 50/1
R19
BRAVE HIGHLANDER
P Hide
J T Gifford
Mr S N J Embiricos 33/1
UR20
BEAU
C Llewellyn
N A Twiston Davies
Mrs S Tainton 12/1
PU20
UNSINKABLE BOXER
D Gallagher
R H Alner
Mr Paul Green 66/1
Over Round
143%
I am grateful to David Copland for the image of the Silver Salver presented to the winning jockey which forms part of David's magnificent collection after he saved it from being melted down as scrap.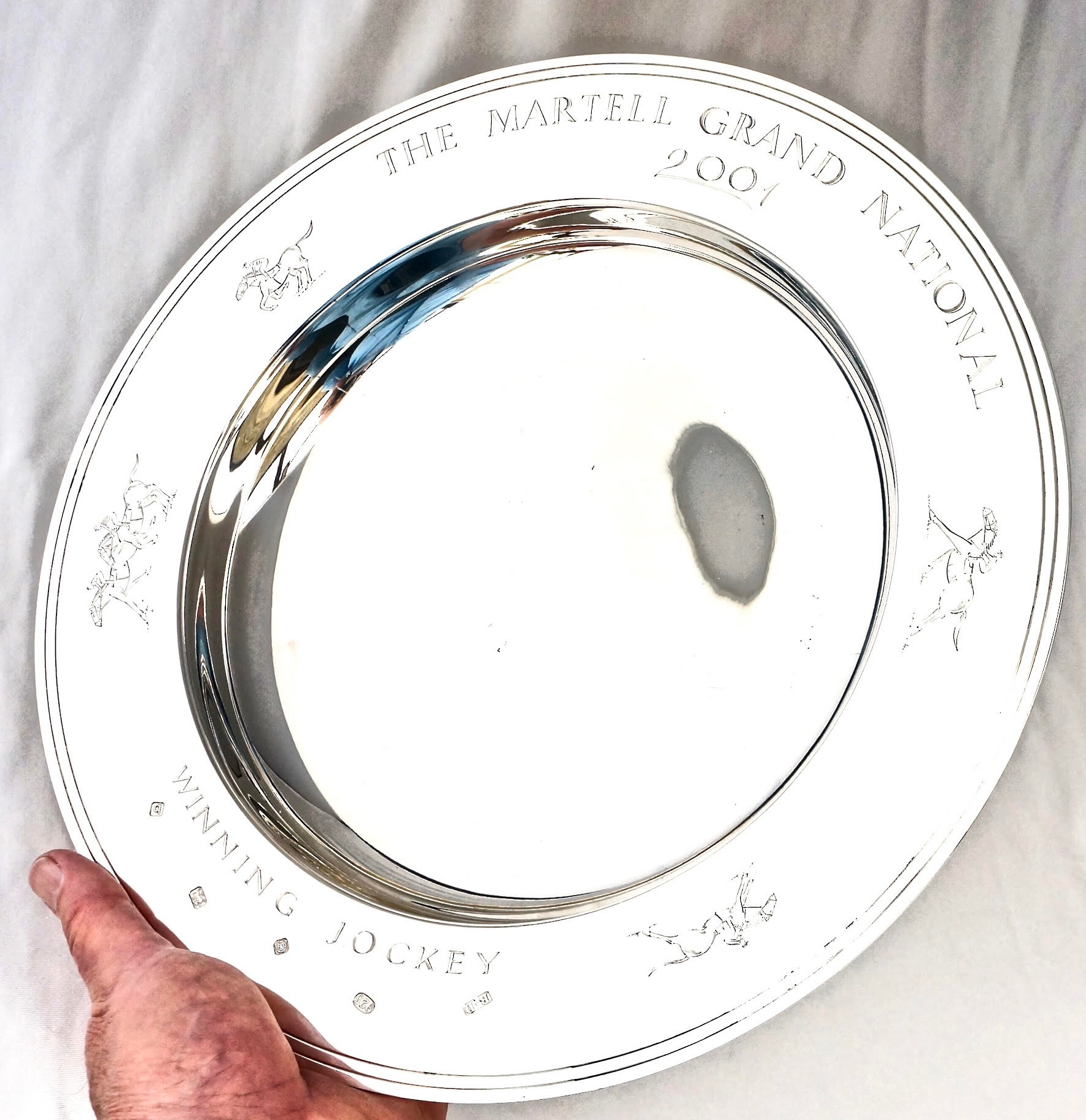 Tom Doyle's feeling he is the stand-ins stand -in in the 2001 Grand National. These are the titles of chapters from Chris Pitt's book 'Go Down to the Beaten', which looks at personal stories by connections of horses which failed to win the Grand National, a copy of which can be purchased by clicking the link below:-
http://astore.amazon.co.uk/wwwgreyhoundd-21?_encoding=UTF8&node=341