The 29th running of the Irish 1000 Guineas was held on Thursday 18th May 1950 over 1 mile of The Curragh. A pot of 1130 Guineas was available, 50 guineas to the second and 30 guineas to the third. The winner was owned by Mr R McIlhagga, trained by Paddy Prendergast and ridden by Martin Moloney. The winner won by 2 lengths in 1 minute 40.6 seconds, with 1 1/2 lengths between second and third.
IRISH 1000 GUINEAS 1950
PRINCESS TRUDY (Chestnut filly by His Highness out of China Tealeaf) SR 1914
The winning owner won £1050, (The equivalent of £34,200 in 2018 based on Bank of England inflation calculator).
Significant details are missing from this page. If you can fill the gaps then email johnwslusar@gmail.com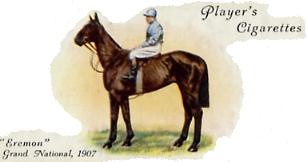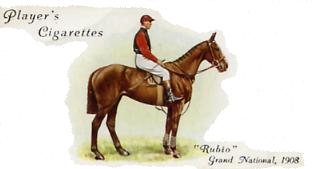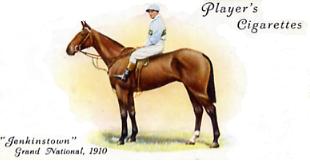 Pos.
Horse
Weight
Jockey
Owner
Trainer
1
PRINCESS TRUDY
9.0
Martin Molony
Mr R McIlhagga
Paddy Prendergast
2
GOOD RECORD
9.0
Thomas Burns
Miss Dorothy Paget
Henri Jelliss
3
ROSE SLIPPER
9.0
W Howard
Mrs E J King
Arnott
4
CNOC GORM
9.0
Paddy Powell
HE President of Ireland
Colonel A Blake
5
REQUETTE
9.0
Aubrey Brabazon
Mr W H Barnett
Darby Rogers
6
MORNING MADAM
9.0
P Canty
Mr Y J Kirkpatrick
Pat Connolly
7
VAL D'ASSA
9.0
Herbert Holmes
Major Dermot McCalmont
Atty Persse
8
BLAITHE NA GREINE
9.0
Jimmy Eddery
Mr Joseph McGrath
Seamus McGrath
9
HIGHBROW
9.0
B Duffy
Mr A C Ardeshire
Darby Rogers
10
FAIR OGAN
9.0
Liam Ward
Mr T I Breen
Oakes
11
HIGHLY PLACED
9.0
F McKenna
Mr J S Gray
Michael Hurley
12
FOOLISHNESS
9.0
T Regan
Mr R W Hall-Dare
H M Ryan
13
RUBECULA
9.0
M Hartnett
Mr William Hill
Michael Collins
14
SORTILEGE
9.0
James Tyrrell
Sir Cecil King-Harman
Colonel A Blake
15
GOLDEN PLAID
9.0
T Wallace
Mr C S Bird jnr
H Ussher
16
EASTERN FAIRY
9.0
J Winter
Mrs D Lysley
H G Wellesley
17
CALFSTOWN BRAMBLE
9.0
N Brennan
Mr J A Wilson
H Ussher
18
SOLONIAN
9.0
John Power
Mrs A P Reynolds
John Oxx
Betting

TRAINER PROFILE

Patrick Joseph Prendergast, universally known as Paddy, was born on 6th August 1910 and rose to become one of Ireland's best known and most successful trainers. He began his training career in 1940 aged 30 and went on to claim 4 English Classic wins, although The Derby eluded him. He won the 1960 2000 Guineas with Martial (SR 2035), the 1963 Epsom Oaks with Noblesse (SR 2045), the 1963 St Leger with Ragusa (SR 2111) and the 1940 1000 Guineas with Pourparler (SR 1863). He had more success in the Derby in his native Ireland, firstly in 1950 with Dark Warrior (SR 1959), then in 1952 with Thirteen of Diamonds (SR 1967), followed in 1963 with Ragusa (SR 2111), and finally in 1965 with Meadow Court (SR 2031). He died on 20th June 1980 aged 69.
Evens fav
Princess Trudy
9/2
Requette
13/2
Good Record
7/1
Morning Madam
100/6
Rose Slipper
100/6
Val d'Assa
33/1
Blaithe Na Greine
50/1
Cnoc Gorm
50/1
Highbrow
50/1
Fairy Ogan
50/1
Highly Placed
50/1
Foolishness
50/1
Rubecula
50/1
Sortilege
50/1
Solonian
50/1
Golden Plaid
50/1
Eastern Fairy
50/1
Calfstown Bramble
Over round 132%
ISBN 978-0-9957632-0-3

652 pages

774 former courses

ISBN 978-0-9957632-1-0

352 pages

400 former courses

ISBN 978-0-9957632-2-7

180 pages

140 former courses

ISBN 978-0-9957632-3-4

264 pages

235 former courses

Copies of the above books are only available by emailing johnwslusar@gmail.com stating your requirements, method of payment (cheque payable to W.Slusar) or Bank transfer, and the address where the book(s) should be sent.

ORDER FORM
Download an order form
Quantity
Cost
Volume 1 North of Hatfield £19.99 + £4 postage
Volume 2 South of Hatfield £14.99 + £3 postage
Volume 3 Wales & Scotland £9.99 + £3 postage
Volume 4 Ireland £9.99 + £3 postage
Volumes 1 - 4 £54.96 + £5 postage
Postage & Packaging
Total
Email order form to johnwslusar@gmail.com