The inaugural running of The O'Darby Stakes, seen as a forerunner to the Irish Derby, was held on Tuesday 10th June 1817 at The Curragh over 1 mile 3 furlongs and 58 yards. Subscribers paid 25 sovereigns each, with colts allocated 8st 7lbs and fillies allocated 8st 2lbs. The winner was owned by Captain John Kirwan.
O'DARBY STAKES 1817
SOUVENIR (Chestnut colt by Recordon out of Fair Eleanor) SR 2025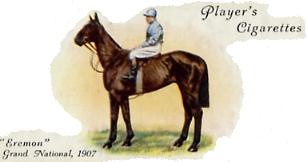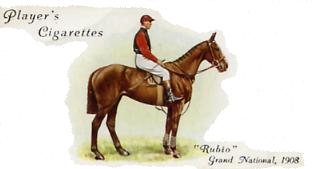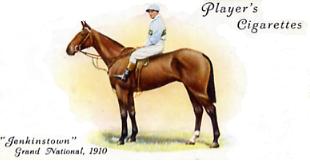 Pos.
Horse
Jockey
Owner
1
SOUVENIR
Payne
Captain John Kirwan
2
POPE
----
Captain John Kirwan
3
THE GENERAL
----
Mr Daly
4
BROTHER TO SPIDER
----
Colonel Lum
5
BAY COLT BY BUFFER
----
Mr Whaley
6
FILLY BY ELECTION
----
Mr Prendergast
7
COLT BY MUSICIAN
----
Mr Hassard
On Tuesday 22nd April 1817 Souvenir won the Madrid Stakes (50 Guineas) at The Curragh, beating Pherenicus and Golden Fleece. On the same day The General won the Lum Stakes (25 Guineas), beating a Commodore colt. On Monday 28th April 1817 The General was easily beaten into third place in a Handicap Sweepstake won by Tinker with Pope second. At The Curragh's September meeting Souvenir was allowed to Walk Over for the 1500 Guineas Post Stakes, and won His Majesty's Plate of 100 Guineas on Thursday 11th September 1817, beating Tinker and Legacy. The strength of this form was confirmed when. on Wednesday 15th October 1817 the Pope won His Majesty's 100 Guineas Plate, beating Tinker. On Monday 20th October 1817 Souvenir beat Wings in a 500 Guineas Match over 4 miles.
ISBN 978-0-9957632-0-3

652 pages

774 former courses

ISBN 978-0-9957632-1-0

352 pages

400 former courses

ISBN 978-0-9957632-2-7

180 pages

140 former courses

ISBN 978-0-9957632-3-4

264 pages

235 former courses

Copies of the above books are only available by emailing johnwslusar@gmail.com stating your requirements, method of payment (cheque payable to W.Slusar) or Bank transfer, and the address where the book(s) should be sent.

ORDER FORM
Download an order form
Quantity
Cost
Volume 1 North of Hatfield £19.99 + £4 postage
Volume 2 South of Hatfield £14.99 + £3 postage
Volume 3 Wales & Scotland £9.99 + £3 postage
Volume 4 Ireland £9.99 + £3 postage
Volumes 1 - 4 £54.96 + £5 postage
Postage & Packaging
Total
Email order form to johnwslusar@gmail.com