The 2nd running of The O'Darby Stakes, seen as a forerunner to the Irish Derby, was held on Wednesday 10th June 1818 at The Curragh over 1 mile 3 furlongs and 58 yards. Twenty Subscribers paid 25 sovereigns each, with colts allocated 8st 7lbs and fillies allocated 8st 2lbs. The winner was owned by the 2nd Marquis of Sligo.
O'DARBY STAKES 1818
STEEL (Brown colt by Waxy Pope out of Miss Staveley) SR 1885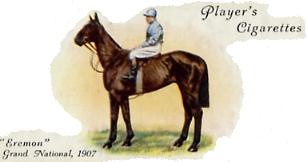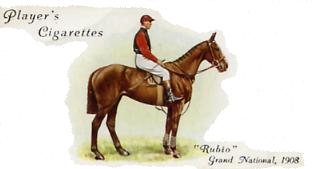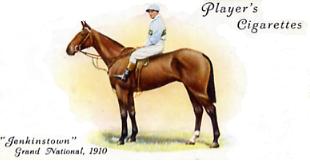 Pos.
Horse
Jockey
Owner
1
STEEL
Haslan
2nd Marquis of Sligo
2
BOB GORE
----
Mr Daly
3
COLT BY GAUNTLET
----
Colonel Bruen
4
FRIAR
----
Mr Kirwan
5
TATTOO
----
Lord Rossmore
6
ONTARIO
----
Mr Massey
On Saturday 18th April 1818 Steel beat Lord Rossmore's Serious ina 200 Guineas Match. On the same day Bob Gore beat Mr Caldwell's Bryan Borolmhe in a 100 Guineas Match. On Thursday 23rd April 1818 Bob Gore was beaten into second place by Tattoo in a 200 Guineas Post Sweepstake, while on Saturday 25th April 1818 Steel won the 100 Guineas Post Handicap Stakes, beating the colt by Gauntlet. After the O'Darby Stakes, on Saturday 5th September 1818 Bob Gore won the 2000 Guineas Gold Cup, beating Bobadil and Roller, but was then beaten into second place in the Wellington Stakes by Ontario 5 days later. On Monday 12th October 1818 Steel could only manage 7th place in the Kirwan Stakes behind Turk, Bob Gore and Narcissus. On Saturday 17th October 1818 Bob Gore beat Steel in a 60 Guineas Sweepstake while conceding 3lbs.
ISBN 978-0-9957632-0-3

652 pages

774 former courses

ISBN 978-0-9957632-1-0

352 pages

400 former courses

ISBN 978-0-9957632-2-7

180 pages

140 former courses

ISBN 978-0-9957632-3-4

264 pages

235 former courses

Copies of the above books are only available by emailing johnwslusar@gmail.com stating your requirements, method of payment (cheque payable to W.Slusar) or Bank transfer, and the address where the book(s) should be sent.

ORDER FORM
Download an order form
Quantity
Cost
Volume 1 North of Hatfield £19.99 + £4 postage
Volume 2 South of Hatfield £14.99 + £3 postage
Volume 3 Wales & Scotland £9.99 + £3 postage
Volume 4 Ireland £9.99 + £3 postage
Volumes 1 - 4 £54.96 + £5 postage
Postage & Packaging
Total
Email order form to johnwslusar@gmail.com