The 8th running of the Irish Derby was held on Wednesday 25th June 1873 over 1 mile 4 furlongs of The Curragh. The winner was owned by Mr W Williams (nom de course of Joseph Lyons), trained by Patrick Doucie and ridden by Thomas Broderick. The winner, bred by Joseph Lyons in Ireland, won by a comfortable 6 lengths with 2 lengths back to the third.
IRISH DERBY 1873
KYRLE DALY ( Bay colt by Artillery out of Colleen Rhue) SR 1962
The winning owner won 285 sovereigns, (The equivalent of £29,500 in today's terms based on Bank of England inflation calculator).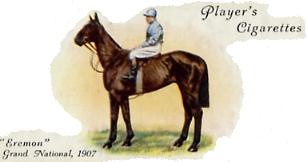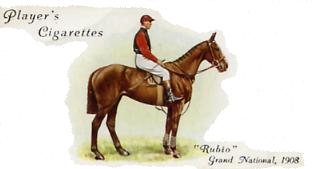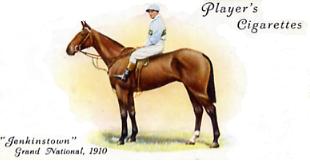 Pos.
Horse
Weight
Jockey
Owner
Trainer
1
KYRLE DALY
8.10
Thomas Broderick
Mr W Williams
Patrick Doucie
2
ANGELA
8.2
Charles Loates
Mr Robert H Long
Joseph Dawson
3
EVORA
8.5
Michael Lynch
Lord Howth
Joseph French
4
HOOTON
8.7
Thomas Kelly
Captain St George
Private
5
KNIGHT OF ERIN
8.7
William Behan
Mr R M Delamare
Curragh View
Betting

JOCKEY PROFILE
Thomas Broderick first rode in the Irish Derby in 1871 when he won on Maid of Athens. He completed the double this year when riding Kyrle Daly to victory, but it was to be a further 8 years before he achieved his third, and final, success aboard Master Ned in 1881. He rode in the Irish Derby for the final time in 1887 when he was unsuccessful.

4/5 fav
Angela
4/1
Kyrle Daly
4/1
Evora
10/1
Hooton
10/1
Knight of Erin
Over round 113%
A comfortable winner by 6 lengths despite giving 8 lbs to the runner-up.
ISBN 978-0-9957632-0-3

652 pages

774 former courses

ISBN 978-0-9957632-1-0

352 pages

400 former courses

ISBN 978-0-9957632-2-7

180 pages

140 former courses

ISBN 978-0-9957632-3-4

264 pages

235 former courses

Copies of the above books are only available by emailing johnwslusar@gmail.com stating your requirements, method of payment (cheque payable to W.Slusar) or Bank transfer, and the address where the book(s) should be sent.

ORDER FORM
Download an order form
Quantity
Cost
Volume 1 North of Hatfield £19.99 + £4 postage
Volume 2 South of Hatfield £14.99 + £3 postage
Volume 3 Wales & Scotland £9.99 + £3 postage
Volume 4 Ireland £9.99 + £3 postage
Volumes 1 - 4 £54.96 + £5 postage
Postage & Packaging
Total
Email order form to johnwslusar@gmail.com