The 9th running of the Irish Derby was held on Wednesday 24th June 1874 over 1 mile 4 furlongs of The Curragh. Subscriptions were 20 sovereigns with 100 sovereigns added. The winner, bred by John Wardell, was owned by Mr J W Denison (nom de course of John Wardell) and ridden by Edwin Martin. The winner won by 5 lengths in a time of 2 minutes 49 seconds, with a distance back to the third.
IRISH DERBY 1874
BEN BATTLE ( Bay colt by Rataplan out of Young Alice) SR 1985
The winning owner won 378 sovereigns, (The equivalent of £40,600 in today's terms based on Bank of England inflation calculator).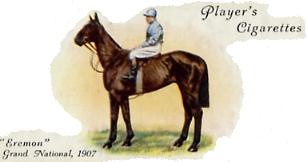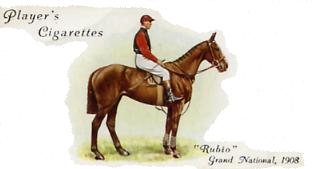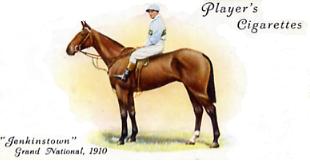 Pos.
Horse
Weight
Jockey
Owner
Trainer
1
BEN BATTLE
8.4
Edwin Martin
Mr J W Denison
Thomas Connolly
2
HOLLYWOOD
7.8
J Holland
Mr John C Murphy
Joseph French
3
CHANCELLOR
7.11
E Salter
Mr George Knox
Thomas Connolly
4
KILDARE
7.11
Thomas Broderick
Mr Johnson Lee
Patrick Doucie
5
CONCORD
6.11
Ashworth
Mr James Cockin
Thomas Cliff
Betting

RACE DETAILS
Hollywood made the early running, closely attended by Concord, Chancellor and Kildare. After 2 furlongs Ben Battle joined the leaders, after which Kildare dropped away and was soon beaten. Nearing the chains Chancellor Cried 'enough' and a match ensued between Hollywood and Ben Battle. It was Ben Battle who gradually got the upper hand and drew away to win in easy style by 5 lengths, with Chancellor a bad third. This was a good performance by Ben Battle and his rating of SR 1985 was the highest rating to date.

6/4 fav
Hollywood
5/2
Ben Battle
5/2
Concord
8/1
Chancellor
10/1
Kildare
Over round 116%
This was an impressive performance, giving weight away all round and winning by 5 lengths.
ISBN 978-0-9957632-0-3

652 pages

774 former courses

ISBN 978-0-9957632-1-0

352 pages

400 former courses

ISBN 978-0-9957632-2-7

180 pages

140 former courses

ISBN 978-0-9957632-3-4

264 pages

235 former courses

Copies of the above books are only available by emailing johnwslusar@gmail.com stating your requirements, method of payment (cheque payable to W.Slusar) or Bank transfer, and the address where the book(s) should be sent.

ORDER FORM
Download an order form
Quantity
Cost
Volume 1 North of Hatfield £19.99 + £4 postage
Volume 2 South of Hatfield £14.99 + £3 postage
Volume 3 Wales & Scotland £9.99 + £3 postage
Volume 4 Ireland £9.99 + £3 postage
Volumes 1 - 4 £54.96 + £5 postage
Postage & Packaging
Total
Email order form to johnwslusar@gmail.com