The 10th running of the Irish Derby was held on Wednesday 23rd June 1875 over 1 mile 4 furlongs of The Curragh. Subscriptions were 20 sovereigns with 100 sovereigns added. The winner was owned by Mr James Cockin, bred by James Cockin and trained at Hednesford by Job Toon. The winner won by 3 lengths, with a length back to the third. The winners time was 2 minutes 54.25 secs.
IRISH DERBY 1875
INNISHOWEN ( Chestnut colt by Uncas out of Aneroid) SR 1800
The winning owner won 281 sovereigns, (The equivalent of £30,800 in today's terms based on Bank of England inflation calculator).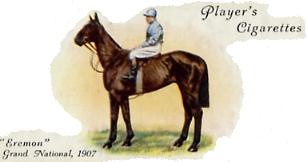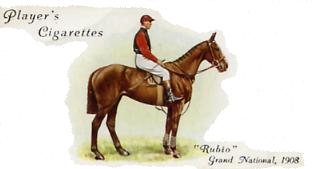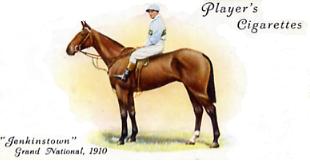 Pos.
Horse
Weight
Jockey
Owner
Trainer
1
INNISHOWEN
8.1
George Ashworth
Mr James Cockin
Job Toon
2
INGOMAR
8.8
Francis Wynne
Mr Nicholas Ennis
Patrick Doucie
3
MAID OF ERIN
8.3
Thomas Broderick
Captain Stamer Gubbins
Daniel Broderick
4
TURCO
7.8
John Connolly
Mr M Taylor
Thomas Connolly
Betting

RACE DETAILS
Turco and Ingomar set off at a blistering pace, clear of Innishowen, while Maid of Erin was last approaching the top of the hill. Racing downhill, Maid of Erin rapidly made up the lost ground to join the pack of 4 which could be covered by a blanket even as they approached the distance. However, Innishowen was full of running and readily took it up and began to draw clear, winning easily by 3 lengths from Ingomar, with a further length back to Maid of Erin.

5/4 fav
Maid of Erin
2/1
Innishowen
3/1
Ingomar
5/1
Turco
Over Round 118%
The winner was receiving 7 lbs from Ingomar, but won by 3 lengths.
ISBN 978-0-9957632-0-3

652 pages

774 former courses

ISBN 978-0-9957632-1-0

352 pages

400 former courses

ISBN 978-0-9957632-2-7

180 pages

140 former courses

ISBN 978-0-9957632-3-4

264 pages

235 former courses

Copies of the above books are only available by emailing johnwslusar@gmail.com stating your requirements, method of payment (cheque payable to W.Slusar) or Bank transfer, and the address where the book(s) should be sent.

ORDER FORM
Download an order form
Quantity
Cost
Volume 1 North of Hatfield £19.99 + £4 postage
Volume 2 South of Hatfield £14.99 + £3 postage
Volume 3 Wales & Scotland £9.99 + £3 postage
Volume 4 Ireland £9.99 + £3 postage
Volumes 1 - 4 £54.96 + £5 postage
Postage & Packaging
Total
Email order form to johnwslusar@gmail.com