The 11th running of the Irish Derby was held on Wednesday 28th June 1876 over 1 mile 4 furlongs of The Curragh. Subscriptions were 20 sovereigns with 100 sovereigns added. The winner was owned by Mr C Ryan and ridden by E Martin. The winner won by 2 lengths, with a head back to the third. The winners time was 2 minutes 51.5 secs.
IRISH DERBY 1876
UMPIRE (Bay colt by Tom King out of Acceptance) SR 2050
The winning owner won 298 sovereigns, (The equivalent of £32,700 in today's terms based on Bank of England inflation calculator).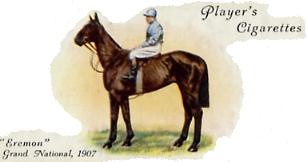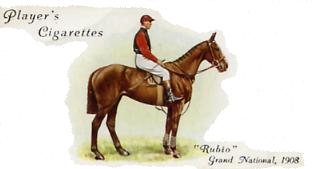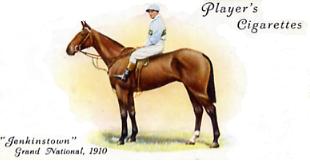 Pos.
Horse
Weight
Jockey
Owner
Trainer
1
UMPIRE
9.3
Michael Lynch
Mr Charles Ryan
Joseph French
2
RICHELIEU
8.13
Edwin Martin
Mr J W Denison
Frederick Martin
3
THE DEER
7.13
Francis Wynne
Mr James A Cassidy
Patrick Doucie
4
SWEET THOUGHT
8.3
H Parry
Mr J W Denison
Frederick Martin
5
AXMINSTER
7.10
Thomas Broderick
Mr William S Lyons
Daniel Broderick
Betting

RACE DETAILS
Umpire won both of his 2-year-old starts and began his three year old season with 4 victories, including an effortless success in the Baldoyle Derby. He won the Irish Derby by an easy 2 lengths to earn the highest rating (SR 2050) to this date of any winner and, in a magnificent career of 16 races, he was successful 14 times.

1/3 fav
Umpire
4/1
Richelieu
7/1
The Deer
7/1
Axminster
10/1
Sweet Thought
Over round 128%
The impressive winner was conceding at least 4 lbs to all and won by an easy 2 lengths.
ISBN 978-0-9957632-0-3

652 pages

774 former courses

ISBN 978-0-9957632-1-0

352 pages

400 former courses

ISBN 978-0-9957632-2-7

180 pages

140 former courses

ISBN 978-0-9957632-3-4

264 pages

235 former courses

Copies of the above books are only available by emailing johnwslusar@gmail.com stating your requirements, method of payment (cheque payable to W.Slusar) or Bank transfer, and the address where the book(s) should be sent.

ORDER FORM
Download an order form
Quantity
Cost
Volume 1 North of Hatfield £19.99 + £4 postage
Volume 2 South of Hatfield £14.99 + £3 postage
Volume 3 Wales & Scotland £9.99 + £3 postage
Volume 4 Ireland £9.99 + £3 postage
Volumes 1 - 4 £54.96 + £5 postage
Postage & Packaging
Total
Email order form to johnwslusar@gmail.com