The 21st running of the Irish Derby was held on Wednesday 30th June 1886 over 1 mile 4 furlongs of The Curragh. Subscriptions were 15 sovereigns with 550 sovereigns to the winner, 50 sovereigns to the second and 25 sovereigns to the third. The winner was owned, bred and trained by Mr Garrett Moore and ridden by John Connolly. The winner won by 1/2 length, with 4 lengths back to the third.
IRISH DERBY 1886
THEODEMIR (Brown colt by Ben Battle out of Miss Theo) SR 1971
The winning owner won 460 sovereigns, (The equivalent of £56,800 in today's terms based on Bank of England inflation calculator).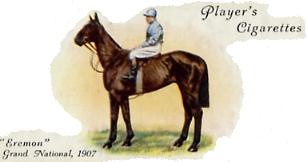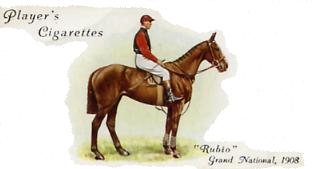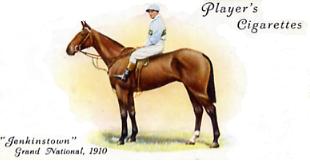 Pos.
Horse
Weight
Jockey
Owner
Trainer
1
THEODEMIR
9.1
John Connolly
Mr Garrett Moore
Garrett Moore
2
NIGHTMARE
7.9
Michael Dawson
Mr A Tiernan
Patrick Connolly
3
DRACO
9.1
Thomas Harris
Mr James Lyons
James Dunne
4
DICTATOR
7.13
Henry Saunders
Captain George M Maher
James Dunne
5
CHARMING NANCY
8.12
Thomas Bailey
Mr Christopher Taaffe
Patrick Gavin
6
SWEETNESS
7.12
Joseph Hoysted
Mr John R Gubbins
Henry E Linde
7
BLACK ROSE
8.11
L Kelly
Mr Charles J Blake
James Dunne
8
LOCHABER
7.9
P Ball
Mr James A Cassidy
Thomas Broderick
Betting

RACE REPORT
There was a delay to the start which was caused by the appropriately named Nightmare, but once the flag was dropped Sweetness and Charming Nancy got away first to set the early pace, followed in close contention by Theodemir and Draco. By this stage Lochabar had already bolted and took no part in the race. After 4 furlongs Charming Nancy took command, attended by Sweetness and Nightmare. As they approached the bend towards the chains, both Sweetness and Charming Nancy cried enough to leave Nightmare at the head of affairs. Theodemir joined Nightmare at the distance and stayed on the stronger to win by half a length, with a further 4 lengths back to Draco, Dictator being fourth and Chraming Nancy fifth.

5/2 fav
Draco
5/1
Nightmare
100/15
Lochaber
100/15
Theodemir
7/1
Charming Nancy
8/1
Dictator
10/1
Sweetness
10/1
Black Rose
Over round 102%
The winner conceded 20 lbs to the second, and was level weights with the favourite, winning by a cheeky half length, the first two being 4 lengths clear of the third.
ISBN 978-0-9957632-0-3

652 pages

774 former courses

ISBN 978-0-9957632-1-0

352 pages

400 former courses

ISBN 978-0-9957632-2-7

180 pages

140 former courses

ISBN 978-0-9957632-3-4

264 pages

235 former courses

Copies of the above books are only available by emailing johnwslusar@gmail.com stating your requirements, method of payment (cheque payable to W.Slusar) or Bank transfer, and the address where the book(s) should be sent.

ORDER FORM
Download an order form
Quantity
Cost
Volume 1 North of Hatfield £19.99 + £4 postage
Volume 2 South of Hatfield £14.99 + £3 postage
Volume 3 Wales & Scotland £9.99 + £3 postage
Volume 4 Ireland £9.99 + £3 postage
Volumes 1 - 4 £54.96 + £5 postage
Postage & Packaging
Total
Email order form to johnwslusar@gmail.com