The 22nd running of the Irish Derby was held on Wednesday 29th June 1887 over 1 mile 4 furlongs of The Curragh. Subscriptions were 15 sovereigns with a £1000 pot, £150 to the second and £70 to the third. The winner was owned and trained by Mr Henry E Linde, bred by W Murphy in Ireland,and ridden by Terence Kavanagh. The winner won by 3 lengths, with 4 lengths back to the third.
IRISH DERBY 1887
PET FOX (Bay colt by Philammon out of Wild Vixen) SR 1865
The winning owner won 763 sovereigns, (The equivalent of £95,400 in today's terms based on Bank of England inflation calculator).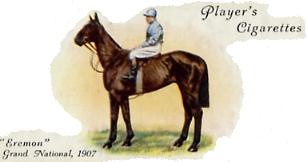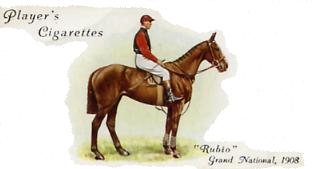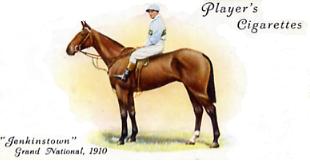 Pos.
Horse
Weight
Jockey
Owner
Trainer
1
PET FOX
8.2
Terence Kavanagh
Mr Henry E Linde
Henry E Linde
2
KING MILAN
9.1
Thomas Harris
Mr Sebastian M Nolan
James Dunne
3
HENRY GEORGE
8.9
Patrick Lynch
Mr William Brophy
Daniel Broderick
4
KILDARE
9.8
John Connolly
Mrs George M Knox
Patrick Connolly
5
FETHARD
7.13
Thomas Broderick
Mr James A Cassidy
Thomas Broderick
6
THE PHILISTINE
9.1
William Hoysted
Mr William Pallin
James Gannon
7
THE EARLY BIRD
8.9
J Woodburn
Mr Thomas G Gordon
Thomas G Gordon
8
PERICLES
8.2
Henry Saunders
Mr James Lyons
James Dunne
9
HOLLY
9.5
Michael Dawson
Mr R M Delemere
Patrick Connolly
10
CELESTE
7.12
L Kelly
Mr Charles J Blake
James Dunne
11
LITTLE WIDOW
7.12
James Westlake
Mr Andrew Tiernan
Frederick F Cullen
Betting

TRAINER PROFILE
In 1872 Henry Eyre Linde saddled his first winner to launch a career which was to make him the greatest Irish trainer of the 19th century. He began by training steeplechasers, even building his own private chase course to school his horses on, but then moved on to even greater success on the flat. He entered his own horse Eyrefield in the 1880 Irish Derby, and in 1882 he saddled Valerie to finish fourth behind Sortie. A year later May Boy finished third, while in 1884 Grecian Bend was second to Theologian. He had to wait until 1887 before he won the Irish Derby with the previously unraced Pet Fox (SR 1865).

3/1 fav
Henry George
4/1
King Milan
6/1
Pet Fox
7/1
Kildare
7/1
The Philistine
7/1
Pericles
100/8
Fethard
100/8
The Early Bird
100/8
Holly
100/8
Celeste
100/8
Little Widow
Over round 135%
The winner was receiving 13 lbs from the second and up to 20 lbs from the top weight, but did win by a comfortable 3 lengths.
ISBN 978-0-9957632-0-3

652 pages

774 former courses

ISBN 978-0-9957632-1-0

352 pages

400 former courses

ISBN 978-0-9957632-2-7

180 pages

140 former courses

ISBN 978-0-9957632-3-4

264 pages

235 former courses

Copies of the above books are only available by emailing johnwslusar@gmail.com stating your requirements, method of payment (cheque payable to W.Slusar) or Bank transfer, and the address where the book(s) should be sent.

ORDER FORM
Download an order form
Quantity
Cost
Volume 1 North of Hatfield £19.99 + £4 postage
Volume 2 South of Hatfield £14.99 + £3 postage
Volume 3 Wales & Scotland £9.99 + £3 postage
Volume 4 Ireland £9.99 + £3 postage
Volumes 1 - 4 £54.96 + £5 postage
Postage & Packaging
Total
Email order form to johnwslusar@gmail.com