The 24th running of the Irish Derby was held on Wednesday 26th June 1889 over 1 mile 4 furlongs of The Curragh. Subscriptions were 15 sovereigns with a pot of 550 sovereigns, 50 sovereigns to the second and 25 sovereigns to the third. The winner was owned by Captain J Henry Greer, trained and bred by Thomas Gisborne Gordon, and ridden by Mr Thomas Beasley. The winner won by 3 lengths in 2 minutes 43.25 seconds, with a head between second and third.
IRISH DERBY 1889
TRAGEDY (Bay filly by Ben Battle out of The White Witch) SR 1965
The winning owner won 460 sovereigns, (The equivalent of £56,200 in today's terms based on Bank of England inflation calculator).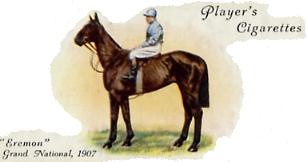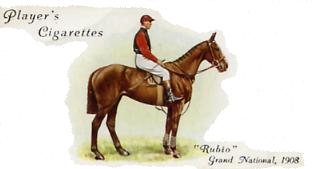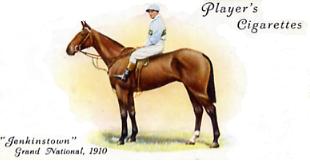 Pos.
Horse
Weight
Jockey
Owner
Trainer
1
TRAGEDY
9.1
Mr Thomas Beasley
Captain J Henry Greer
Thomas G Gordon
2
BAILLIE
7.13
J Staunton
Mr Charles J Cunningham
Henry Hall
3
LORD FINGALL
9.5
Mr Henry Beasley
Mr P M V Saurin
Henry Beasley
4
GAWSWORTH
9.2
Joseph Foster
Mr Charles W Bagge
Frederick Cullen
5
QUEEN MARY
8.8
William Hoysted
Mr John R Gubbins
Henry E Linde
Betting

RACE REPORT
After a couple of false starts, when horses tried to break away, the field eventually got away together with the favourite choosing to make the early running ahead of Lord Fingall, Tragedy, Gawsworth and Queen May. This order was maintained for the first 2 furlongs before Lord Fingall took command up front and quickened the pace from Baillie and Tragedy. At the half way mark Lord Fingall had set such a pace that Gawsworth and Queen May both were dropped, but Baillie and Tragedy still held chances. As the leaders rounded the bend and approached the chains Baillie took over the lead but for some unknown reason swerved across the course and lost his position. Tragedy was still full of running and took full advantage to win in a canter by 3 lengths from Baillie, with a head back to the game Lord Fingall.

4/6 fav
Baillie
3/1
Tragedy
6/1
Lord Fingall
100/15
Gawsworth
100/8
Queen Mary
Over round 122%
The winner won by 3 lengths in an above average time of 2 minutes 43.25 seconds, giving 16 lbs to the second.
ISBN 978-0-9957632-0-3

652 pages

774 former courses

ISBN 978-0-9957632-1-0

352 pages

400 former courses

ISBN 978-0-9957632-2-7

180 pages

140 former courses

ISBN 978-0-9957632-3-4

264 pages

235 former courses

Copies of the above books are only available by emailing johnwslusar@gmail.com stating your requirements, method of payment (cheque payable to W.Slusar) or Bank transfer, and the address where the book(s) should be sent.

ORDER FORM
Download an order form
Quantity
Cost
Volume 1 North of Hatfield £19.99 + £4 postage
Volume 2 South of Hatfield £14.99 + £3 postage
Volume 3 Wales & Scotland £9.99 + £3 postage
Volume 4 Ireland £9.99 + £3 postage
Volumes 1 - 4 £54.96 + £5 postage
Postage & Packaging
Total
Email order form to johnwslusar@gmail.com