The 26th running of the Irish Derby was held on Wednesday 24th June 1891 over 1 mile 4 furlongs of The Curragh. Subscriptions were 15 sovereigns with a pot of 550 sovereigns, 50 sovereigns to the second and 25 sovereigns to the third. The winner was owned by Mr John D Wardell, bred in Ireland by William Ashe, trained by Charles Archer and ridden by Mr Thomas Beasley. The winner won by 3/4 length, with 3 lengths between second and third.
IRISH DERBY 1891
NARRAGHMORE (Bay filly by Umpire out of Cecropia) SR 2016
The winning owner won 460 sovereigns, (The equivalent of £55,600 in today's terms based on Bank of England inflation calculator).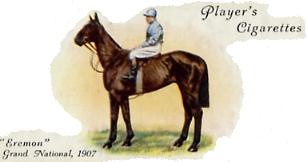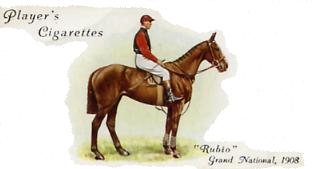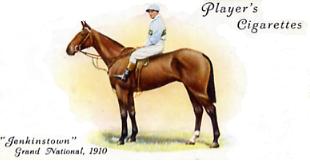 Pos.
Horse
Weight
Jockey
Owner
Trainer
1
NARRAGHMORE
9.1
Mr Thomas Beasley
Mr John D Wardell
Charles Archer
2
KABOONGA
7.9
John Doyle
Mr William Dunne
Rice Meredith
3
ROSSMORE
8.9
Terrence Kavanagh
Mr T Donovan
Frederick Cullen
4
MEDIATOR
7.13
T Doyle
Mr Charles J Blake
Thomas Harris
5
DUCHESS OF FIFE
8.0
Joseph Foster
Mr O'Callaghan
James Phelan
6
BATTLE BELL
8.5
William Taylor
Captain I O Richardson
Thomas G Gordon
Betting

TRAINER PROFILE
Charles Archer was the brother of Fred Archer, one of the most famous jockeys in Turf history. Charles trained Narraghmore (SR 2016) to win the 1891 Irish Derby which was his most prestigious training achievement. However, arguably his most lucrative was in 1883 when Wallenstein won the Manchester Cup, where he is reported to have won £30,000, the equivalent in today's terms of £3.5 million. He died in September 1922.

4/5 fav
Narraghmore
5/1
Rossmore
5/1
Duchess of Fife
6/1
Battle Bell
10/1
Kaboonga
10/1
Mediator
Over round 119%
FORMLINE:- An impressive performance by Narraghmore, especially as she was giving Kaboonga 20 lbs.
ISBN 978-0-9957632-0-3

652 pages

774 former courses

ISBN 978-0-9957632-1-0

352 pages

400 former courses

ISBN 978-0-9957632-2-7

180 pages

140 former courses

ISBN 978-0-9957632-3-4

264 pages

235 former courses

Copies of the above books are only available by emailing johnwslusar@gmail.com stating your requirements, method of payment (cheque payable to W.Slusar) or Bank transfer, and the address where the book(s) should be sent.

ORDER FORM
Download an order form
Quantity
Cost
Volume 1 North of Hatfield £19.99 + £4 postage
Volume 2 South of Hatfield £14.99 + £3 postage
Volume 3 Wales & Scotland £9.99 + £3 postage
Volume 4 Ireland £9.99 + £3 postage
Volumes 1 - 4 £54.96 + £5 postage
Postage & Packaging
Total
Email order form to johnwslusar@gmail.com