The 27th running of the Irish Derby was held on Wednesday 29th June 1892 over 1 mile 4 furlongs of The Curragh. Subscriptions were 15 sovereigns with a pot of 400 sovereigns, 50 sovereigns to the second and 25 sovereigns to the third. The winner was owned and bred in Ireland by Captain George Moorhead, trained by Rice Meredith and ridden by Michael Dawson. The winner won by a length, with 8 lengths between second and third.
IRISH DERBY 1892
ROY NEIL (Bay colt by Kendal out of Sylva) SR 1945
The winning owner won 310 sovereigns, (The equivalent of £37,400 in today's terms based on Bank of England inflation calculator).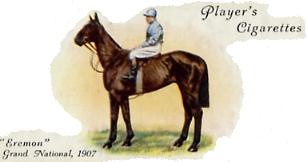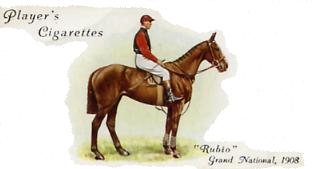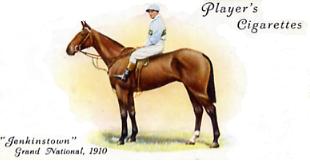 Pos.
Horse
Weight
Jockey
Owner
Trainer
1
ROY NEIL
9.1
Michael Dawson
Captain George Moorhead
Rice Meredith
2
BLANCMANGE
8.12
Mr John Beasley
Mr John D Wardell
Henry Beasley
3
THE DUMMY
9.5
Terrence Kavanagh
Mr Frederick F Cullen
Frederick Cullen
4
WAR CLOUD
8.2
John Hogan
Mr Charles J Blake
Thomas Harris
5
DETONATOR
9.2
Thomas Harris
Mr Mathias T Maher
Rice Meredith
6
WORDSWORTH
9.5
John Connolly
Mr William Brophy
Daniel Broderick
7
FANESSA
7.9
P Lawlor
Mr C Kilmurray
James Dunne
Betting

RACE REPORT
With the field at the post in plenty of time the crowd were delighted that they got away at the first time of asking, although Wordsworth ran out at the start and took no part in the race. War Cloud was at the head of affairs in the early stages, racing clear of Detonator and Blancmange, with Fanessa just in behind. This order was maintained for the first half a mile until The Dummy took closer order and joined the leader, although Fanessa was already sending out distress signals. On the descent towards the chains The Dummy was joined by both Roy Neil and Blancmange who raced on the outside of the early leader. Round the bend to the rails The Dummy began to drop away to leave a match between Blancmange and Roy Neil, but then the nature of the race changed in an instant when Mr Beasley on Blancmange was nearly unseated. This left Roy Neil to stride home unchallenged, winning hard held by a length from Blancmange, with 8 lengths back to The Dummy. War Cloud claimed fourth place while Detonator was fifth.

Evens fav
The Dummy
7/2
Blancmange
5/1
Roy Neil
6/1
Wordsworth
100/7
Detonator
100/7
Fanessa
100/7
War Cloud
Over round 120%
FORMLINE:- Roy Neil conceded 3 lbs to Blancmange, but was receiving 4 lbs from the favourite The Dummy.
ISBN 978-0-9957632-0-3

652 pages

774 former courses

ISBN 978-0-9957632-1-0

352 pages

400 former courses

ISBN 978-0-9957632-2-7

180 pages

140 former courses

ISBN 978-0-9957632-3-4

264 pages

235 former courses

Copies of the above books are only available by emailing johnwslusar@gmail.com stating your requirements, method of payment (cheque payable to W.Slusar) or Bank transfer, and the address where the book(s) should be sent.

ORDER FORM
Download an order form
Quantity
Cost
Volume 1 North of Hatfield £19.99 + £4 postage
Volume 2 South of Hatfield £14.99 + £3 postage
Volume 3 Wales & Scotland £9.99 + £3 postage
Volume 4 Ireland £9.99 + £3 postage
Volumes 1 - 4 £54.96 + £5 postage
Postage & Packaging
Total
Email order form to johnwslusar@gmail.com