The 28th running of the Irish Derby was held on Wednesday 28th June 1893 over 1 mile 4 furlongs of The Curragh. Subscriptions were 15 sovereigns with a pot of 1000 sovereigns, 150 sovereigns to the second and 70 sovereigns to the third. The winner was owned and bred by Mr Mathias Maher, trained by Rice Meredith and ridden by Michael Dawson. The winner won by half a length in 2 minutes 50 seconds, with 4 lengths between second and third.
IRISH DERBY 1893
BOWLINE (Chestnut filly by Torpedo out of Eline) SR 1758
The winning owner won 763 sovereigns, (The equivalent of £93,200 in today's terms based on Bank of England inflation calculator).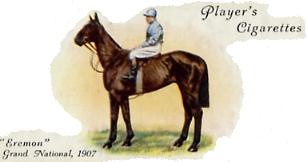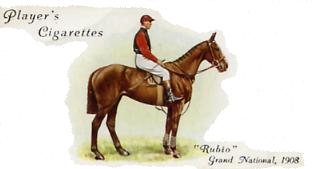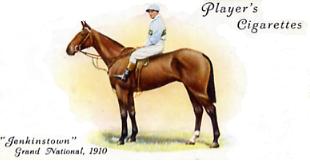 Pos.
Horse
Weight
Jockey
Owner
Trainer
1
BOWLINE
8.5
Michael Dawson
Mr Mathias A Maher
Rice Meredith
2
FIRST FLOWER
9.5
William Hoysted
Mr Henry E Linde
Henry E Linde
3
BACCARAT
9.2
Mr Henry Beasley
Mr Henry Beasley
Henry Beasley
4
NOLLIKENS
7.13
John Connolly
Mr Henry Beasley
Henry Beasley
5
LOOT
9.5
Mr Thomas Beasley
Mr Thomas G Gordon
Thomas G Gordon
6
KENDAL GREEN
7.9
John Doyle
Mr P J Hartigan
James Scully
7
WORSTED
7.13
Charles Whelan
Mr Henry E Linde
Henry E Linde
8
GUESTMASTER
8.2
Thomas Harris
Mr Sebastian M Nolan
Shem C Jeffery
Betting

RACE REPORT
The field got away first time and it was left to Guestmaster to set the early pace from Kendal Green, Nollikens, Baccarat, First Flower and Bowline. After six furlongs Nollikens moved to the girth of Guestmaster as Kendal Green dropped right away. Rounding the final bend and approaching the chains First Flower, Baccarat and Loot took over from the pace setters, with Bowline sitting in comfortably behind and seemingly going the best. As they approached the distance Bowline made his play and put the matter to rest in a few strides to win by a comfortable half a length from First Flower, with Baccaat four lengths back in third.

Evens fav
Baccarat
6/1
Nollikens
8/1
Bowline
10/1
Guestmaster
10/1
First Flower
20/1
Loot
20/1
Kendal Green
20/1
Worsted
Over round 108%
FORMLINE:- Bowline received a stone from First Flower, yet only prevailed by half a length in a time about 5 seconds more than average.
ISBN 978-0-9957632-0-3

652 pages

774 former courses

ISBN 978-0-9957632-1-0

352 pages

400 former courses

ISBN 978-0-9957632-2-7

180 pages

140 former courses

ISBN 978-0-9957632-3-4

264 pages

235 former courses

Copies of the above books are only available by emailing johnwslusar@gmail.com stating your requirements, method of payment (cheque payable to W.Slusar) or Bank transfer, and the address where the book(s) should be sent.

ORDER FORM
Download an order form
Quantity
Cost
Volume 1 North of Hatfield £19.99 + £4 postage
Volume 2 South of Hatfield £14.99 + £3 postage
Volume 3 Wales & Scotland £9.99 + £3 postage
Volume 4 Ireland £9.99 + £3 postage
Volumes 1 - 4 £54.96 + £5 postage
Postage & Packaging
Total
Email order form to johnwslusar@gmail.com