The 29th running of the Irish Derby was held on Wednesday 27th June 1894 over 1 1/2 miles at The Curragh and the winner was owned and bred by Mr John R Gubbins, trained in England by Sam Darling and ridden by William T Garrett. The winner won 10 lengths in 2 minutes 42 seconds, with 2 1/2 lengths between second and third, and half a length back to the fourth.
IRISH DERBY 1894
BLAIRFINDE (Brown colt by Kendal out of Morganette) SR 2005
The value to the winner was 560 Guineas, (The equivalent of £69,200 in today's terms based on Bank of England inflation calculator).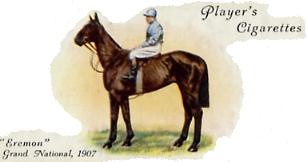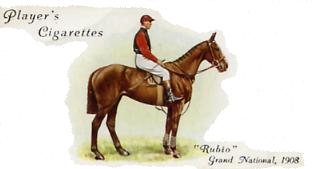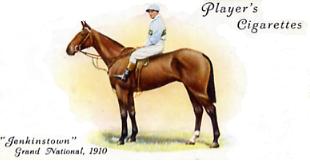 Pos.
Horse
Weight
Jockey
Owner
Trainer
1
BLAIRFINDE
8.2
William T Garrett
Mr John R Gubbins
Sam Darling
2
HARTSTOWN
9.2
William Taylor
Mr James Daly
William Hilliard
3
HEBRON
7.13
William Clayton
Mr Charles J Blake
Shem C Jeffery
4
GAZETTEER
9.2
William Horton
Mr Charles J Blake
Shem C Jeffery
5
GAUNTLET
7.13
John Doyle
Mr Henry Beasley
Henry Beasley
6
STARLIGHT III
8.12
Charles Whelan
Mr Henry E Linde
Henry E Linde
7

BALL COOTE

9.2
William Hoysted
Duke of Westminster
Henry E Linde
8
ASH STICK
9.1
Michael Dawson
Mr William Ashe
Michael Dawson
9
ARLINE
9.1
Augustine Magee
Colonel Robert Thomson
Frederick Cullen
10
MISS SHARP
7.12
Joseph Westlake
Mr R M Delamere
Michael Dawson
Betting

TRAINER PROFILE
Sam Darling was born in 1852 and built up a fantastic, highly regarded training establishment at Beckhampton in Wiltshire from where he sent out 7 English Classic winners. These included 1897 Triple Crown winner Galtee More (SR 2031), 1898 St Leger winner Wildfowler (SR 1922), 1901 Epsom Oaks winner Cap and Bells (SR 1950), 1902 Epsom Derby winner Ard Patrick (SR 2154) and 1907 2000 Guineas winner Slieve Gallion (SR 1938). He retired in 1913 and was succeeded by Fred Darling; his older son Sam Darling junior had already started training in his own right in Newmarket. He died in 1921.

2/1 fav
Blairfinde
2/1 fav
Ball Coote
6/1
Hartstown
25/1
Hebron
25/1
Gazetteer
25/1
Ash Stick
25/1
Arline
25/1
Starlight III
25/1
Gauntlet
25/1
Miss Sharp
Over-Round 108%
FORMLINE:- Blairfinde was a very impressive winner despite receiving a stone from the second. He won as he pleased by 10 lengths in a time about 3 seconds quicker than average.
ISBN 978-0-9957632-0-3

652 pages

774 former courses

ISBN 978-0-9957632-1-0

352 pages

400 former courses

ISBN 978-0-9957632-2-7

180 pages

140 former courses

ISBN 978-0-9957632-3-4

264 pages

235 former courses

Copies of the above books are only available by emailing johnwslusar@gmail.com stating your requirements, method of payment (cheque payable to W.Slusar) or Bank transfer, and the address where the book(s) should be sent.

ORDER FORM
Download an order form
Quantity
Cost
Volume 1 North of Hatfield £19.99 + £4 postage
Volume 2 South of Hatfield £14.99 + £3 postage
Volume 3 Wales & Scotland £9.99 + £3 postage
Volume 4 Ireland £9.99 + £3 postage
Volumes 1 - 4 £54.96 + £5 postage
Postage & Packaging
Total
Email order form to johnwslusar@gmail.com