The 30th running of the Irish Derby was held on Wednesday 26th June 1895 over 1 mile 4 furlongs of The Curragh. Subscriptions were 15 sovereigns with a pot of 700 sovereigns, 100 sovereigns to the second and 25 sovereigns to the third. The winner was owned by Mr T L Plunkett (Captain James Machell), bred by William Brophy, trained by Shem C Jeffery and ridden by William Clayton. The winner won by a hugely impressive 12 lengths, with 3 lengths between second and third.
IRISH DERBY 1895
PORTMARNOCK (Brown colt by Gallinule out of The Sleeping Beauty) SR 2022
The winning owner won 562 sovereigns, (The equivalent of £70,200 in today's terms based on Bank of England inflation calculator).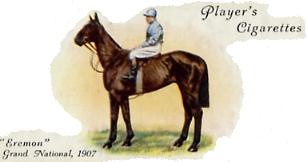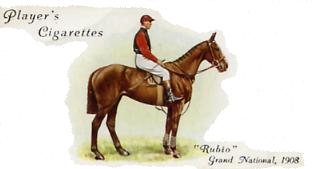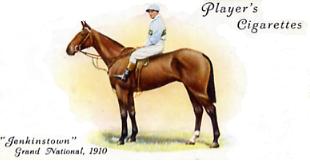 Pos.
Horse
Weight
Jockey
Owner
Trainer
1
PORTMARNOCK
9.5
William Clayton
Mr T L Plunkett
Shem C Jeffery
2
BURNETT
9.1
William Hoysted
Mr J Reid
H E Linde
3
INSTABILITY
8.12
Arthur Behan
Mr Henry Beasley
Henry Beasley
4
SNAP
8.2
Michael Dawson
Dr George Moorhead
Michael Dawson
5
DAN MACK
7.13
George Barrett
Mr Henry E Linde
Henry E Linde
6
FAVOLOO
9.2
John Doyle
Mr St John Cambridge
William Cullen
Betting

OWNER PROFILE
Captain James Octavius Machell was born in 1837 at Etton Rectory near Beverley, his father being the Reverend Robert Machell. He began his working life in the Army, but resigned his commission and took on racing stables at Kennet near the home of racing in Newmarket. He was a very successful owner and gambler throughout his 40 years in racing, winning 11 English Classics and three Grand Nationals. Prior to the start of the 1895 Irish Derby Machell purchased a half share in the smart colt Portmarnock (SR 2022) from Charles J Blake and Thomas L Plunkett. It proved to be an inspired purchase because the colt won at 2/5 favourite by an amazing 12 lengths.

2/5 fav
Portmarnock
6/1
Snap
8/1
Favoloo
10/1
Burnett
10/1
Instability
10/1
Dan Mack
Over round 122%
FORMLINE:- Regarded as one of the best Irish horses of the decade, Portmarnock conceded weight and a 12 length beating to the field.
ISBN 978-0-9957632-0-3

652 pages

774 former courses

ISBN 978-0-9957632-1-0

352 pages

400 former courses

ISBN 978-0-9957632-2-7

180 pages

140 former courses

ISBN 978-0-9957632-3-4

264 pages

235 former courses

Copies of the above books are only available by emailing johnwslusar@gmail.com stating your requirements, method of payment (cheque payable to W.Slusar) or Bank transfer, and the address where the book(s) should be sent.

ORDER FORM
Download an order form
Quantity
Cost
Volume 1 North of Hatfield £19.99 + £4 postage
Volume 2 South of Hatfield £14.99 + £3 postage
Volume 3 Wales & Scotland £9.99 + £3 postage
Volume 4 Ireland £9.99 + £3 postage
Volumes 1 - 4 £54.96 + £5 postage
Postage & Packaging
Total
Email order form to johnwslusar@gmail.com