The 31st running of the Irish Derby was held on Wednesday 24th June 1896 over 1 mile 4 furlongs of The Curragh. Subscriptions were 15 sovereigns with a pot of 700 sovereigns, 100 sovereigns to the second and 25 sovereigns to the third. The winner was owned and bred by Mr Charles J Blake, trained by Shem C Jeffery and ridden by Alfred Aylin. The winner won by 2 lengths, with 6 lengths between second and third.
IRISH DERBY 1896
GULSALBERK (Bay colt by Gallinule out of Rosamene) SR 1838
The winning owner won 560 sovereigns, (The equivalent of £70,800 in today's terms based on Bank of England inflation calculator).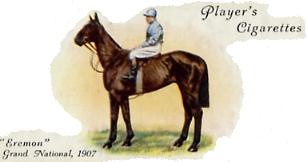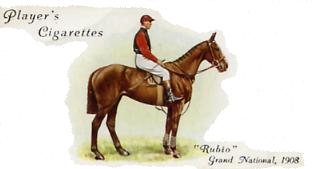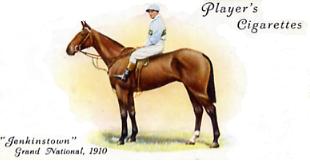 Pos.
Horse
Weight
Jockey
Owner
Trainer
1
GULSALBERK
8.2
Alfred Aylin
Mr Charles J Blake
Shem C Jeffery
2
THE MUTE
8.6
John Waterson
Mr Frederick F Cullen
Frederick Cullen
3
CONQUERING HERO
8.12
Mr G W Lushington
Mr Noble B Johnson
Charles Perkins
4
FAIRY ISLE
8.9
William Horton
Mr John Reese
Robert Orton
5
GLENGARIFF
8.3
Michael Dawson
Mr John Widger
Michael Dawson
6
CALYCE
7.12
Thomas Almack
Mr R Richards
William P Cullen
7
JOSEPHUS
8.2
Thomas Lane
Mr Sewallis E Shirley
Thomas G Gordon
8
GLENBOWER
8.12
Terrence Kavanagh
Mr Edmund Smithwick
Shem C Jeffery
9
BIRD OF FLIGHT
7.13
John Wynne
Captain Edmund Peel
William Behan
10
ZEINE
7.9
Francis Widdowfield
Mr Mathias A Maher
Michael Dawson
Betting

RACE REPORT
The field got away on time and it was left to Calyce to cut out the early running closely attended by Josephus and Bird of Flight. With a mile to run Bird of Flight took up the running from Calyce and Josephus, an order which remained in place until they entered the straight, whereupon Conquering Hero took up the mantle and forged ahead. Half way up the straight Gulsalberk made strides to join The Mute and a good battle took place between the two, although they came close together at the distance. Gulsalberk stayed the better of the two to claim a clever victory by 2 lengths from The Mute, with 6 lengths back to Conquering Hero in third, Fairy Isle was fourth and Buda was fifth. After the race an objection by the rider of the second was dismissed by the Stewards.

4/1 fav
The Mute
5/1
Fairy Isle
5/1
Glengarrif
6/1
Gulsalberk
100/12
Josephus
100/8
Conquering Hero
20/1
Bird of Flight
20/1
Calyce
20/1
Glenbower
20/1
Zeine
Over round 106%
FORMLINE:- Going into the race Gulsalberk remained a maiden. As a consequence, he was receiving up to 10 lbs from some in the field.
ISBN 978-0-9957632-0-3

652 pages

774 former courses

ISBN 978-0-9957632-1-0

352 pages

400 former courses

ISBN 978-0-9957632-2-7

180 pages

140 former courses

ISBN 978-0-9957632-3-4

264 pages

235 former courses

Copies of the above books are only available by emailing johnwslusar@gmail.com stating your requirements, method of payment (cheque payable to W.Slusar) or Bank transfer, and the address where the book(s) should be sent.

ORDER FORM
Download an order form
Quantity
Cost
Volume 1 North of Hatfield £19.99 + £4 postage
Volume 2 South of Hatfield £14.99 + £3 postage
Volume 3 Wales & Scotland £9.99 + £3 postage
Volume 4 Ireland £9.99 + £3 postage
Volumes 1 - 4 £54.96 + £5 postage
Postage & Packaging
Total
Email order form to johnwslusar@gmail.com