The 32nd running of the Irish Derby was held on Wednesday 30th June 1897 over 1 mile 4 furlongs of The Curragh. Subscriptions were 15 sovereigns with a pot of 550 sovereigns, 50 sovereigns to the second and 15 sovereigns to the third. The winner was owned and trained by Mr William P Cullen, bred in Ireland by P Ryan and ridden by Thomas Fiely. The winner won by 3/4 length, with a length between second and third, and a head back to the fourth.
IRISH DERBY 1897
WALES (Chestnut colt by Belgrave out of Victoria) SR 1805
The winning owner won 470 sovereigns, (The equivalent of £58,100 in today's terms based on Bank of England inflation calculator).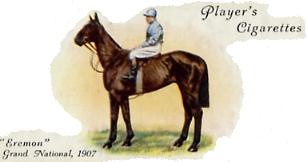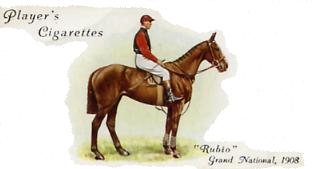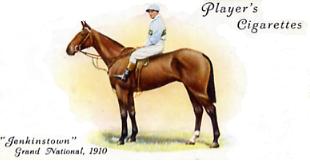 Pos.
Horse
Weight
Jockey
Owner
Trainer
1
WALES
7.13
Thomas Fiely
Mr William P Cullen
William P Cullen
2
WHITE HACKLE
8.3
Alfred Aylin
Mr Richard Walsh
James Dunne
3
FIELD DAY
8.12
Mr G W Lushington
Mr W M Clarke
Jack Robinson
4
ELECTRIC RAY
8.2
William Horton
Mr W Liddell
William P Cullen
5
FRENCH HAVEN
8.2
Thomas Almack
Captain John Murray
Michael Dawson
6
HEAD THE TRICK
8.8
Terrence Kavanagh
Mr William J Goulding
J Henry Clarkson
7
CASHMERE
8.12
Algernon Anthony
Mr Robert H Stubber
Charles Perkins
8
THE BEREFT
9.5
Michael Dawson
Mr T Boylan
Michael Dawson
Betting

RACE REPORT
Although the field made it to the starting post in plenty of time, it was fully 20 minutes before the race started due to Frenchhaven causing 3 false starts. Once the flag did fall it was left to Frenchhaven to cut out the early running some distance clear of Wales, White Hackle and Cashmere. There was no material change in the order until they rounded the bend towards the rail, at which point Wales took up the running when Frenchhaven dropped quickly away. At the distance Wales was ahead but was being challenged by White Hackle, prevailing by an ever diminishing 3/4 of a length, with a further length back to Field Day. Electric Ray was fourth, the gallant Frenchhaven stayed on for fifth, with Head the Trick sixth.

4/1 fav
Wales
5/1
Field Day
5/1
Electric Ray
5/1
Cashmere
7/1
Head the Trick
7/1
French Haven
10/1
White Hackle
10/1
The Bereft
Over round 110%
FORMLINE:- Wales was receiving 4 lbs from White Hackle, but up to 20 lbs from others in the field, and only got home by 3/4 length.
ISBN 978-0-9957632-0-3

652 pages

774 former courses

ISBN 978-0-9957632-1-0

352 pages

400 former courses

ISBN 978-0-9957632-2-7

180 pages

140 former courses

ISBN 978-0-9957632-3-4

264 pages

235 former courses

Copies of the above books are only available by emailing johnwslusar@gmail.com stating your requirements, method of payment (cheque payable to W.Slusar) or Bank transfer, and the address where the book(s) should be sent.

ORDER FORM
Download an order form
Quantity
Cost
Volume 1 North of Hatfield £19.99 + £4 postage
Volume 2 South of Hatfield £14.99 + £3 postage
Volume 3 Wales & Scotland £9.99 + £3 postage
Volume 4 Ireland £9.99 + £3 postage
Volumes 1 - 4 £54.96 + £5 postage
Postage & Packaging
Total
Email order form to johnwslusar@gmail.com