The 35th running of the Irish Derby was held on Wednesday 27th June 1900 over 1 mile 4 furlongs of The Curragh. Subscriptions were 15 sovereigns with a pot of 1000 sovereigns, 150 sovereigns to the second and 50 sovereigns to the third. The winner was owned and bred in Ireland by Captain Eustace Loder, trained by Daniel McNally and ridden by Mr G W Lushington. The winner won by 4 lengths, with 2 lengths between second and third.
IRISH DERBY 1900
GALLINARIA (Chestnut filly by Gallinule out of Pierina) SR 1963
The winning owner won 783 sovereigns, (The equivalent of £91,500 in today's terms based on Bank of England inflation calculator).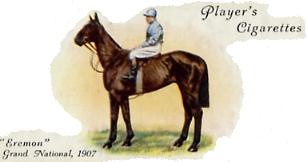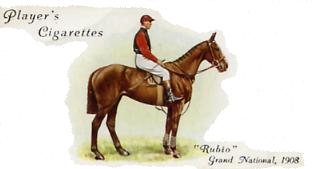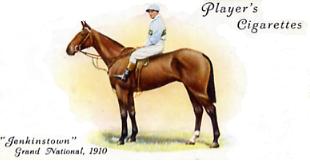 Pos.
Horse
Weight
Jockey
Owner
Trainer
1
GALLINARIA
8.12
Mr G W Lushington
Captain Eustace Loder
Daniel McNally
2
LEADING POWER
7.13
Joseph Westlake
Lord Fermoy
Philip Behan
3
LIKELY BIRD
8.3
John Doyle
Mr John C Sullivan
Philip Behan
4
CERASUS
7.13
Thomas Casey
Mr Sewallis E Shirley
James Dunne
5
OLD BROWN BESS
7.12
William Horton
Mr William Hall-Walker
John Smith
6
GOOD TIME
7.9
Peter Hughes
Mr William H West
Denis Shanahan
7
LADY VALENTINE
8.5
Algernon Anthony
Mr David G McCammon
Francis Robertson
8
GOLDEN BAY
8.2
Lawrence Byrne
Honorable A Brabazon
James Dunne
9
DINNA KEN
8.12
Thomas Moran
Mr William P Cullen
William P Cullen
10
IMPRESSARIO
8.2
Thomas Farrell
Mr Mathias A Maher
Michael Dawson
11
THE HAWK
7.13
John Doyle jnr
Mr Denis Shanahan
Denis Shanahan
12
GREEN WITCH
7.12
Frederick McAllister
Mr Peter P Gilpin
Peter P Gilpin
Betting

OWNER PROFILE
Eustace Loder, son of Sir Robert Loder and Maria Georgiana Loder (nee Busk), was born on 16th May 1867 in Sussex. He became a Major in the 12th Lancers and then held the Office of High Sheriff for County Kildare. He was unmarried, his primary interest being horse racing, and he was elected to the Jockey Club in 1906 and was made a Steward of the Jockey Club in 1912. His nickname was Lucky Loder, not least because of his luck in owning the fantastic mare Pretty Polly, but also because of his favourite saying which was, "You may put all the brains you have into racing but you will be nowhere unless you have luck". In 1904 he won the Fillies Triple Crown with Pretty Polly (SR 2080), and 2 years later he won the 1906 Epsom Derby with Spearmint (SR 2060). He died on 27th July 1914 aged just 47.

3/1 fav
Cerasus
4/1
Leading Power
6/1
Gallinaria
6/1
Likely Bird
6/1
Dinna Ken
7/1
Lady Valentine
10/1
Golden Bay
20/1
Impressario
20/1
The Hawk
20/1
Green Witch
20/1
Old Brown Bess
20/1
Good Time
Over round 133%
FORMLINE:- The winner gave the second 13 lbs and a 4 length beating.
ISBN 978-0-9957632-0-3

652 pages

774 former courses

ISBN 978-0-9957632-1-0

352 pages

400 former courses

ISBN 978-0-9957632-2-7

180 pages

140 former courses

ISBN 978-0-9957632-3-4

264 pages

235 former courses

Copies of the above books are only available by emailing johnwslusar@gmail.com stating your requirements, method of payment (cheque payable to W.Slusar) or Bank transfer, and the address where the book(s) should be sent.

ORDER FORM
Download an order form
Quantity
Cost
Volume 1 North of Hatfield £19.99 + £4 postage
Volume 2 South of Hatfield £14.99 + £3 postage
Volume 3 Wales & Scotland £9.99 + £3 postage
Volume 4 Ireland £9.99 + £3 postage
Volumes 1 - 4 £54.96 + £5 postage
Postage & Packaging
Total
Email order form to johnwslusar@gmail.com