The 37th running of the Irish Derby was held on Wednesday 25th June 1902 over 1 mile 4 furlongs of The Curragh. Subscriptions were 15 sovereigns with a pot of 1000 sovereigns, 150 sovereigns to the second and 50 sovereigns to the third. The winner was owned and bred in Ireland by Mr James Daly, trained by Michael Dawson and ridden by David Condon. The winner won by 2 1/2 lengths, with a further 2 1/2 lengths between second and third.
IRISH DERBY 1902
ST BRENDAN (Brown colt by Hackler out of Court Card) SR 1969
The winning owner won 811 sovereigns, (The equivalent of £94,800 in today's terms based on Bank of England inflation calculator).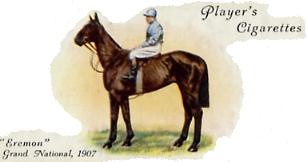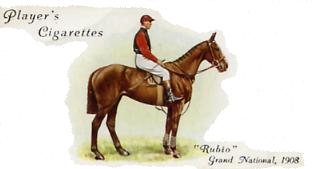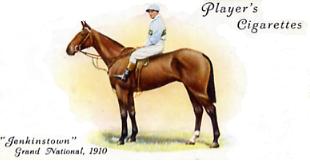 Pos.
Horse
Weight
Jockey
Owner
Trainer
1
ST BRENDAN
9.5
David Condon
Mr James Daly
Michael Dawson
2
PORT BLAIR
9.8
Kempton Cannon
Mr John R Gubbins
Sam Darling
3
FERMOYLE
8.2
George Goswell
Mr William Hall-Walker
Sam Darling
4
WAR WOLF
8.3
William Higgs
Mr John C Sullivan
Philip Behan
5
LESLIE
7.13
Herbert Lane
Mr Charles J Blake
Shem C Jeffery
6
HAPPY MEDIUM
8.12
Henry Buxton
Mr Jackson Clark
William P Cullen
7
TRUEHAVEN
8.3
Peter Hughes
Captain John Murray
Michael Dawson
8
KILLAIDAN
9.2
John Clayton
Mr Sewallis E Shirley
James Dunne
9
COLT BY GALLINULE
8.2
Lawrence Byrne
Mr Sebastian M Nolan
Frederick F Cullen
10
BUSHMASTER
7.13
John Thompson
Colonel James Rynd
Michael Dawson
11
DRUMBRACKEN
8.2
Thomas Bell
Mr Sewallis E Shirley
James Dunne
Betting

RACE REPORT
The start was made at the first attempt and saw the field get away on level terms with Truehaven the first to show in front, closely attended by St Brendan, Bushmaster, Happy Medium and Port Blair. After 2 furlongs St Brendan drew alongside the early leader and within 2 furlongs Truehaven and Bushmaster dropped out of contention. As the leaders came down the hill Port Blair took closer order in second place, but failed to get on level terms with St Brendan. At the distance St Brendan was still in charge and strode to an easy two and a half length victory from Port Blair, with a further two and a half lengths back to third place.

11/10 fav
Port Blair
8/1
St Brendan
9/1
Fermoyle
10/1
Happy Medium
100/8
War Wolf
100/8
Bushmaster
100/7
Truehaven
100/7
Leslie
33/1
Killaidan
33/1
Drumbracken
33/1
Colt by Gallinule
Over round 117%
FORMLINE:- The winner received 3 lbs from the favourite, but beat him by a comfortable 2 1/2 lengths.
ISBN 978-0-9957632-0-3

652 pages

774 former courses

ISBN 978-0-9957632-1-0

352 pages

400 former courses

ISBN 978-0-9957632-2-7

180 pages

140 former courses

ISBN 978-0-9957632-3-4

264 pages

235 former courses

Copies of the above books are only available by emailing johnwslusar@gmail.com stating your requirements, method of payment (cheque payable to W.Slusar) or Bank transfer, and the address where the book(s) should be sent.

ORDER FORM
Download an order form
Quantity
Cost
Volume 1 North of Hatfield £19.99 + £4 postage
Volume 2 South of Hatfield £14.99 + £3 postage
Volume 3 Wales & Scotland £9.99 + £3 postage
Volume 4 Ireland £9.99 + £3 postage
Volumes 1 - 4 £54.96 + £5 postage
Postage & Packaging
Total
Email order form to johnwslusar@gmail.com