The 38th running of the Irish Derby was held on Wednesday 24th June 1903 over 1 mile 4 furlongs of The Curragh. Subscriptions were 15 sovereigns with a pot of 1000 sovereigns, 150 sovereigns to the second and 50 sovereigns to the third. The winner was owned by Mr Alan Cunliffe, bred in Ireland by James Grew, trained by John Fallon and ridden by Joseph Dillon. The winner won by a short head, with a further 3 lengths between second and third.
IRISH DERBY 1903
LORD ROSSMORE (Chestnut colt by Cherry Ripe out of Miss Georgie) SR 2005
The winning owner won 783 sovereigns, (The equivalent of £90,500 in today's terms based on Bank of England inflation calculator).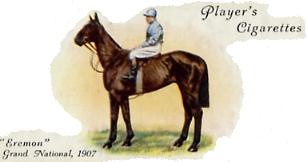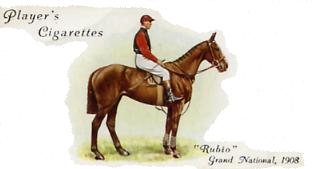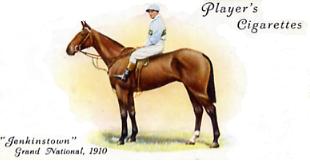 Pos.
Horse
Weight
Jockey
Owner
Trainer
1
LORD ROSSMORE
9.2
Joseph Dillon
Mr Alan Percy Cunliffe
John Fallon
2
WINKFIELD'S FORTUNE
8.2
William Higgs
Mr John C Sullivan
Philip Behan
3
EASTERLING
7.13
Henry Buxton
Captain E B Ashmore
James Dunne
4
ROSANULE
8.2
Thomas L Miller
Mr Charles J Blake
Shem C Jeffery
5
ESTRAPADE
7.13
Joseph Doyle
Mr William Hall-Walker
John Smith
6
LAUREL VALE
7.13
Charles Whelan
Mr James Lonsdale
Joseph Hoysted
7
CROOKHAVEN
8.8
John Thompson
Captain John Murray
Michael Dawson
8
FERNS
8.2
Francis Morgan
Captain George M Maher
Private
Betting

RACE REPORT
In a tricky build up to the start Estrapade had to be led to the post while Crookhaven refused to join the pack. There was a 10 minute delay before flag fall and Ferns was left trailing the field by a good dozen lengths. It was Winkfield's Fortune who made the early running, followed by Crookhaven, Laurel Vale and Easterling. After 4 furlongs Crookhaven took over at the front, with Laurel Vale and Winkfield's Fortune still close up, although it was noticeable that Lord Rossmore was making steady headway. Over the hill, the field began making the descent with Winkfield's Fortune holding a slender lead over Easterling, Lord Rossmore being close on the heels of the leading pair. Once the leaders rounded the bend on the rails Lord Rossmore took control and managed to shake off the determined challenge of Winkfield's Fortune by a short head, with three lengths back to Easterling.

6/4 fav
Lord Rossmore
7/4
Winkfield's Fortune
5/1
Rosanule
10/1
Easterling
20/1
Ferns
20/1
Laurel Vale
20/1
Estrapade
20/1
Crookhaven
Over round 121%
FORMLINE:- The winner conceded 10 lbs to the second and got home by a short head.
ISBN 978-0-9957632-0-3

652 pages

774 former courses

ISBN 978-0-9957632-1-0

352 pages

400 former courses

ISBN 978-0-9957632-2-7

180 pages

140 former courses

ISBN 978-0-9957632-3-4

264 pages

235 former courses

Copies of the above books are only available by emailing johnwslusar@gmail.com stating your requirements, method of payment (cheque payable to W.Slusar) or Bank transfer, and the address where the book(s) should be sent.

ORDER FORM
Download an order form
Quantity
Cost
Volume 1 North of Hatfield £19.99 + £4 postage
Volume 2 South of Hatfield £14.99 + £3 postage
Volume 3 Wales & Scotland £9.99 + £3 postage
Volume 4 Ireland £9.99 + £3 postage
Volumes 1 - 4 £54.96 + £5 postage
Postage & Packaging
Total
Email order form to johnwslusar@gmail.com