The 39th running of the Irish Derby was held on Wednesday 29th June 1904 over 1 mile 4 furlongs of The Curragh. Subscriptions were 15 sovereigns with a pot of 1000 sovereigns, 150 sovereigns to the second and 50 sovereigns to the third. The winner was owned by Mr Jas Daly, bred by Miss Augusta G Knox-Gore in Ireland, trained by Michael Dawson and ridden by Francis Morgan. The winner won by 3 lengths, with a further 3 lengths between second and third and a head back to the fourth.
IRISH DERBY 1904
ROYAL ARCH (Brown colt by Florizel out of Miss Augusta) SR 1815
The winning owner won £783 (The equivalent of £90,500 in today's terms based on Bank of England inflation calculator).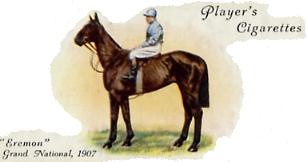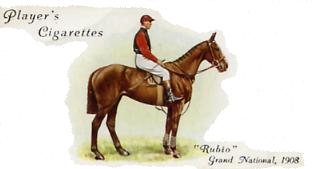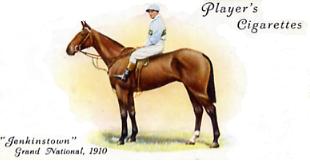 Pos.
Horse
Weight
Jockey
Owner
Trainer
1
ROYAL ARCH
8.2
Francis Morgan
Mr James Daly
Michael Dawson
2
THE ARROWED
9.1
Henry Buxton
Mr Sebastian M Nolan
Richard C Dawson
3
GLENAMOY
8.12
George McCall
Mr Lionel Robinson
Sam Darling
4
CHERRY PIP
9.5
Joseph Dillon
Mr J Holmer Peard
John Fallon
5
LEOPARDSTOWN
9.2
Algernon Anthony
Mr James Lonsdale
Joseph Hoysted
6
RED HEART'S PRIDE
8.5
J McQuillan
Mr F Roche
James Allen
7
CHRISTIAN DE WET
8.2
John Thompson
Mr Charles J Blake
Shem C Jeffery
8
LEO XIII
8.2
William Higgs
Mr Gerald Hurley
Gerald Hurley
9
GRAY GREEN
7.13
John Doyle
Mr Robert Canning
James Dunne
Betting

RACE REPORT
The start proved to be difficult primarily because of the stubborn behaviour of Leopardstown and Christian De Wet. As a consequence the start was delayed by 30 minutes, and when the starter finally got them away it was Grey Green who jumped off in front, followed by The Arrowed and Red Heart's Pride. Within a furlong Leopardstown had raced to the front and proved to be a difficult ride. Four furlongs into the race and The Arrowed had tamed the bullish Leopardstown and led from Glenamoy and Grey Green. Three quarters of a mile from the finish Royal Arch took his turn at the head of affairs and was alloed to get away from the field. He maintained a good gallop to the line and won unchallenged by 3 lengths from The Arrowed, with Glenamoy a further 3 lengths back in third.

5/2 jt fav
Royal Arch
5/2 jt fav
Glenamoy
6/1
Cherry Pip
6/1
Gray Green
10/1
The Arrowed
10/1
Leopardstown
10/1
Red Heart's Pride
10/1
Leo XIII
10/1
Christian De Wet
Over round 129%
FORMLINE:- The winner received 13 lbs from the second, but did get home by a comfortable 3 lengths.
ISBN 978-0-9957632-0-3

652 pages

774 former courses

ISBN 978-0-9957632-1-0

352 pages

400 former courses

ISBN 978-0-9957632-2-7

180 pages

140 former courses

ISBN 978-0-9957632-3-4

264 pages

235 former courses

Copies of the above books are only available by emailing johnwslusar@gmail.com stating your requirements, method of payment (cheque payable to W.Slusar) or Bank transfer, and the address where the book(s) should be sent.

ORDER FORM
Download an order form
Quantity
Cost
Volume 1 North of Hatfield £19.99 + £4 postage
Volume 2 South of Hatfield £14.99 + £3 postage
Volume 3 Wales & Scotland £9.99 + £3 postage
Volume 4 Ireland £9.99 + £3 postage
Volumes 1 - 4 £54.96 + £5 postage
Postage & Packaging
Total
Email order form to johnwslusar@gmail.com