The 40th running of the Irish Derby was held on Wednesday 28th June 1905 over 1 mile 4 furlongs of The Curragh. Subscriptions were 15 sovereigns with a pot of 1000 sovereigns, 150 sovereigns to the second and 50 sovereigns to the third. The winner was owned and bred by Mr Patrick J Dunne, trained by James Dunne at Osborn Lodge, Curragh and ridden by Peter Hughes. The winner won by a length in 2 minutes 37.8 seconds, with a further 2 1/2 lengths between second and third.
IRISH DERBY 1905
FLAX PARK (Bay colt by Bushey Park out of Flax) SR 1723
The winning owner won 783 sovereigns, (The equivalent of £90,500 in today's terms based on Bank of England inflation calculator).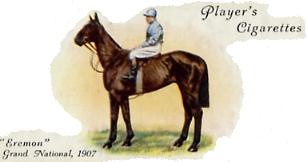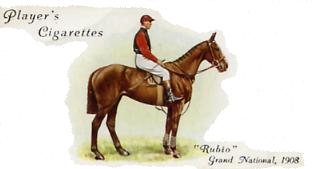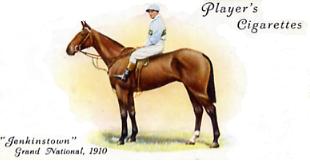 Pos.
Horse
Weight
Jockey
Owner
Trainer
1
FLAX PARK
7.13
Peter Hughes
Mr Patrick J Dunne
James Dunne
2
VELOCITY
9.2
James Smyth
Mr Henry V Jackson
Thomas Balfe
3
GALGREINA
9.5
William Halsey
Mr Jas Daly
Michael Dawson
4
SILVER WEDDING
9.5
Henry Buxton
Lord Rossmore
Denis Shanahan
5
YOUNG ABERCORN
8.6
Francis Morgan
Captain William Scott
T Maguire
6
WADDLER
9.2
John Doyle
Lord Rossmore
Denis Shanahan
7
THE PRIORY
9.2
John Doyle jnr
Mr John Clune
James Dunne
8
HARE WARREN
8.9
George Butchers
Mr Thomas E Laidlaw
Michael Dawson
9
JENATZY
8.6
John Thompson
Mr Richard Croker
James Parkinson
10
AIDANCE
8.2
Michael Widger
Mr John Widger
William Nehan
11
LANDGRAVE
7.13
Fred Hunter
Mr Charles J Blake
Shem C Jeffery
Betting

RACE REPORT
Although the field reached the start in plenty of time, the starter found it difficult to launch the runners into action, with Flax Park and Velocity both proving fractious. Once the barrier went up it was left to Velocity to make the early running from Silver Wedding and Aidance. After two furlongs Silver Wedding raced to the front, attended by Aidance and Young Abercorn. This order was maintained until the leaders passed the mile post, at which point Jenatzy and Young Abercorn both passed Silver Wedding. Reaching the bend of the rails Velocity made the best of his way home, only to be caught close home by Flax Park who won cleverly by a length, with two and a half lengths back to Galgreina.

5/2 fav
Jenatzy
7/2
Galgreina
5/1
Flax Park
5/1
Silver Wedding
5/1
Young Abercorn
33/1
Velocity
33/1
Waddler
33/1
The Priory
33/1
Hare Warren
33/1
Aidance
33/1
Landgrave
Over round 116%
FORMLINE:- Flax Park received 17 lbs from the second and 20 lbs from the third, scrambling home by a length. However, the time was some 7 seconds better than the average.
ISBN 978-0-9957632-0-3

652 pages

774 former courses

ISBN 978-0-9957632-1-0

352 pages

400 former courses

ISBN 978-0-9957632-2-7

180 pages

140 former courses

ISBN 978-0-9957632-3-4

264 pages

235 former courses

Copies of the above books are only available by emailing johnwslusar@gmail.com stating your requirements, method of payment (cheque payable to W.Slusar) or Bank transfer, and the address where the book(s) should be sent.

ORDER FORM
Download an order form
Quantity
Cost
Volume 1 North of Hatfield £19.99 + £4 postage
Volume 2 South of Hatfield £14.99 + £3 postage
Volume 3 Wales & Scotland £9.99 + £3 postage
Volume 4 Ireland £9.99 + £3 postage
Volumes 1 - 4 £54.96 + £5 postage
Postage & Packaging
Total
Email order form to johnwslusar@gmail.com