The 46th running of the Irish Derby was held on Wednesday 28th June 1911 over 1 mile 4 furlongs of The Curragh. Subscriptions were 15 sovereigns with a pot of 1000 sovereigns, 150 sovereigns to the second and 50 sovereigns to the third. The winner was owned and bred in Ireland by Mr John Kelly, trained by John Dwyer at The Commons, Cashel and ridden by John Doyle. The winner won by 2 1/2 lengths in a time of 2 minutes 43.2 seconds, with 3/4 length between second and third.
IRISH DERBY 1911
SHANBALLYMORE (Bay colt by Popoff out of Calyce) SR 1915
The winning owner won 783 sovereigns, (The equivalent of £87,700 in today's terms based on Bank of England inflation calculator).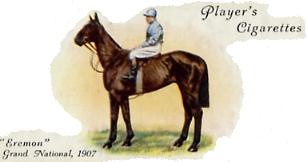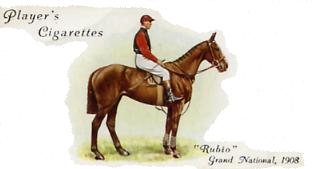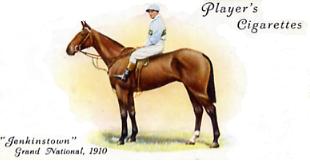 Pos.
Horse
Weight
Jockey
Owner
Trainer
1
SHANBALLYMORE
8.6
John Doyle
Mr John Kelly
John Dwyer
2
DRINMORE
8.6
John Thompson
Mr J H Taylor
Michael Dawson
3
BETTER STILL
8.12
Clyde Aylin
Mr Patrick Cullinan
Henry S Persse
4
SHORT GRASS
8.3
Peter Hughes
Mr G A Prentice
Joseph Hunter
5
ST MELRUAN
8.2
Michael Colbert
Mr James Daly
Michael Dawson
6
CLONBERN
9.5
Fred Hunter
Mr Richard Crocker
James Allen
7
KILLAMAN
8.2
Reginald Botta
Mr John A B Trench
John Arthur Tench
8
TULLYNACREE
7.12
George Maynard
Mr J Hutton
Michael Dawson
9
KILSHANE
7.12
Samuel Hill
Mr Daniel O'Mahoney Leahy
J Byrne
10
FLYING COMET
8.5
Arthur Douglas
Mr William A Wallis
Richard Harrison
Betting

RACING STORY
Whilst many of the Irish Classics were now being plundered English raiders, this year was a tale which rekindled the dreams of every small Irish stable, especially one from the rural depths of County Tipperary. The race was won by Shanballymore, by Popoff, brother to a steeplechaser called Romanoff, out of Calyce who had finished unplaced in the 1896 Irish Derby won by the lowly rated Gulsalberk. Such was the unstylish mating combination that Bryan O'Donnell, a prominent Irish bookmaker of the day, offered 100/1 against Shanballymore. Come the day cometh the horse, and Shanballymore won by 2 1/2 lengths from Drinmore.

7/4 fav
Short Grass
4/1
Drinmore
6/1
Shanballymore
6/1
Clonbern
10/1
Flying Comet
10/1
Better Still
20/1
St Melruan
20/1
Tullynacree
20/1
Kilshane
20/1
Killaman
Over round 122%
FORMLINE:- The winner received 6 lbs from the second and 13 lbs from Clonbern, winning by 2 1/2 lengths in a time about 2 seconds quicker than the avaerage.
ISBN 978-0-9957632-0-3

652 pages

774 former courses

ISBN 978-0-9957632-1-0

352 pages

400 former courses

ISBN 978-0-9957632-2-7

180 pages

140 former courses

ISBN 978-0-9957632-3-4

264 pages

235 former courses

Copies of the above books are only available by emailing johnwslusar@gmail.com stating your requirements, method of payment (cheque payable to W.Slusar) or Bank transfer, and the address where the book(s) should be sent.

ORDER FORM
Download an order form
Quantity
Cost
Volume 1 North of Hatfield £19.99 + £4 postage
Volume 2 South of Hatfield £14.99 + £3 postage
Volume 3 Wales & Scotland £9.99 + £3 postage
Volume 4 Ireland £9.99 + £3 postage
Volumes 1 - 4 £54.96 + £5 postage
Postage & Packaging
Total
Email order form to johnwslusar@gmail.com