The 47th running of the Irish Derby was held on Wednesday 26th June 1912 over 1 mile 4 furlongs of The Curragh. Subscriptions were 15 sovereigns with a pot of 700 sovereigns, 50 sovereigns to the second and 15 sovereigns to the third. The winner was owned and bred in Ireland by Mr John Reese, trained by Bartholomew Kirby at Curragh View, Kildare and ridden by Danny Maher. The winner won by 2 1/2 lengths in a time of 2 minutes 51 seconds, with 8 lengths between second and third.
IRISH DERBY 1912
CIVILITY (Bay colt by Grebe out of The Israelite) SR 1936
The winning owner won 620 sovereigns, (The equivalent of £67,300 in today's terms based on Bank of England inflation calculator).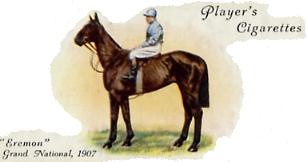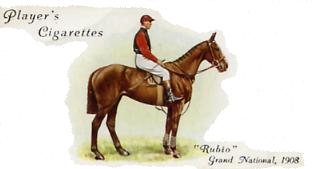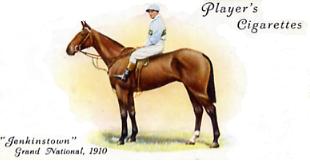 Pos.
Horse
Weight
Jockey
Owner
Trainer
1
CIVILITY
8.12
Danny Maher
Mr John Reese
Bartholomew Kirby
2
GAEL RHU
9.2
Fred Hunter
Mr G A Prentice
Joseph Hunter
3
KITHOGUE
8.2
John Doyle
Mr James Lonsdale
John Behan
4
TICKLER
8.2
Steve Donoghue
Mr William Dunne
Michael Dawson
5
WHISTLING DUCK
7.12
Joe Doyle
Mr James Lonsdale
John Behan
Betting

JOCKEY PROFILE
Danny Aloysius Maher was born in 1881 in the Connecticut town of Hartford and became a respected jockey on both sides of the Atlantic. He was installed in the American Hall of Fame for his riding exploits, while in England he won the Jockeys Championship in 1908 and again in 1913. He amassed 1421 winners in England, including Epsom Derby wins in 1903 on Rock Sand (SR 2051) who went on to land the English Triple Crown, in 1905 on Cicero (SR 2029) and in 1906 on Spearmint (SR 2060). His career was cut short in his prime when he died from pulmonary tuberculosis (then termed consumption) on 9th November 1916 aged just 35.

1/2 fav
Gael Rhu
5/1
Civility
7/1
Kithogue
7/1
Tickler
100/1
Whistling Duck
Over round 108%
FORMLINE:- The winner received 4 lbs from the hot favourite but won in a canter by 2 1/2 lengths, albeit about 6 seconds slower than average.
ISBN 978-0-9957632-0-3

652 pages

774 former courses

ISBN 978-0-9957632-1-0

352 pages

400 former courses

ISBN 978-0-9957632-2-7

180 pages

140 former courses

ISBN 978-0-9957632-3-4

264 pages

235 former courses

Copies of the above books are only available by emailing johnwslusar@gmail.com stating your requirements, method of payment (cheque payable to W.Slusar) or Bank transfer, and the address where the book(s) should be sent.

ORDER FORM
Download an order form
Quantity
Cost
Volume 1 North of Hatfield £19.99 + £4 postage
Volume 2 South of Hatfield £14.99 + £3 postage
Volume 3 Wales & Scotland £9.99 + £3 postage
Volume 4 Ireland £9.99 + £3 postage
Volumes 1 - 4 £54.96 + £5 postage
Postage & Packaging
Total
Email order form to johnwslusar@gmail.com