The 50th running of the Irish Derby was held on Wednesday 30th June 1915 over 1 mile 4 furlongs of The Curragh and saw a significant increase in prize money. Subscriptions were 50 sovereigns with a pot of 2630 sovereigns, 150 sovereigns to the second and 50 sovereigns to the third. The winner was owned by the 5th Baron Decies, bred in Ireland by Colonel R Chaloner Knox, trained by Joseph Hunter and ridden by William Barrett. The winner won by a neck in 2 minutes 39 seconds, with 4 lengths between second and third.
IRISH DERBY 1915
BALLAGHTOBIN (Bay colt by Morganatic out of Fiorenza) SR 1979
The winning owner won 2430 sovereigns, (The equivalent of £237,500 in today's terms based on Bank of England inflation calculator).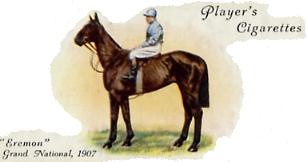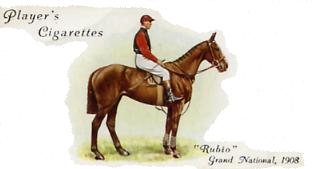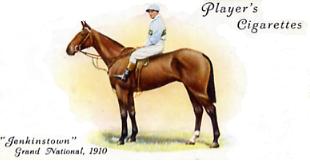 Pos.
Horse
Weight
Jockey
Owner
Trainer
1
BALLAGHTOBIN
9.5
William Barrett
5th Baron Decies
Joseph Hunter
2
ACHTOI
9.5
Charles Trigg
Mr Adam Mortimer Singer
Gwynn Scourfield
3
CROMDALE
8.9
Steve Donoghue
Mr Arthur F Bassett
Henry S Persse
4
THE REVENGE
8.12
Edwin Piper
Mr William J Tatem
Etienne de Mestre
5
FITZORB
8.12
Fred Hunter
Mr Martin Fitzgerald
Charles Morton
6
ULSTER MAN
9.1
William Parkinson
Mr John W Widger
James J Parkinson
7
CARNWHERRY
8.12
John Doyle
Mr Harold S Grey
Philip Behan
8
LORD WAVELET
8.12
Charles Ringstead
Mr A Lucas
Philip Behan
9
RED BRANCH KNIGHT
8.12
Michael Colbert
Mr Bartholomew Kirby
Bartholomew Kirby
10
LADY PRIM
8.8
Joseph Canty
Mr George Dennehy
Michael Dawson
11
SAILOR'S LASSIE
8.5
Joseph Rose
Mr A McCann
Maurice Reidy
12
ROMUS
8.12
Colin Barrett
Mr William Hall-Walker
Michael Dawson
13
ST CUIMIN
9.5
Joseph Harty
Mr F William Parkinson
James J Parkinson
Betting

RACE REPORT
There was a short delay at the start when Sailor's Lassie broke the tapes, but the field were soon sent on their way. Lady Prim made the early running from Ballaghtobin, The Revenge and Sailor's Lassie. After 3 furlongs the rider of St Cuimin was unseated causing Carnwherry to lose balance, while Romus was also pulled up when breaking a blood vessel. As the field entered the straight Lady Prim still held a good lead, although Ballaghtobin and Achtoi were going very easily in behind. Approaching the distance Ballaghtobin proved the stronger and went on to win by just a neck from Achtoi, with four lengths back to the staying on Cromdale in third, The Revenge was fourth and Fitzorb was fifth.

7/4 fav
Achtoi
7/2
Ballaghtobin
6/1
Cromdale
8/1
Fitzorb
10/1
The Revenge
10/1
Red Branch Knight
100/8
Ulster Man
100/6
Carnwherry
100/6
Lady Prim
66/1
Romus
66/1
Sailor's Lassie
100/1
Lord Wavelet
100/1
St Cuimin
Over round 124%
FORMLINE:- The impressive winner won by a neck from Achtoi who had finished fourth in the Epsom Derby about 6 lengths behind the highly regarded Pommern (SR 2064) when The Revenge was unplaced. Later Achtoi was third in the St Leger behind Pommern. The winners time was an above average 2 minutes 39 seconds.
ISBN 978-0-9957632-0-3

652 pages

774 former courses

ISBN 978-0-9957632-1-0

352 pages

400 former courses

ISBN 978-0-9957632-2-7

180 pages

140 former courses

ISBN 978-0-9957632-3-4

264 pages

235 former courses

Copies of the above books are only available by emailing johnwslusar@gmail.com stating your requirements, method of payment (cheque payable to W.Slusar) or Bank transfer, and the address where the book(s) should be sent.

ORDER FORM
Download an order form
Quantity
Cost
Volume 1 North of Hatfield £19.99 + £4 postage
Volume 2 South of Hatfield £14.99 + £3 postage
Volume 3 Wales & Scotland £9.99 + £3 postage
Volume 4 Ireland £9.99 + £3 postage
Volumes 1 - 4 £54.96 + £5 postage
Postage & Packaging
Total
Email order form to johnwslusar@gmail.com